VF-Engineering Passenger Side Engine Mount - Ford Focus Zetec
SKU:
FS046
VF-Engineering Passenger Side Engine Mount - 16v Zetec
Billet / Polyurethane Engine Mounts
The Ford Focus factory engine mounts were designed as soft, flexible units, to provide a comfortable drive. The drawback was the relatively large amount of engine movement the OEM mounts allowed under torque load and on hard acceleration. Such engine movement decreases stability under high performance driving conditions and rapid gear selection.
To reduce this movement VF-Engineering engineered a complete fitted replacement with specially shaped molded, 70A durometer polyurethane inserts. The mount body is machined from billet aircraft grade aluminum, being almost twice as strong than the OE cast material. Installation should take no more than 10-15 minutes. This high performance mount provides a difference in the stability of the car when accelerating and braking hard. Gear changing under hard acceleration is also enhanced.
NOTE: For street use, we recommend using only the rear engine mount. Using all mounts together will cause some vibration (due to the nature of performance polyurethane mounts) that may not be desired for a daily driver, and is more for track use (Road racing, drag racing, autocross, etc).
Torque Specifications: (59ft lbs) two nuts to engine block, (38ft lbs) center engine mount bolt/nut
Note: Support engine/transmission during installation
Fitment:
Ford Focus Zetec 2000 2001 2002 2003 2004
---
Customer Reviews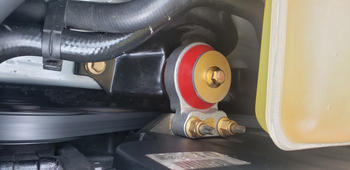 05/15/2020
Looks good.
Excellent as usual. And now I won't keep blowing the mount.
Johnny A.

United States
01/29/2021
Highly recomended
Fit perfect on my Ford focus 2001se engine 2.0l zetec thank you
Edna N.

United States
07/20/2020
Feels great, took some love to install
Had to support the transmission side to get it on, took a couple tries to get it installed because I'm lowered and didn't have a low-pro jack. All 3 mounts are done, definitely more vibration, but super solid and noticeable driving difference.
Callen S.

Canada
07/23/2018
Love all there parts..they know
Love all there parts..they know what they are talking about and are very helpful
06/01/2017
VF Engineering motormount Ztech.
Just the part I needed to stand up to the abuse that is SCCA Rallycross.