VF-Engineering Passenger Side Engine Mount - Duratec 2.0L / 2.3L 03-11
SKU:
FS049
Billet / Polyurethane Engine Mounts
The Ford Focus factory engine mounts were designed as soft, flexible units, to provide a comfortable drive. The drawback was the relatively large amount of engine movement the OEM mounts allowed under torque load and on hard acceleration. Such engine movement decreases stability under high performance driving conditions and rapid gear selection.
To reduce this movement VF-Engineering engineered a complete fitted replacement with specially shaped molded, 70A durometer polyurethane inserts. The mount body is machined from billet aircraft grade aluminum, being almost twice as strong than the OE cast material. Installation should take no more than 10-15 minutes. This high performance mount provides a difference in the stability of the car when accelerating and braking hard. Gear changing under hard acceleration is also enhanced.
NOTE: For street use, we recommend using only the rear engine mount. Using all mounts together will cause some vibration (due to the nature of performance polyurethane mounts) that may not be desired for a daily driver, and is more for track use (Road racing, drag racing, autocross, etc).
Torque Specifications: (59ft lbs) two nuts to engine block, (38ft lbs) two center engine mount bolts, (35ft lbs) three support bracket bolts to chassis, (6ft lbs) small bolt underneath, (Use Blue Loctite 242 on threads)
Note: Support engine/transmission during installation

Includes steel bracket for mounting.
Fitment:
Ford Focus Duratec 2.0L & 2.3L 2003 2004 2005 2006 2007 2008 2009 2010 2011
---
Customer Reviews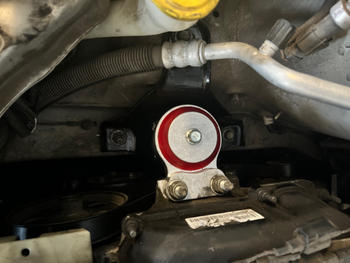 12/06/2021
Can't go wrong on updating your mount.
I will shop with them again. Great high quality.
Mauro V.

United States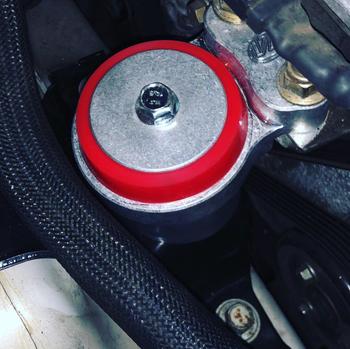 03/19/2019
Complete the trio!
Have all 3 VF Eng. mounts keeps the engine planted and minimal movement. Daily driven car and the vibrations are fine as long as you set them to where they aren't in a bind also make sure you follow the instructions and use loctite. all in all I'm sad I didn't get them sooner.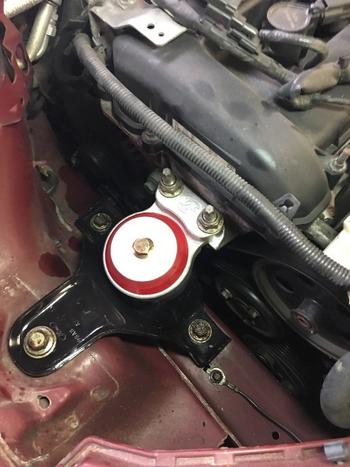 06/04/2017
Excellent
High quality product. Easy to install. Car is 10x smother than stock was.
04/17/2022
One size fits all
How does one mount work with two different deck height engines, and keep the factory geometry?
Chris M.

United States
06/06/2021
Awesome!!
Car feels more solid!
Jordan F.

United States
08/19/2020
Excellent upgrade
Recently got the VF Engineering polyurethane motor mount for my 2012 focus and I've been loving every second of it. Shifts are smoother, up and down. Noticeably less lurching. Great bang for you buck mod that makes the car feel entirely different. Would 100% recommend this to anyone.
Jesse N.

United States
06/19/2018
Best mount
Fast shipping and the mount is awesome just wish it came with new hardware and maybe a bit cheaper other then that it's great
06/09/2018
Smooth reminds me of the stock mount
Love the fact that they used the stock mounting bracket and motor mount of the 00-02 focus 2.0 duratec and installed it with polyurethane bushing.
04/24/2015
5 star upgrade
Installed all 3 mounts and made car much smoother to drive, vibrations were minimal, no more clunking sound when i hit bumps, highly recommended
11/19/2014
passanger mount
Made as soon I put it in. With all mounts a little vibration but worth it for the ride