Outerwears Pre-filter water-repellent for ITG Filters JC60/67C, JC60/73C, JC60/78C
SKU:
JC60COVER
Outerwears Pre-filters are designed to enhance the efficiency of any performance or exposed air filter. The Pre-filter is constructed with a proprietary polyester mesh with uniform micron openings, treated with an optional hydrophobic water-repellent process. The mesh is UV resistant, filters debris down to .005", is shatter proof in freezing temperatures, and resistant to heat up to 450 degrees. The material is puncture resistant and has elasticity characteristics allowing the threads to return to the original position in the event the threads have been impacted or shifted. The manufacturing process incorporates a welded seam for strength, or reinforced industrial grade thread to fill needle holes and to reduce potential failure points in the material.  The top seam utilizes specialized thread and cording to reinforce durability of the top. Pre-filters are designed to deflect the damaging debris, which clogs air filters, compromising peak air-flow and horsepower. The Pre-filter also extends the time between servicing intervals reducing costs and increasing convenience for the consumer.

Fits ITG part # 15JC60/67C 15JC60/73C 15JC60/78C
Fits FSWERKS ITG Air Intakes: FS010, FS012, FS016, FS017, FS018, FS016B, FS018B, FS015
---
Customer Reviews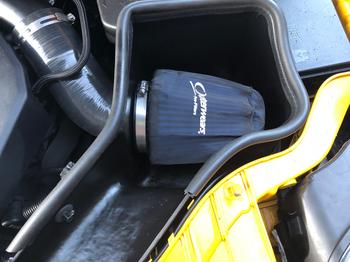 11/20/2018
Works and looks good
This was my second pre filter purchase and couldnt be happier.! They work as intended and extends the life of my filter
06/20/2021
Nice
It went on fine once I pulled the filter off the bottom of the intake. All of the skirt on the car is amazingly intact so it's not easy to get to. The product feels durable and very nice. Since the filter is a bit sticky you have to be a tiny bit patient. Great security blanket for driving in wet conditions.
Phil K.

United States
04/23/2021
Awesome quality fit nice!
Easy and simple
NEAL D.

United States
04/12/2021
Fits like a glove
If your putting this on after installed the intake already it's a little bit of a tight fit to be able to slide it on , but is manageable. I would highly recommend to put it on before installing.
Jeourdin E.

United States
03/02/2021
Perfect
Easy install and fit the filter perfectly
Kris S.

United States
09/22/2020
Dry dry dry!
Works great! Prolongs the longevity of the ITG filter with the cold air intake kit here.
Michael T.

United States
05/08/2020
Awesome
Keeps your filter cleaner and longer.
Jordan F.

United States
05/04/2020
Extra protection
Easy install. Time will tell how good it works.
Imi K.

United States
03/24/2020
Fits great and keeps water off
Fit perfectly to the filter and was nicely hydrophobic. A great product for anyone in a rainy environment.
Thomas B.

United States
Thanks for your feedback Thomas :)
12/13/2018
Easy to install
I bought this product hoping to get rid of some of the rev hang. I have a 2012 ford focus se with the 5spd transmission. It helped alot and feels like it added some top end power.
11/28/2018
Get one
Nice cheap item , that I believe is a necessity to help filters last longer between cleanings .
05/06/2018
Perfect!
Fits filter perfectly! Will reduce frequency of cleaning, with no power loss!
04/19/2017
Great Product
Helps protect the filter, garden hose can still spray through this cover however it should keep the filter dry from rain.
11/19/2016
Outerwear filter cover
Easy to instal and living in Florida you get a lot of the elements. All but snow really. Not one bad thing to say about it. Highly recommend to buy with the itg filter.
08/15/2016
Awesome!
I bought the Cool Flo Cold Air Intake so buying this was a no Brainer. Very high quality, and now I don't have to worry about water and debris getting into my intake.