H&R Coil Over Suspension - Ford Focus ST 2.0L 2013-2018
SKU:
51661
$1,45995

$1,459.95

On Sale
---
---
H&R Coil Overs
Originator of true coil over suspension for the street.

Recognizing a demand for premium suspension components tuned for the street—with race car features like adjustable lowering—H&R engineers rose to the challenge. Received in the market with great success, H&R Coil Overs feature an innovative mono-tube gas shock construction. Using premium quality materials, H&R engineers fine-tune each coil over shock with a progressive rate spring to ensure better handling and premium ride comfort. 

Each vehicle specific coil over has a fully threaded, custom shock—allowing for adjustable vehicle height. Vehicle lowering is altered using easy to adjust spring seats. Adjustable lowering accommodates summer and winter conditions and allows you to dial in the perfect ride height to fit your personal style. H&R coil overs are designed for performance, comfort, and durability using only the best components. For those drivers looking for refined suspension and a little German style, look no further than our diverse range of coil over applications.

H&R Street Performance Coil Overs Ford Focus ST 2013-2018 Part Number 51661
Height adjustable Front 1.2 - 2.5" Rear 

1.0 - 2.3"

on average
Fine tune lowering to what you want
H&R Street Performance Coil Overs are the perfect suspension solution for discerning drivers—from daily drivers to serious tuners—who can appreciate the awesome handling and superb ride comfort. Each coil over shock is custom valved to work in conjunction with a precision-engineered progressive rate spring, creating a finely tuned suspension system. The fully threaded shock body allows for adjustable vehicle height. This feature helps balance vehicle weight, resulting in a lower center of gravity and improved performance and control.

Fitment:
Ford Focus ST EcoBoost 2.0L 2013 2014 2015 2016 2017 2018

---
Customer Reviews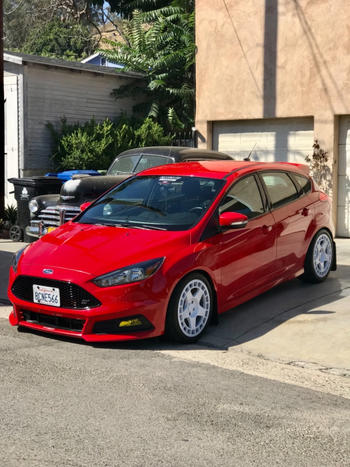 12/09/2020
Great!
Installed the H&R street performance coils on my 2017 focus st, along with the fswerks 25mm sway bar, and rear stress bar. They were not "difficult" per say to install, pretty strait forward in an R&R type fashion. Obviously having a fancy lift and air tools makes it more time consuming. There is pretty much zero installation videos or, "how-too's" on the internet for the coils and this car. Questions for me such as, are the coils preset from the factory at a certain height? If so, what height? (They are not so do your tuning before hand). Also things like, do you reuse the factory bump stop pillow for the front? (No you don't, not necessary for this application). Keep in mind, your car will be low with these coils, but they will not slam your car, I found that adjusting the rear perch all the way low gives the rear a perfect 1 finger gap, while adjusting the front approximately to the halfway point on the threading makes the car sit nicely. Moving on to the next thing, the ride quality... a "smooth" ride as they state, is not true at all. The ride quality with these coils installed is stiffer than a bowl of oatmeal, it hurts and destroys your buttox and spine, (all kidding aside it's stiff, but tolerable). Comfort is not why you should be making this purchase, upon taking the car to the canyons to feel the fruits of my labor, I realized what I had spent my money on... the most intense, suck your face off, chew you up, and spit you out, gnarling, butthole intruding, grip and control I've ever felt in a vehicle. That is where the 5 stars come from, they are so good. Know what you are looking for, know what you want, you cannot go wrong with these quality pieces.
Nathaniel B.

United States
04/22/2014
H&R Coilovers
Does exactly what I was looking for. I have it all the way down and there is no rubbing at all. They are a little stiff, so you will feel a lot more bumps while driving, but that is to be expected. If you are looking at these, you should know that they do not have any dampening adjusting, only height. I don't track my car, but whenever I see a good turn, or even a roundabout, these coilovers definitely shine. H&R did a good job with these. If you aren't looking for the "slammed" look, these are a great set.