FSWERKS Stainless Steel Stealth Exhaust System - Ford Focus TiVCT 2.0L 2012-2018 Hatchback
SKU:
FS027Q
We use 2.5" diameter mandrel bent T304 stainless steel tubing in our designs for maximum flow and horsepower. FSWerks systems come with our exclusive stainless steel high-flow straight-through design muffler and are finished off with a beautifully polished 3.5" angle cut T304 stainless steel tip. Also included are the necessary clamps and hardware to allow for an easy installation. All our stainless steel systems are backed by a 5 year limited warranty.
Stainless Tubing
• Mandrel bent heavy wall T304 stainless steel construction
• Provides optimal flow
Precision Welding
• Tig and Mig welds are used on our system

Stainless Steel Flanges and Hanger Rods
• All of our exhaust flanges are laser cut out of T304 stainless steel and our hanger rods are cut from solid bars
Dual Angle Cut Tip
• Precision angle cut tip for agressive look
• Welded on stainless steel with etched FSWERKS logo



Optional accessories you may be interested in:
Wurth Exhaust Assembly Paste

Fitment:
Ford Focus TiVCT 2.0L  2012 2013 2014 2015 2016 2017 2018 Hatchback
IMPORTANT : Comes with all necessary gaskets, clamps,  and mounting hardware for assembly. DOES NOT require welding!
---
Customer Reviews
07/03/2020
Chris B.
United States
2.5" Stealth exhaust.
Excellent. With right cut-off blade for stainless, removal of old exhaust went well. New exhaust install also went well. Very pleased with product. No drone in town or highway. Moderate drone pulling a steep hill. Very happy as is my son whose car we installed on.
06/24/2020
Caine V.
United States
Quality Parts, easy Install
Overall I was blown away by the quality of the pieces that arrived along with the easy to read instructions. Installed it myself in a couple of hours and some basic tools including a pipe cutter to remove the OEM exhaust. I'm very impressed with the results as the car is much more lively and isn't obnoxious at all!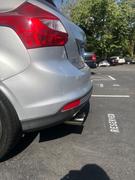 04/12/2020
Mason B.
United States
02/21/2020
Jerry K.
United States
Love that burble!
The fitment was perfect, and the tips look great. I love the back pressure burble when decelerating! It sounds pretty good when you're getting on the throttle, and there is almost no drone at highway speeds, but around town when accelerating slowly, the drone is pretty bad! I should have known better than to put an exhaust system on a 4 cylinder. At least my car is standard shift so it doesn't sound too bad.
02/20/2020
Ray R.
United States
Stealth exhaust
Very easy to install. Sounds great not to loud. It's perfect sounding for a daily driver. Doesn't have that crappy Honda sound.