FSWERKS Lower Front Stress Bar - Ford Focus ST 2013-2018
SKU:
FS037K
The FSWERKS lower front stress bar is a simple bolt-on which mounts to the subframe between the two front control arms. It's the perfect choice for adding improved stability by reducing subframe flex under hard driving conditions. It's light-weight at only 2.4lbs and made from 1" heavy wall mandrel bent steel tubing, available in gloss black or silver powder coated finish. All bars are backed by a limited LIFETIME warranty against manufacturing defects and workmanship.
Installation Note:
The original control arm bolts which secure the stress bar are designed to be used only once. However, the original bolts can be reused a few times before new ones are required.

Torque specs:
New bolts = 110ft lbs + 90 degrees
Stock (reused) bolts = 125ft lbs
Fitment:
Ford Focus ST EcoBoost 2013 2014 2015 2016 2017 2018


---
Customer Reviews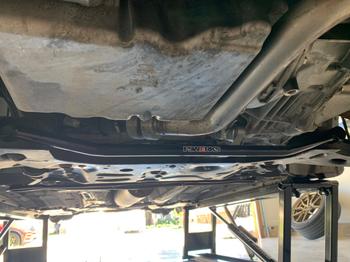 06/17/2020
Lower Front Stress Bar
This is a great product at a great price. The installation was very simple as well took less than an hour to install. Thanks FSWERKS for making such great products.
Chad

United States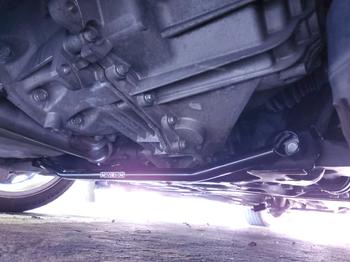 06/14/2020
Must have...
will put the power down great and you feel it. 100% recommend, great price and quality also don't forget to buy some new bolts.
Roberto T.

United States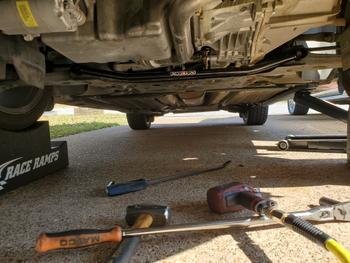 11/25/2019
Noticeable difference
I have all of my motor mounts upgraded and still noticed a better turn in and less torque steer jerk when getting on it. Easy to put on , only took 30 minutes but I have an air impact , etc etc.
Dillon N.

United States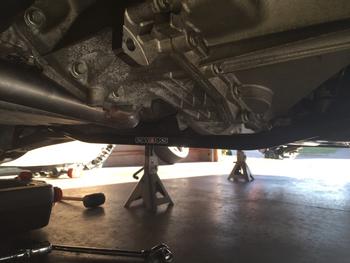 06/07/2017
Buy this bar!!
This Stress Bar made a world of difference in the stability of the front end of my ST!! If you do aggressive street driving,AutoCross and Road Rally's in your ST this Bar is a must have!!!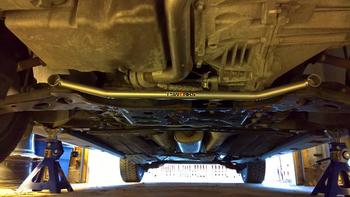 06/01/2017
A Must for a Twistie Junkie
Install was a breeze, even on jacks. The car feels connected to the road via rails. It has smoothed out the vibrations caused by my mountune roll restrictor. I have noticed an increase in wheel hop. I love it, and would definitely recommend it to anyone. And it looks good too!
06/09/2021
Another awesome product!
I just installed the lower front stress bar and the difference was awesome, almost makes me think something is wrong because it really transformed my ST into a much more stable handling car. Looking forward to taking a run up to Prescott on 89A thru Congress, Yarnell and Peeples Valley to see the difference. Thanks FSWERKS for the great product!
Kelly B.

United States
Much appreciated Kelly :-)
02/05/2021
Nice and tight
The bar was super easy to put on. I had access to a lift, it took me about 10 minutes to instal and torque to spec. Front end is much tighter when launching and it really helps give me traction. Would highly recommend this product.
Branson M.

United States
11/18/2020
Focus ST stress bar, FSWERKS takes gold again
I've been buying from these good folks since the FocusSport days when I owned a 2004 ZX3, before that having owned an Escort ZX2. Their products are always phenomenally crafted and AMERICAN made. No cheap, subpar Chinese garbage. The lower front stress bar tightened up the ride juuuust enough. It's perfectly stiff, but not overly rigid. Turns in like a dream. All that's missing now is the rear stress bar, my next purchase. Thank you FSWERKS for continuing to deliver high quality parts for our Fords.
Raul T.

United States
Thanks for your feedback Raul :-)
11/12/2020
Worked great
Definitely improved the feel of my 17 Fost. Went on with my JBR charge pipes should have grabbed one a long time ago. Solid price and quality was great too. Fswerks send me a swag pack. Lol
JJ H.

United States
07/05/2020
Unexpected Performance Improvement
I bought my 2013 ST1 new and have been driving Pro Rally cars since 1984. I was stunned at how much torque steer this mod eliminated; should have done this years ago. It requires a slight "adjustment" to Chris's (Skid Plate Guy) skid plate to fit, but the benefits to handling are above and beyond.
Mark S.

United States
Wow! Great to hear your experienced comments Mark :-) Thank you
06/30/2020
Front stress bar
100% Part looks great, fits great, and works great.
shane p.

United States
06/23/2020
Good bang for your buck
Good quality, good welds. Install is easy if you have a lift available, it'll be hard to do it on jack stands but it's not impossible. Initial impression was less NVH from an aftermarket rear motor mount I have on, it feels smoother from a start too. Torque steer is pretty much gone now unless there's ruts in the road. And the handling is much firmer, I've taken turns at impressive speeds and have yet to find the new limits of my car. Overall, for the price, you can't beat it. Pairs excellent with RMM and Coilovers.
Brandon A.

United States
Thanks for the great feedback Brandon :-)
04/24/2020
Highly recommended
Help yourself eliminate some torque steer and stiffen the car while you're at it. Highly recommended!!
Christopher R.

United States
11/09/2019
Excellent for my focus st 2015
Schnelle Lieferung nach Deutschland. Kann jedem ST Fahrer die Strebe empfehlen. Deutliche Verbesserung des Fahrverhaltens. Kein verreissen des Lenkrades beim Beschleunigen mehr. Auch die Lenkung ist direkter geworden , meines Erachtens. Tolle Leistung vom FSWERKS Team. Macht weiter so.
Frank W.

Germany
10/24/2019
2017 FOCUS ST
WELL MADE PRODUCT I WOULD RECOMMEND DOING REAR STRUT TOWER BRACE TO TIE THE FRONT AND REAR TOGETHER. ALSO IF YOUR USING JACKS OR RAMPS INVEST IN A RATCHETING BREAKER BAR FROM YOUR NEIGHBORHOOD HF. SPACE IS LIMITED AND YOU NEED ALL THE BAR POSITIONS YOU CAN GET TO BREAK LOSE A-ARM BOLT.
scott b.

United States
09/23/2019
Worth it
The item was easy to install and was able to tell the difference with handling and torque Steer
Chris A.

United States
07/11/2019
Solid upgrade
Best upgrade so far.
Kyriakos K.

United States
03/29/2019
Great product
This is a must have. Like the other reviews have mentioned this part does reduce torque steer. My ST has always had a pretty good torque steer pull and this definitely stiffened up the front end and now it pulls straighter. I am very happy!!
03/27/2019
Great product
Great product and awesome shipping time I got it two full days before when its was saying it was to be expected
12/11/2018
2nd one purchase, but just as good as the first!
My first one, provided immediate benefits from a tad less torque steer, a little better turn-in, and in general, better straight-line tracking. It sadly had an encounter with a 4x4" post laying in the road, and snapped at the mounting cup. So I've bought another, because it's such a great mod to have, and when it goes on sale, a no-brainer to purchase.