FSWERKS Green Filter Cool-Flo Plus Air Intake System - Ford Focus ST 2013-2018
SKU:
FS018GB
The FSWERKS Cool-Flo Plus air intake system is our top of the line kit for the Focus ST. It eliminates the factory airbox to allow for maximum airflow from all angles, yet still provides a barrier from engine heat. We achieve this by utilizing our powdercoated aluminum heat shield, which has a rubber hood seal that meets up with the hood when it closes. To further maximize airflow our heat shield incorporates a larger 3" inlet where our high performance air filter connects compared to the factory 2.75" inlet. The Cool-Flo Plus then takes it a step further adding our powdercoated 3" mandrel bent aluminum turbo inlet tube to the system, making this a true 3" air intake system from the air filter to the turbo. Features laser cut brackets and tig welded construction.

The factory airbox was designed, in part, to be quiet to meet the needs of the general population. Once the airbox and turbo inlet tube are replaced with the Cool-Flo Plus air intake system a much more aggressive and sporty engine note will be present. For the majority of auto enthusiasts, the resulting sounds of the turbo spooling and diverter valve whooshing are as appreciated as the added horsepower and torque. We include all of the necessary hardware and instructions for installation. Lifetime Warranty.
Note: A noticeable increase of induction noise is created with all open filter air intake kits like the FS018 series intakes. Only the ITG filter part#15BH-262 or a 7159 Green Filter with cap in the stock air box will maintain OEM like sound levels.
Note:
This product is not CARB Exempt and is not legal for use on public roads in California or other states adopting California emission standards.
---
Customer Reviews
05/29/2020
Henry E.
United States
Nothing like good ol induction sounds
There's such a focus (no pun intended) on exhaust note that the sweet sweet sounds of intake noise is often ignored; the symphony of whooshes and growls make me want to take the long way home. Butt dyno says there's a little more oomph, especially higher up in the rev range (paired with an AccessPort and the OTS 91 tune). Intake temps while in motion generally only about 5-10 degrees above ambient. Installation was reasonably easy (~1 hr) and instructions simple to follow. Wishing I had gotten this sooner and not after 170K miles.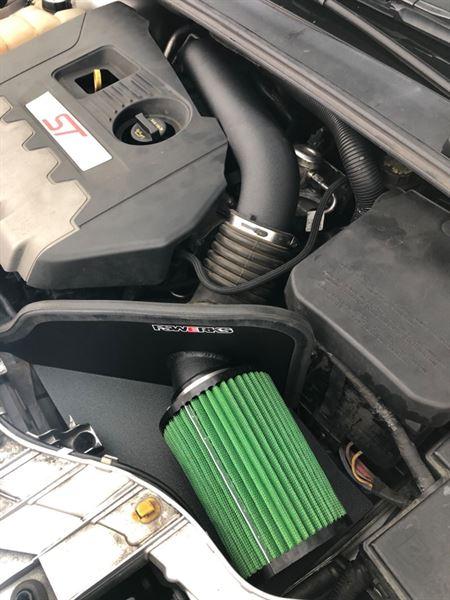 12/16/2019
Jule S.
United States
FSWERKS Green Filter Cool-Flo Plus Air Intake System - Ford Focus ST 2013-2018
Great item. Looks bad ass and sounds much better. The tube you replace from factory is so much lighter. The green filter look sexy on yellow but also adds that sound and turbo noise you are looking for. Install pretty straight forward the pics that they send along with the txt instructions are on point. 100×better then IKEA lol. Service and delivery were fast. Great overall experience. If you have an St you need this. Dont waste time with other companies. Better pricing product and sound.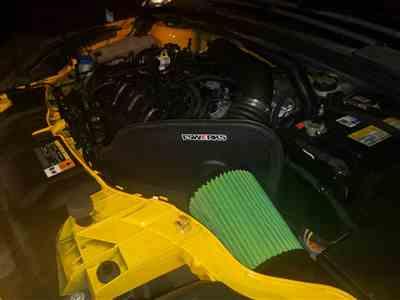 07/23/2019
Hunter D.
United States
Sounds fantastic
Not too difficult to install, fits nicely
Incredible Intake - AVOID COBB PRODUCTS
Sounds amazing - bought it used after cobb sent me sliced couplers and then their support acted like it was my fault. I also had a mazdaspeed3 and enjoyed the access port until they decided their customers needed to pay an additional 200 dollars to continue using their software then obsoleted my current software so it'd only run on windows vista. What a crap company. UNLIKE FSWERKS. I will be buying from them again in the future. do NOT give Cobb your business.
Great Intake
Got the intake installed tonight. Sounds amazing. Really lets your turbo breathe. Excited to start seeing the great results. Sounds awesome, looks awesome, and my car loves it. Definitely worth the price, quality materials. Definitely recommend.
#FSWERKS - TAG US ON INSTAGRAM AND GET SHOWN HERE!