BLEMISHED FSWERKS Intercooler Kit - Ford Focus ST 2013-2018
SKU:
FS096
The FSWERKS high-performance intercooler kit for the Mk3 Ford Focus ST includes everything you need to optimize the performance of your vehicle. The larger than stock, FSWERKS intercooler is essential for sustained high speed or track use and is not as prone to heat soak as the smaller OEM unit it replaces (CV61-9L440-DB).  
*This item has small blemishes on the front and or back of the core. Performance will not be affected in any way, it's simply a small cosmetic issue. Actually it won't even be seen really once installed.
Features:
 Bar and plate construction
 Cast end tanks for smooth flow
 Core size 559mm x 203mm x 89mm (22in x 8in x 3.5in)
 FMIC Supports approx. 500 horsepower
 No drilling is required for installation, Bolt-On design
 Brackets, hardware and instructions included
Technical:
Early on testing revealed the need for a larger than stock and more efficient intercooler core to improve the performance of the MK3 Focus ST. FSWERKS has developed a considerably larger and more efficient intercooler kit to reduce intake air temperatures. Lightweight cast alloy end tanks ensure improved intake airflow.
Notes:
-Please allow approximately 3-5 business days before this item ships.
-Removal of the vehicle AGS (Active Grill Shutter) is required for installation of this product.
-An optional vinyl FSWERKS logo template is available for painting
Installation instructions - VIEW PDF INSTRUCTIONS
---
Customer Reviews
06/15/2021
Another great product from the guys at FSWERKS
Thanks to the instructions the install was smooth, taking around 3 hours. IC works great and keeps those air temps low. Running a Stage 4 tune and she boogies! 10/10 would recommend.
RayJ K.

United States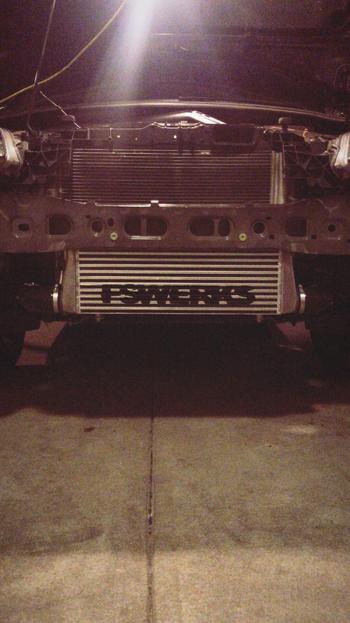 08/30/2018
Best bang for buck
Received intercooler and stencil and assembly only took a few hours. Charge temps are down by 11-13 degrees. Love it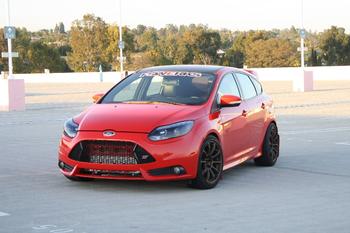 04/06/2018
FSWERKS Intercooler Review
5 Stars well earned. Easy install (did it outside at night and accidentally in the rain haha) and made a huge difference over the stock intercooler. Would highly recommend to anyone and everyone.
03/29/2021
Perfect
Perfect bolt on replacement
Tyler C.

United States
01/23/2019
FSWERKS Intercooler
Great fitment, great results!
10/13/2018
Worth every penny.
A couple minor dings, a little dent....whatever. Excellent fitment. Excellent performance. FSWERKS delivered a quality product that works....even with a few dings.
07/04/2018
Excellent product for a great deal!
Ordered a fswerks intercooler for my 2014 focus st and went a little cheap and got the cheaper one on clearance (w/ some blemishes). And as stated in their notes, won't affect performance and barely noticeable when installed. And on point they was, and I saved a few bucks ordering this item. Instructions given was simple to follow. Thank you for a great product at an even better price.
06/04/2018
Great product
Installed easily, fit and finish is perfect, charge temps running much cooler than stock.
06/01/2018
Awesome product, awesome instructions, and awesome service!
I bought the blemished version of this intercooler, and it was near-perfect. When I opened up the package, I noticed that there was a CDR with a PDF on it. That PDF contains step-by-step instructions with pictures for each and every step that made the installation really, really easy! Just be careful when jacking up your car because the ST has few (and finicky) jack points. Also, make sure that you use the included screw for the MAP sensor because the original one will not fit. It says that in the manual, but if you're like me, you work ahead of the instructions at times. So this intercooler keeps your temperature down far better than the stock version, and when you combine it with the FSWerks stage 2 mapping, the power addition is really nice too.
05/31/2018
FMIC good buy
Took me 3 hours total and it was my first time. Not bad a must if you have an st