H&R Sport Lowering Springs - Ford Focus ST 2.0L 2014-2018
SKU:
51664-2
Note: These will fit 2014-2018 Ford Focus ST with 7/9/13 production date or later. If you need springs for the earlier production model click here.
H&R Springs
Experience the H&R difference today.

Suspension is one of the most important factors in determining your vehicle's day-to-day drivability. The first step in suspension tuning is to upgrade your vehicle's stock springs. Upgrading your suspension components will ensure that your vehicle has improved handling and reduced body roll. H&R springs have superb ride comfort and increased driving convenience. 
H&R Special Springs are high quality products—they will not set or sag, they are designed and manufactured to be strong, resilient, and more durable than other automotive coil springs. All H&R springs are crafted from a special (hf) 54SiCr6 spring steel to ensure premium quality and performance. H&R Springs are shot-peened to increase their life by more than 200%. All production is completed in-house so product quality is ensured. Each spring is 100% tested before leaving H&R's ISO9001 certified production facility in Germany. 
H&R Sport Springs Ford Focus ST 2014-2018  Part Number 51664-2
Lowers Front 1.4" Rear 1.3" on average
Superb ride quality
Sport Spring kits are H&R's number one selling product. Enhance the look of your vehicle with a reduced fender well gap. H&R Sport Springs lower the vehicle center of gravity and reduce body roll for better handling. The progressive spring rate design provides superb ride quality and comfort. A lower wind resistance signature will make the vehicle more streamlined and improve gas mileage. If you are only looking to improve one part of your vehicle's suspension, you cannot go wrong with installing Sport Springs. Fun to drive, H&R Sport Springs are the number one upgrade for your vehicle.
---
Customer Reviews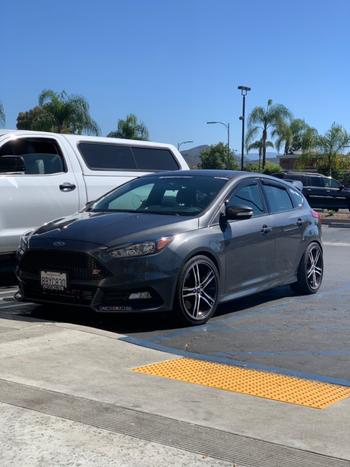 07/07/2020
Drop it low giiiirl
H&R all the way. Glad I made this purchase. I made the dumb mistake of ordering some race land coil overs (I know....I know, Raffi let me know I'm an idiot) but Raffi told me to pump the breaks and get the actual performance out of my springs with H&R. I have a little one who is always in the car with me. Comfortable as factory but way more aggressive In and out of turns. I currently have them paired with my stock shocks...but will be going Bilstein based off reviews and my boy Raffis recommendations! No one touches my car other than me besides Raffi & Vic. I only buy from these guys because you get treated like family. Thanks again for the kick ass customer care and low pressure buying experience. 10/10
Christopher R.

United States
I loved reading your review, much appreciated :-)