WURTH Exhaust Assembly Paste - 140g
SKU:
890100045
Fast, simple, and absolutely gas-tight assembly of exhaust flange and slip joints. Great for the installation of a new FSWERKS Exhaust system to ensure an absolute seal. The paste will harden and seal when heated. Item #0890100045. 

Soft paste for fast, easy gas-tight sealing of flanges and slip fittings in the exhaust system 
Sets with exhaust heat
Temperature resistant up to approximately 1292°F
---
Customer Reviews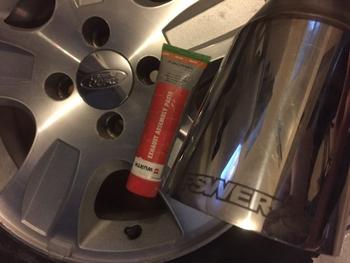 06/01/2017
Wuth Exhaust Assembly Paste
This product worked very well for me. I know exhaust paste can be picked up easily but just the fact that I could get all that I needed in one place with a few clicks was enough of a deal for me. No exhaust leaks after installation and plenty to go around!
12/15/2021
It's a tube of paste.
I couldn't find much info about this product other than it was recommended I use it to install the FSWERKS exhaust system. It came out a little gooey rather than paste-like. It seems to have done its job though I would have preferred more info about exactly how to use it rather than searching online.
Ian B.

United States
04/02/2021
Good Stuff
Installed a Cobb Titanium exhaust with this paste. Worked very well.
Sean N.

United States
02/25/2021
The best!
There is nothing better for sealing exhaust leaks!
Mike W.

United States
07/20/2020
very good product
very good product
emilis i.

United States
06/18/2020
Wurth muffler sealant
Great product that is easy to use and works very well for sealing joints on exhaust sections:)
Paul C.

United States
04/23/2020
Works Immediately
Bought this to use with the Stealth Catback for the 2.3L Focus. It comes out as a thickish liquid and starts to thicken almost immediately; make sure you apply it to the exhaust and slip the sections on quickly. Once they're on, you probably aren't getting them off again, so make sure you already have the exhaust hangers and clamps where you want them! Also, wear gloves; the hardening action will freeze-burn your skin. This will generate a horrific melted-plastic smell for about an hour of engine run-time afterwards, but it will eventually go away. It sealed my exhaust right up with no leaks, and I couldn't be happier.
Steven R.

United States
03/26/2020
Farting Porsche 356
FSWERKS had this product in stock, their price was right, and it worked! I had installed a new stainless steel muffler on my 356 without using exhaust paste and notice the telltale signs of leaks. Used the paste where needed and no more farting 356!
Mark E.

United States
12/16/2019
Stainless exhaust is hard to sesl, this is the fix
I've used this in the past and I'm glad FSWerks had this in stock. Fast shipping. Overall great shopping experience.
Shawn M.

United States
10/24/2017
Great paste
Does what it is supposed to do. Make sure to shake it before you use it. Stinks like watery cement. I like this product.
06/14/2016
FS Werks exhaust and others review.
Ive had the Stealth Exhaust on for about 2-3 weeks and I could not be happier with it. I've also had the Green High Flow Air Filter for the same time. These products separately are fantastic, but when paired together they are absolutely amazing. I have them on a 2012 Focus Sedan, the sound I'm getting is perfect. Deep grumbles, burbles and the occasion pop and crackle. With the windows up, it's very very quiet but you still get to hear see noise. I've never noticed any droning, even with Windows down. I have zero complaints. Perfect.
04/20/2016
Wyeth exhaust paste
Works as advertised
02/17/2016
broken tube
material worked as described, but tube broke out the side as soon as we started applying pressure. Used putty knife to apply.
11/11/2014
Helps for installs and can fill basic leaks
Just bought this since it was recommended... and it did actually help lubricate the slip joins for install... then used more around other areas that could leak.. It hardens up with the heat.. Seems to work well.