Outerwears Pre-filter water-repellent cover for Green Filters 7183/2139
SKU:
GREENCOVER
Outerwears Pre-filters are designed to enhance the efficiency of any performance or exposed air filter. The Pre-filter is constructed with a proprietary polyester mesh with uniform micron openings, treated with an optional hydrophobic water-repellent process. The mesh is UV resistant, filters debris down to .005", is shatter proof in freezing temperatures, and resistant to heat up to 450 degrees. The material is puncture resistant and has elasticity characteristics allowing the threads to return to the original position in the event the threads have been impacted or shifted. The manufacturing process incorporates a welded seam for strength, or reinforced industrial grade thread to fill needle holes and to reduce potential failure points in the material.  The top seam utilizes specialized thread and cording to reinforce durability of the top. Pre-filters are designed to deflect the damaging debris, which clogs air filters, compromising peak air-flow and horsepower. The Pre-filter also extends the time between servicing intervals reducing costs and increasing convenience for the consumer.

Fits Green Filter part # FS7183 & FS2139 ONLY.
DOES NOT FIT these filters: FS7159, 5159, 4159, 15BH-262,  FA-1908
Fits FSWERKS Air Intakes: FS018G, FS018GSHIELD, FS018GB, FS016G, FS016GB, FS017G, FS017GB
Does NOT fit FS013G Air Intake - View Outerwears Prefilter for FS013G SKU: JC60COVER
---
Customer Reviews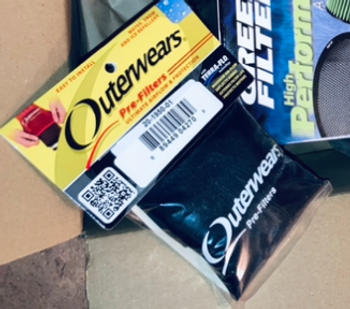 02/15/2021
Is it worth it?
So far, I love it. I managed to have my intake at a perfect location but spring showers will be starting soon. No more worrying with this bad boy.
Roman G.

United States
07/26/2023
Go Green
Green Filters and Green Filter Outerwear have been a great addition to my ride. I highly recommend them.
Casey M.

United States
01/12/2022
Happy be be careful
I love this item, especially during monsoon season. I just bought another one, so I'm not sure how long it should last. I took mine off to clean my filter for the first clean, and the elastic was already NOT going back to shape. That's the only reason why I had to buy another one.
Roman G.

United States
09/04/2020
Excellent quality
straight forward install, keeps the big chunks out !!! Lol
randy s.

United States
07/06/2020
its Great
Nice product, well made
Brandon D.

United States
11/27/2018
Awesome
Easy install, took no time, and my worries about driving in the rain with a bottom mounted air filter is gone. Looking forward to buying more parts from this site
10/04/2018
Very helpful
Excellent product. Goes on easily and keeps water and debris from getting into your filter. Very happy I bought this.
11/29/2017
Outstanding
Fits green filter perfectly, helps ease the mind over water and dirt issues. Doesn't affect performance and looks great. Highly recommended
06/12/2017
Good Product
This item I highly recommend for cold air intake, it prevents water from entering the intake as well as dirt it a must buy good product.
02/16/2017
05 Focus ST
Performs the same and gives me peace of mind when it comes to dirt and water
08/15/2016
Great product
Installation was super simple and there is now a major difference in acceleration. As far as I can tell my fuel efficiency has increased as well
05/02/2016
great
I got this for my 2012 ford focus sel hatchback with the fswerks cold air intake and works great keeps larger debris from sticking to filter a lot less cleaning of filter too
FSWERKS
Yes it's a great product to keep the cleanings down and it's water repellent. Glad you like it
06/11/2015
AMAZING!
This is a must have item for anyone that own a 2005-2007 Focus with the FSWERKS Cold Air Intake. Very quality material without losing any performance. Tanks So Much FSWERKS!!