Outerwears Pre-filter water-repellent cover for open-ended air filter (Green Filter, Cobb, Roush, Mountune,K&N Etc)
SKU:
OW7159-BLK
Outerwears Pre-filters are designed to enhance the efficiency of any performance or exposed air filter. The Pre-filter is constructed with a proprietary polyester mesh with uniform micron openings, treated with an optional hydrophobic water-repellent process. The mesh is water-repellant, UV resistant, filters debris down to .005", is shatterproof in freezing temperatures, and resistant to heat up to 450 degrees. The material is puncture resistant and has elasticity characteristics allowing the threads to return to the original position in the event the threads have been impacted or shifted. The manufacturing process incorporates a welded seam for strength or reinforced industrial grade thread to fill needle holes and to reduce potential failure points in the material.  The top seam utilizes specialized thread and cording to reinforce the durability of the top. Pre-filters are designed to deflect the damaging debris, which clogs air filters, compromising peak air-flow and horsepower. The Pre-filter also extends the time between servicing intervals reducing costs and increasing convenience for the consumer.
Custom designed for FSWERKS Cover Version - For aftermarket filters such as Green Filter, Cobb Tuning, KN, Roush, Mountune that do not already have rain cap in place.
FORD FOCUS S/SE/SEL/ST/RS 2013-2018
Pre-filter Cover (with sewn top cover) - SKU: OW7159 20-3157-01

Fitment:
Green Filter SKU: 7159/4159
Cobb Filter (Made by Green Filter) SKU: 5159/791101
FSWERKS Air Intakes SKU: FS018OEMGB, FS018OEMGREYB
Cobb Tuning Air Intake SKU: 792100
K&N SKU: E-9289, 57S-4000
ROUSH Cold Air Intake Kit SKU: 422065, 421642
Mountune (Made by Green Filter) SKU: 2363-AF-AA
Mountune Air Filter (Generic with an open top)
NOTE: AIR FILTER NOR AIRBOX SHOWN NOT INCLUDED
---
Customer Reviews
12/11/2018
Top notch, perfect fit for the Roush filter
11 out of 10 fit and price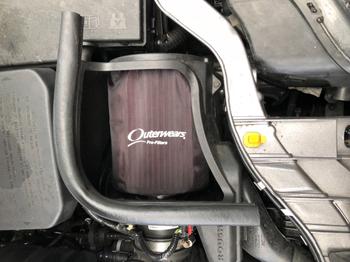 05/10/2018
Great product
Installed on 2012 focus, roush intake with st short ram intake. Fits nice and helps keep fiter clean!
08/26/2020
Water repellent pre filter!
Installation was quick and easy and added a extra line of protection for the filter element!
MICHAEL P.

United States
06/22/2020
Works
It works as says. Right fit. Logo wack and should have different color schemes or even brand the logos there fit for on the sleeve
Austin F.

United States
07/23/2019
Don't forget this critical piece
After cleaning foam filters in motocross bikes for years I am appreciative of this invention. We use these "pre skin filters" on really muddy race days but they are perfect for everyday use on your open or semi-open intake. Snug fit on the filter but works exactly as intended. Take a look at their other offerings, this brand makes one for just about everything
Andrew Y.

United States
06/15/2019
Great pre-fiiter
Fits my Roush Cold Air Intake
Gerrit B.

United States
10/30/2018
Nice!
"How was your overall experience using the item?" Very nice.
10/13/2018
Spend the extra for the piece of mind.
Tight fit. Well made.