Cobb Shift Knob – Ford Focus ST, RS & Fiesta ST
SKU:
291350-RD
The COBB Knob is designed to keep those extended shifting sessions exhilarating. The billet aluminum base is anodized in your choice of red or black to help set the mood and is internally threaded to provide a tight fit onto the shifter shaft that won't come loose in the most frenzied of gear changes.
The satin black or white delrin knob feels incredible and has a perfectly round contour to fit right in the palm of your hand. The package is complete with a COBB logo laser etched into the base to let everyone know whose knob you hold. The knob weighs in at a lightweight 113.5 grams, encouraging fast, smooth thrusts into every gear.
Spin on a COBB Knob and go for a ride!
Not Compatible with the Ford Focus ST Racing Shifter (M-7210-FST)
Satin black delrin knob stays comfortable in the heat and cold

Anodized aluminum base in Black or Red, Laser Etched Logo
Light weight at 113.5g . 26% Weight Reduction for fast, positive shifts
Factory Knob Height: 1.95", COBB Knob: 2.65"
Comfortable motorsports influenced design
Maintains Factory Reverse Lockout
One of a kind appearance
---
Customer Reviews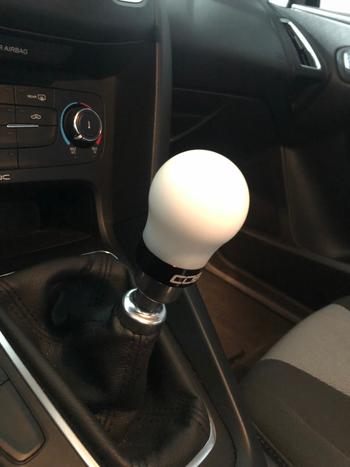 07/25/2019
Better grip
Makes for a better grip on the shifter with the consistent shape over the stock one. Makes it much nicer to handle and does not get hot with the hot climate which is a plus. Highly recommended!
Daniel B.

United States
10/02/2020
Love it love it love it
Installing the fs works short shifter on my 2019 Fiesta ST was a breeze!! Took about 20 minutes, and the 25% reduction is perfect!!! No complaints what so ever. The instructions are super easy to follow as well. 10/10
Julian O.

United States
07/09/2019
Perfect Interior Upgrade
Installation was a simple unscrew of the stock knob, and simple screw on of the Cobb shift knob. It does appear to sit a little higher than the stock knob, but the fit was perfect. The fit and finish of the product is top-end, feeling very solid. Maybe it was due to a previous review, but I thought this knob would be heavier than the stock knob, but it's actually quite a bit lighter. I personally paired this with the FSWERKS Short Throw Shifter and it feels amazing. Highly recommend this product for interior dress up.
06/28/2018
Cobb Shift Knob - fiesta st
Great quality piece; however, on the fiesta st it screws down to far for the reverse lockout to work. I just put a nut between the top of the shift lever and the knob to get the right clearance. Not sure if it's a defect, as you shouldn't have to mod something made for your car.
04/06/2018
Quality product
I was a little skeptical considering it is lighter than the stock shift knob but it feels great while shifting and is also comfortable. Solid shift knob.
07/06/2017
Beautiful
I ordered this knob because the stock one was getting too scratched up and worn for my liking. The new COBB shift knob feels perfect and keeps your shifts in line! Beautiful finish and a breeze to install. Highly recommended even for just replacing the clunky stock knob.
06/15/2017
Cobb Shift Knob
I never thought that a shift knob (let alone a decent one like the Cobb) would make much of a difference, and boy was I happy to be wrong. Couple this with the Fswerks short shift kit, its a marriage made in automotive heaven!
10/14/2016
FSWerks shift plate adapter
I set mine to 40% and wow.. What a magnificent difference it made! Took about 30 minutes to install and can be done with basic hand tools. Thanks FSWerks!