FSWERKS Adjustable Short Shift Kit - Ford Fiesta ST 2014-2019
SKU:
FS142
Introducing the new FSWERKS Short Shift Kit for the Fiesta ST. Reduce your stock shift throws with two different positions, ranging from 15% or 25%. Offering 2-positions truly allows the user to fine tune their shift throws. Installation is a breeze since the stock shift weight doesn't need to be removed, this saves time and simplifies the installation process. ST200

Made from CNC machined 6061 T6 aluminum with engraved FSWERKS logo
All hardware is 100% stainless steel including the ball stud
2-position adjustable between (15% or 25%) reduction
Anodized black finish
Completely reversible
Installs in approx. 15 minutes
Supplied with detailed instructions and Loctite
---
Customer Reviews
02/21/2022
Excellent product
I ordered this with the aluminum bushings as well. Both fantastic products that tightened and shortened my shifts perfectly. Packaging, instructions, quality, all superb
Vincent W.

United States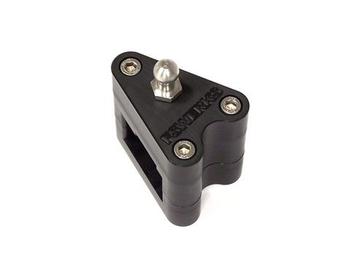 06/01/2017
After 10 months
I've been using the short shift kit (fiesta st) for 10 months now. I think it is the best mod for your buck you can get. Shifting feels a lot better than stock, very happy with this purchase.
05/15/2022
FSWERKS Adjustable Short Shift Kit
Works very well. Helps shift gears faster. I set it to 25%.
Michael R.

Canada
11/27/2021
Seriously Excellent Upgrade
It's not as though I didn't believe the other reviews, but I wasn't expecting to be wowed... Well I stand corrected. The short through, and feeling of shifting has been completed upgraded. Fells unbelievably good to shift. This coupled with the aluminum bushings for the linkage bracket, and you've got yourself the best day-to-day upgrade for the cost. Period.
Alex

United States
03/04/2021
Just Buy It
I've been wanting to get this ever since I bought my Fiesta ST about a year ago. Don't make the same mistake I did and wait... just buy it now! It's very easy to install and made a huge difference in the way the shifts feel now. Throws are much shorter and click into place. Gone are the days of long, mushy throws. This is the way the car should have felt from the factory. Buy it, set it at 25% reduction and enjoy.
Trenton E.

United States
01/04/2021
Good piece, good price
Install was a breeze. The thing cannot physically be installed backwards. So that helps. Shifts felt great! Still retains OEM level of shift effort, but the action is tighter. Feels like Ford should have taken this route from the factory.
Matt B.

United States
01/04/2021
Short shift kit
easy install, works great. Really glad I installed this short shift on my 2016 Fiesta ST
Randy M.

United States
12/09/2020
Highly Recommend
Took a little longer than I had expected. Shift feels great! Combine this and their aluminum bushings and my goodness. Ever since I switched from Miata to FiestaST, I noticed the shifting had a longer throw on Fiesta. Now, it feels like my Miata, nice feel although not as short. Went straight to 25% I cant stress enough, driving is now even more enjoyable than a few hours ago.
Mark N.

United States
07/29/2020
Easy install. Feel is great! Yes it does work on a 1.0 EB focus with B6(manual transmission)
Kyle C.

United States
It's good to know it works on the 1.0L Ecoboost Focus with 6 speed manual transmission. Thank you Kyle :-)
05/20/2020
Much needed mod
After having the short shift kit in the car for a month, I can say that I'm satisfied. I went with the 25% reduction and shifting is a lot better now. So if you don't like the feel of the stock throws then get this, you'll be glad you did.
Giovani C.

United States
05/18/2020
Huge improvement
Took just a short time to install has really made a difference over the stock shifter. Awesome.
Christopher B.

United States
04/07/2020
Customer service
I made a mistake when adding my shipping address and customer service assisted me in finding my package. They also answered the call each and every time.
Matthew D.

United States
02/27/2020
Why a dead video. Video unavailable This video is unavailable.
I want to install this it's sitting on my desk! However, the included instructions are not clear despite 4 photos. I NEED TO SEE THIS DONE!!
John N.

United States
Sorry John, that video belonged to one of our good customers and unfortunately they lost access to it which is why its not there any longer. My apologies. Thank you
12/31/2019
Short shift
Easy install, much shorter, and precise shifts
Davis F.

United States
12/25/2019
A great mod
I installed this myself. Im just your average home mechanic, with the help of YouTube i had the project done in 1 hr. After having done it, i could do it again in almost 1/2 the time im sure. As for the feel after the install, it's a great mod that i wish i would've bought sooner. Gives the car less downtime between shifts, still maintains ease of finding your gears, and overall less time and distance to travel between gears. I waited until i had about 1,000 miles before writing this up. The part is still doing its job just fine. No issues at all. You'll want to definitely use the loctite provided with the hardware so nothing rattles itself loose. 4.5 out of 5, just a little bit of a pain to install, but part of that is probably on me and my lack of skills.
Matthew F.

United States
08/13/2019
Fswerks short shifter
This is badass love the quality and it was easy. Rly like how it reduces the shift throw very good job guys.
Lucas a.

United States
07/09/2019
No Denying This Upgrade
I read so many reviews of this part before purchasing it, and I can finally agree with everyone else that this is a MUST HAVE upgrade for the Fiesta ST. I took the longer way around for the install, removing the battery and battery housing. However, this provided infinitely more space for proper installation. Super simple process of selecting the reduction I was wanted (opted for the 25%, as opposed to the 15%), and reassembly. What you've undoubtedly read from other reviewers is the FEEL of the shorter throws, and there is no denying it: this is part is one of the single most impactful upgrades you can make to your Fiesta ST that you can feel. The throws have a little more weight, but are so much cleaner and precise, compared to the rather long and vague throws from the stock shifter assembly. Believe the hype, believe the reviews. This is one upgrade you NEED to make your trips more exciting.
Thanks very much for your input :-)
05/20/2019
Works for 1.0L EcoBoost
I purchased this item for my 2015 Focus 1.0L EcoBoost. The Focus 1.0L shares some similarities with the Fiesta including this Short Shifter. The Short Shifter fits perfectly, and makes shifting much more crisp and precise. If you own a 1.0L Focus and want a quality Short Shifter, order this from FSWERKS.
12/25/2018
Awesome everything
Fast shipping easy install and comes with everything you need like locktite. I previously had another brand short shift adapter for the fist. But after around 20k miles the vibration made it loose and fall apart. I didnt use locktite and i should have. But this one did come with locktite and currently im using the 30% and shifts are super crisp and short. Love it
12/24/2018
FANTASTIC
What a perfect addition to the car that makes it even more enjoyable to drive. It took me a little bit longer to install because of the extra plumbing the 2016+ Fiesta STs have attached to the induction hose. Other than that it was a simple installation. I went with the 25% reduction and absolutely love it. Looking forward to purchasing more products from FSWERKS, and would HIGHLY suggest this to anyone on the fence about it. Just get it!