FSWERKS Polyurethane OE Mount Insert - Ford Focus 2012-2014
SKU:
FS6506
This polyurethane engine mount insert fills in those voids from the factory engine mount, effectively making the engine mount more rigid. The stock engine mount voids are designed to give the mount a level of play that can soften engine vibration. Filling that void limits the travel, reducing the chances of any slop and puts the power to the wheels more effectively. The polyurethane insert easily presses into the factory Ford OE (Non electric style) CV6Z-6068-A / CV6Z6068A mount with some lubrication.
 Made from 68AHR Durometer Polyurethane
Installation: Install requires about 30 min, simply remove original engine mount and install poly insert into the original mount from top or bottom, doesn't really matter but we prefer from the bottom. Re-torque all hardware to factory specs, two larger 12mm bolts require ~60ft lbs, 10mm bolts require ~35ft lbs and any smaller 8mm hardware require ~18ft lbs.
Fitment:
Ford Focus ST EcoBoost 2.0L 2013 2014 
Ford Focus TiVCT 2.0L 2012 2013 2014 
Note: Fits ONLY the (non electric mount) CV6Z-6068-A / CV6Z6068A mount. This DOES NOT fit the CM5Z6068A mount. Check to verify you have the older style mount as pictured before ordering. Engine mount NOT included.

---
Customer Reviews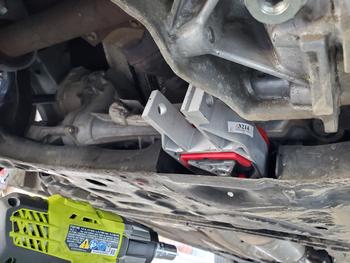 12/08/2021
Smiles for miles
Old RMM was on the way out, decided to pick this up while getting a new rmm. The reviews are high for a reason. A very solid feel when you use this insert. Great job on another great product fswerks.
Martin

United States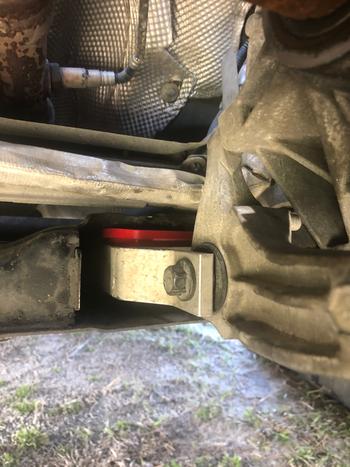 02/15/2020
Fits more than 12-14
Definitely just installed on my 2016 focus s..... super excited and definitely feels more stiff than before. Can't wait to take her for a long drive.
Joseph Y.

United States
10/11/2021
Easiest way to change your focus
I'm not a legit car guy by any means. I'm a mtn bike mechanic with hopes of Working on cars and such. Anyways not the point. My hatch 2014 focus se tivct was fun before this insert, but after this thing.. dude, it's a 4 banger with an intention. I wasn't used to getting under a car that much but A man with free time and a 15 mm socket can do just abt anything. Removing and reinstalling everything was simple on jack stands, and the mount was relatively simple to find after removing the bottom engine shield? (Not up to date on terms) anyways.. I just put this bad boy in and re torqued everything and the first couple of miles were a blast. It feels more planted already, responsiveness between 1'st and 2'nd and 2'nd 3'rd are quicker than they felt before, and it flat out just lays down the power better. If you're looking for a 10$ way to smile, this is on the top 5 list.
Jordan S.

United States
08/11/2021
The reviews dont lie
Works just as described in the previous reviews. Easy install. Very minor vibration at idle. Less shudder/wheel hop at takeoff (manual trans). Ridiculously cheap $$$! Very happy with the purchase!
Chris T.

United States
07/27/2021
Just installed on a 2016
I ordered this for my 2016 manual se focus. They called me saying it will not fit, and asked if I was sure I wanted to order it. For the price no sweat. I purchased all new mounts for the car and installed this into a new mount without any issues. They may want to double check the years because I bought ford mounts and it's fits like a glove!
Jesse S.

United States
06/27/2021
Honestly shocked by the improvement
Plenty of reviews have already mentioned various improved driving characteristics after installing this $11.00 insert into the existing mount bushing, and they're all true, but as a DIYer I have to say it was an absolute dream to install - 20 minutes start to finish. To have that experience followed by the immediate benefits of less vibration, wheel hop, and torque steer (gone, like seriously...just gone), makes this insert a MUST-HAVE for anyone looking for a simple mod that truly makes a difference. Can't speak to the product's lifespan yet, but even if it lasts a couple of years it costs $11.00 and I'll just put in a new one.
Aaron

United States
Thanks for the great feedback Aaron :-)
04/02/2020
17 focus
Ease of installation great
Jay M.

United States
02/09/2020
Good product
Works very well. Noticable difference.
Colin H.

Canada
12/31/2018
Rmm insert
Fswerks rmn insert is a great buy, was easy to install and cost effective if you don't want to buy a expensive rmm. My engine doesn't rock back at full throttle anymore, I don't feel any vibration after installation. Definitely recommend this product.
08/07/2018
Easy install
Item was cheap and easy to install
05/11/2018
Everyone is so enthusiastic...
Alright, right off the bat: Yes, this is good. No, it will not vibrate too much. Yes, you will feel a difference. Yes, I'd chose this over the solid electric mount (even with cost aside). Ok, so most of these reviews are so overtly jubilant, they border on being disingenuous. I'm not like that, and, if you are actually reading this, you probably aren't either. So here's what you want to know: This is a good product. Ships fast. Low effort install. Softer than you would think, but it's primary function is to fill the space, not to directly contribute to the mount's rigidity. Driving feels better. I would describe it as more clean and crisp. I have the manual, so the clutch feel is more precise. It is important to note that this does mean it's a bit less forgiving, but I very much doubt anyone will actually have an issue with that. Now, for comparisons. Personally, I feel there is a nearly negligible difference between this and the electric mount, so obviously I would recommend saving the $50 or so. And no, the cheap electric mounts on ebay are not real Ford parts. There is minimal QC with them, so they will vary between almost as good as the real one's to pretty terrible. Look, this is a noticeable upgrade, but don't expect anything world changing. It's still very much a daily driver, but that's the point. If you want something more aggressive, you will be looking at the more expensive mounts. Now, I have not had direct experience with any heavy duty mount in this car, so everything that follows is based on experience with other platforms/race cars. Those mounts will have a noticeable vibration, though nothing bad enough to bother those that like the stiffness. Driving will feel even more aggressive and direct, which feels so nice. Not everyone enjoys that raw experience, though. In my experience, you don't want this on super long drives or with your less practiced SO. If you want a daily car, this is a good step. If you want something a little more, then go with the heavy mount.
03/11/2018
Great product.
By far the best $10 I have spent on my car. Took about 45 min to install, and very simple if you can turn a wrench. Wheel hop is gone and shifts feel so much better. Slight vibration at idle but I'm sure I won't notice in a day or two. Well worth the time and money.
01/09/2018
Focus Torque Strut Insert
Very easy to install and will virtually eliminate the possibility of failure of the factory Ford torque strut by limiting motion, thus reducing likelihood of rubber tearing.
12/09/2017
MOUNT WORKS VERY WELL
I've sold auto parts for 20 years. With out a doubt this product works great on my 2014 Focus SE. Stiffens up much of the engine movement without the harsh vibration you get with full poly mounts. Great product !
09/25/2017
Best upgrade ever!
Quick and simple easy to install!!
06/21/2017
Good product.
It's a good product, it gets the job done. Although I think it's best as a temporary fix. I will be buying the fswerks rmm sometime in the near future.
06/15/2017
Mount Insert
I can tell a huge difference right away in the shifting and less movement great bang for the buck!
06/15/2017
Ford focus Trend
Easy to fit if you are handy with a tools
06/05/2017
Ford focus Trend
Easy to install and works well
06/02/2017
Best mod done to my
Best mod done to my Focus 14 dct transmission mount shifting is much more smoother now and less wheel hop