FSWERKS Rear Stress Bar - Ford Focus 2012-2018
SKU:
FS038K
The FSWERKS rear stress bar is designed to reduce chassis flex under hard cornering resulting in improved control and handling. Construction consists of 16 gauge 1.25" diameter high strength steel tubing and features TIG welded ends. The stress bar mounting brackets connect directly to the rear shock mounting points offering the absolute strongest connection possible. You'll truly be amazed at the rigidity of this stress bar. Legal for SCCA Street Prepared classes. Available in powdercoated satin black or silver finishes.
Features:
Light weight design, only 3.7lbs.
Easily can be removed via four nuts within 5 minutes.
No chassis drilling required.
Includes mounting hardware and instructions.
Installs in approximately one hour.
Fitment:
Ford Focus ST 2013 2014 2015 2016 2017 2018
Ford Focus Hatchback 2012 2013 2014 2015 2016 2017 2018 ALL
Ford Focus RS 2016 2017 2018

Note: Does NOT fit sedan.
---
Customer Reviews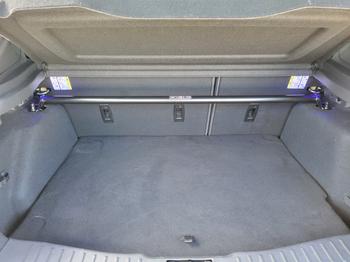 11/13/2022
Good product
The rear strut bar adds stiffness to the rear end of my RS. You can definitely feel it when hitting the curves at higher speeds.
Markus Q.

United States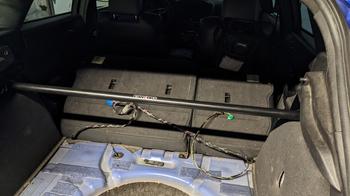 04/03/2022
Solid parts, solid value
The rear stress bar was worth every penny, it looks and feels very well manufactured and was easy to install. I haven't been able to track test it yet but the car immediately feels more stable during spirited road driving. I've also got FSWerks' lower front stress bar and I can't wait to see how these work together for the autocross season. FSWerks knocks it out of the park again!
Josh S.

United States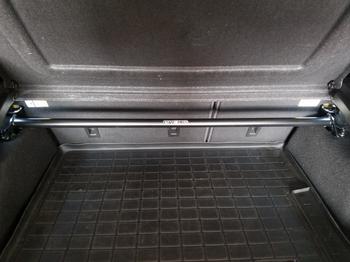 07/02/2020
Stress Bar
For the price it's a great piece, you have to remove everything in the trunk to install it but its pretty straight forward. I'm very happy with the quality I highly recommended it!
Ignacio A.

United States
Great photo! Thanks Ignacio :-)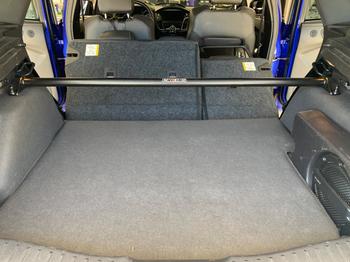 06/17/2020
Awesome Rear Stress Bar
This is a great product at a great price. The installation was very simple as well took less than an hour to install. Thanks FSWERKS for making such great products.
Chad

United States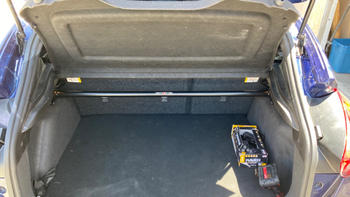 05/16/2020
Best Stress Bar and Best Value
Simple and quick to install, great build quality. Makes a noticeable difference. Compared to other really bulky and heavy bars around this was the best since I get to keep my cargo space and you can't beat the price! Highly recommend
Daniel B.

United States
04/03/2023
2016 focus SE
Solid sway bar completed the car and gave the stability I needed
Luis F.

United States
11/30/2022
Incredible upgrade
I was amazed how substantial the bar was a what a huge difference it made on the 2015 Focus SE Titanium. I have extensive experience in molding a car and this was the most benefit I have seen any in any car that was derived from a rear strut bar. I highly recommend this bar.
Alp T.

United States
10/04/2022
Great product.
Fast shipping and rear bar was a easy install. Fit and finish was good.
James H.

United States
12/27/2021
Excellent Service!
I needed to pick up quickly. They were very responsive to my request, and had my order ready very fast.
Gail S.

United States
03/26/2021
Great addition
The strut bar is great and feels extremely stable around corners and is a very noticeable difference at high speed. Installation was easy and replaced the sketchy OEM strut bolts with nice bolts that feel much more secure. I would definitely recommend this strut bar to any ST owner.
John K.

United States
10/02/2020
Piece of cake
Install was flawless and my car handles so much better in those hard dips and turns. Noticed a difference immediately after installing. Adds rigidness to the rear and overall tightens everything up.
Jose G.

United States
08/02/2020
This bar is fantastic!
I bought the rear sway bar from steeda and didnt notice anything at all in handling increases at higher speed driving. Bought the rear strut bar from fswerks, fixed the understeer issue immediately. Its not very noticeable at lower speeds but once you hit long sweeping corners you definitely feel the bar keeping the rear stable through cornering. Highly recommended for spirited driving or track use.
Preston F.

United States
05/18/2020
Did more than I thought it would
This is apparently what my build was missing. Tightened the rear end up nicely. Feels more stable on the highway and long sweeping turns. Build: Bilstein Sport shocks, Ford racing springs, rear sway bar, front traction bar
Ian A.

United States
05/13/2020
FS Werks Rear Stress Bar
Highly recommended, tightens up the rear end of the car substantially, def a mod you can feel in the twisties. Did the job on ramps in no time, no plastic or carpet removal needed. Recommend for any ST/RS owner. Thanks FS Werks
Lucas W.

United States
04/24/2020
Stiff
Stiffens the ride, m in and out of turns you can feel a huge difference.
Christopher R.

United States
11/27/2019
Excellent, very happy with it!
Excellent, very happy with it!
Christopher C.

Australia
05/06/2019
focus rs
Top quality product, shipped to australia in no time, easy install
04/09/2019
A must have for the ST
Quality product! Tightened up the rear of the car and keeps the car from wanting to drift at high speeds through a curve. I had purchased a Steeda bar and it was crap and that's all I'll say about that. If you're on the fence go with FSWerks, you won't be disappointed. Install was a breeze(already installed one that wouldn't fit)
03/29/2019
A must have
I was very happy I had this part installed on the car by fswerks before my trip to willow springs. The car performed better than I could have imagined along with the front lower stress bar. My ST performed amazingly on the track in the high speed turns at willow.
Thanks for your track feedback Jeff :)