FSWERKS Stainless Steel Race Exhaust System - Ford Focus TiVCT 2.0L 2012-2018 Sedan
SKU:
FS028
We use 2.5" diameter mandrel bent T304 stainless steel tubing in our designs for maximum flow and horsepower. FSWerks systems come with our exclusive stainless steel high-flow straight-through design muffler and are finished off with a beautifully polished 3.5" angle cut T304 stainless steel tip. Also included are the necessary clamps and hardware to allow for an easy installation. All our stainless steel systems are backed by a 5 year limited warranty.
Stainless Tubing
• Mandrel bent heavy wall T304 stainless steel construction
• Provides optimal flow
Precision Welding
• Tig and Mig welds are used on our system

Stainless Steel Flanges and Hanger Rods
• All of our exhaust flanges are laser cut out of T304 stainless steel and our hanger rods are cut from solid bars
Dual Angle Cut Tip
• Precision angle cut tip for agressive look
• Welded on stainless steel with etched FSWERKS logo


Optional accessories you may be interested in:
Wurth Exhaust Assembly Paste
Fitment:

---
Customer Reviews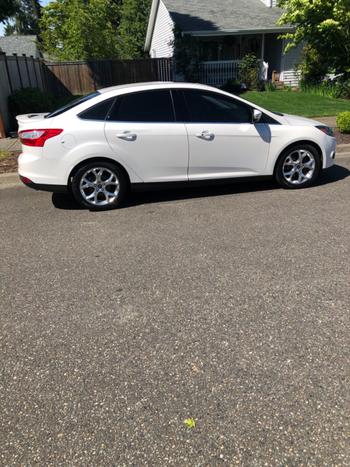 05/20/2021
Fast shipping easy installation sounds great!!
Took an hour to install on my 2014 focus sedan. Sounds great gets even louder in S
Mason B.

United States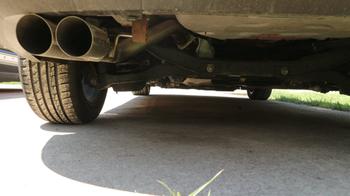 05/15/2018
Great choice!
Originally I was looking into getting the stealth exhaust, but I wanted to do my new exhaust for cheap, knowing it would be much louder. Honestly, the sound isn't that bad. Some drone between 2500-3500 rpms, but otherwise its fairly quiet compared to most v6's and v8's. Installation was easy, I had no issue bolting it on ( though the resonator is slightly too heavy for where its being mounted) and it took roughly 10 mins with a second person to tighten it all down. I have even seen a slight increase in mpg ( very minimal). For sure I would recommend!
05/26/2021
Sounds good
Easy to install and nice sound definitely recommend
John L.

United States
05/06/2021
Exhaust
Pleased. Just as I expected.
Misty C.

United States
04/26/2021
Happy Son
This was a Christmas gift for my 18 year old son. First, it was exactly what he wanted! The installation process was smooth with no issues at all (getting the old exhaust off was not as easy). This exhaust is well made and went on the car in about 40 minutes by myself. The price was excellent for what I received. I will definitely recommend FSWerks to all my friends and family!
Jamie M.

United States
Thanks very much for your feedback Jamie :-)
03/03/2021
Absolutely amazing
My overall experience with this product is literally overall amazing. It does get a little loud but nothing wrong with that
Broc M.

United States
06/06/2020
Would recommend
2018 focus 5 speed. The exhaust sounds great. Gives a really nice tone. between 2500-3250 rpm there is quite a bit of drone while on the gas anything more than halfway. Just cruising its not bad at all. Quality was great, welds look to be perfect. No rattles, no leaks and No major rasp or tin can sound you get from some exhausts on a 4 cyl. Very easy install with just ramps and jack stands it was about a 45 minute job start to finish. Would recommend to anyone looking for something loud when you want it to be, but still daily driveable and not obnoxious.
Zack P.

United States
04/01/2020
Love the sound! Would recommend
Love the sound! Would recommend getting some kind of sound isolation pad for the trunk as it can drone pretty loudly at highway speeds
Dale M.

United States
03/07/2020
Custom order?
Would there be a possibility to get this custom ordered without the muffler?... essential a full straight pipe?
Dom

United States
Yes, please call or email us for details on this. Thank you :-)
02/12/2020
FSWERKS race exhaust
Love it sounds awesome on my 2018 ford focus se sedan 1.0l EcoBoost
Michael C.

United States
12/09/2019
Great sound, works great
Ordered Cyber Monday, had that Friday, installed Saturday morning. Sounds great, loud but not obnoxious. My 6 month old son didn't seem to mind it, he feel asleep during the ride home from the install. Performance wise you can feel just a little more response in shifting into and out of 1st gear. Fit my 2018 Focus S sedan just fine.
Jay

United States
06/24/2019
Better than Borla
I replaced a borla exhaust with this. I was I would have went with fswerks first. The fit was better than the borla. This exhaust is loud but you get use to it.
Jeremy M.

United States
06/08/2019
As advertised
Great kit with great materials. Hardest part it removing the factory pipe. New pipe went on in less than 30 minutes. Sounds great coupled with the Roush intake. 2013 Focus SE sedan 5 speed.
Mark S.

United States
05/14/2019
this was what i wanted times a thousand
it is amazing. sounds amazing. feels amazing. no one expects a focus to sound like that. don't be beta and get the stealth, be alpha and get the race exhaust. good looks
04/11/2019
Get with intake and you'll wake up all your neighbors
Installation was pretty easy, recommend having an extra set of hands to get the converter in place correctly. Sounds incredible, downshifting at low rpms makes a crackling sound you wouldn't believe.
06/26/2018
Fantastic exhuast
Instal was pretty easy, I had a random hanger with nowhere to hang it but the tech department was great help! Got it figured out in a couple minutes! The exhaust has a great sound to it when you want to be heard! Nobody expects a Ford Focus to sound this great! Love it!!
12/01/2017
nice deep sound
awsome love the sound dont even listen to the radio any more just to listen to the car
06/07/2017
Great exhaust
Great product I love it. My car sounds nice and loud. I'd recommend to anyone who's looking
06/14/2016
The exhaust was very unexpected
The exhaust was very unexpected when u first start your car up and didn't sound like what a for focus with a exhaust would sound like and overal the product, I highly recommend
01/09/2015
Love this Exhaust!
I drive 70 miles round trip to work everyday in my 14 SE and I love the sound.I have gotten many compliments from other drivers,and when I go thru drivethru's constantly get asked"Is that a Focus?".This is a loud exhaust, and some drivers may not like it but the sound is perfect.The fit and quality of this catback is flawlessThis is my favorite mod.money well spent.