FSWERKS Stainless Steel Race Exhaust System - Ford Focus TiVCT 2.0L 2012-2018 Hatchback
SKU:
FS027
We use 2.5" diameter mandrel bent T304 stainless steel tubing in our designs for maximum flow and horsepower. FSWerks systems come with our exclusive stainless steel high-flow straight-through design muffler and are finished off with a beautifully polished 3.5" angle cut T304 stainless steel tip. Also included are the necessary clamps and hardware to allow for an easy installation. All our stainless steel systems are backed by a 5 year limited warranty.
Stainless Tubing
• Mandrel bent heavy wall T304 stainless steel construction
• Provides optimal flow
Precision Welding
• Tig and Mig welds are used on our system

Stainless Steel Flanges and Hanger Rods
• All of our exhaust flanges are laser cut out of T304 stainless steel and our hanger rods are cut from solid bars
Dual Angle Cut Tip
• Precision angle cut tip for agressive look
• Welded on stainless steel with etched FSWERKS logo



Optional accessories you may be interested in:
Wurth Exhaust Assembly Paste

Fitment:
Ford Focus TiVCT 2.0L  2012 2013 2014 2015 2016 2017 2018 Hatchback
IMPORTANT : Comes with all necessary gaskets, clamps,  and mounting hardware for assembly. DOES NOT require welding!
---
Customer Reviews
10/01/2021
Great exhaust
The install was easy and the results are fantastic. I love the sound (VERY loud) and I noticed a difference even before the tune! My one and only gripe is the U clamps. They look really trashy on the tip and are very noticeable when approaching the vehicle. I will purchase different clamps. Aside from that you can't beat this exhaust especially for the price. It sounds as good as the Roush exhaust but 300+ dollars cheaper. Great little rumble of the start and it sounds like a track vehicle during WOT. I also got their RMM and rear strut brace. My focus is a blast to drive!
Jonathan C.

United States
08/22/2021
Outstanding
This exhaust is incredible, a bit difficult on the install but the finishing product I couldn't be more happy with. After breaking it in during the past few weeks it now pops (I drive an automatic but put her in low, rev to 4K rpms and let off and POP POP). Amazing tone and you can hear me coming from 2 streets away. Only problems that occurs is the oe brace holding up the exhaust rattles on the piping so I removed it and the aftermarket muffler hangs kinda low so I scrape on it a lot on speed bumps and crappy roads, (car is also dropped 3 inches with fender to lip fitment though).
Gavin S.

United States
04/29/2021
Absolutely worth the Money!
I purchased the Racing Exhaust for my 2012 Focus Titanium a little over 5 weeks ago and it was absolutely worth every penny!! I have the Steeda CAI equipped as well, and the two together have woken up my cars inner beast! The tones from the exhaust are throaty, lots of pops and gurgles, and if you have the sport shift feature, its even better! I zee soo many people on here mentioning and border line complaining about the droning. People, EVERY aftermarket exhaust out has droning. Period. I ha e had a Borla and Flow Master exhaust on two other vehicles, and they droned as well. This exhaust from FS Werks in my opinion (and several friends and family memebers) is minimal at best. And you can control the small amount is does have by using the sport shift mode to change your RPM range. So if you dont want droning, i would suggest leaving your stock exhaust intact. It took less than one hour to remove the stock exhaust, and install the racing (i did have access to a lift so I could walk below car for the install. Super easy no weld system was a piece of cake. The 3 1/2" angled tips look sexy, and in the 5 weeks I have had it installed, I've already received several compliments. I have read plenty of reviews on this exhaust, and everyone is talking about the sound, which is amazng, however, lets talk about the added horsepower which is absolutely noticeable immediately! (Highly reccomend a decent CAI to truly feel the horsepower gain though). This exhaust was almost half the price of the "higher end" products and performs equally as well. That folks, is a no brainer! They ran into an issue with parts being unavailable due to high volumes of orders, but they communicated that to me immediately and upgraded my shipping due to the delay, so I still received it in a fairly timely manner. The shipping costs are not FS Werks fault so everyone on herr complaining they are too high needs to understand its the carriers cost not FS Werks. The box is large and heavy, so thats going to come at a higher shipping cost. Still worth every penny though! Stop reading great review after great review and get your exhaust ordered so you can wake up your Focus like the rest of us! Thank you FS Werks for an amazing product that truly does what was advertised!
James Carlyle Sr.

United States
Thanks for your great feedback and all the kind words James :-) Much appreciated!
05/29/2020
Excellent
Excellent, no problems whatsoever. I love this exhaust , really good deep sound
Brett S.

United States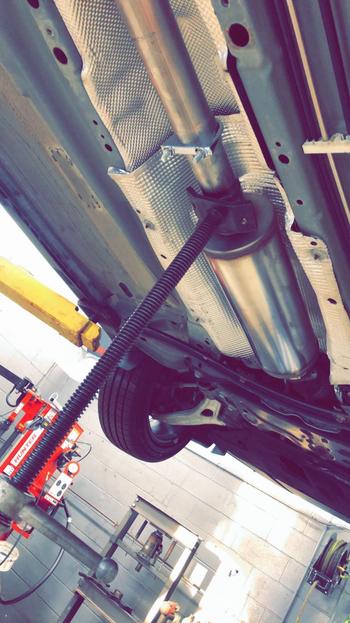 09/11/2019
Great exhaust gets better with time
Easy installation , fits great, great quality , looks amazing. Exhaust is very loud so be sure you want the race because it is damn loud. Also 3rd and 4th gear have a loud drone but overall great exhaust
Seth D.

United States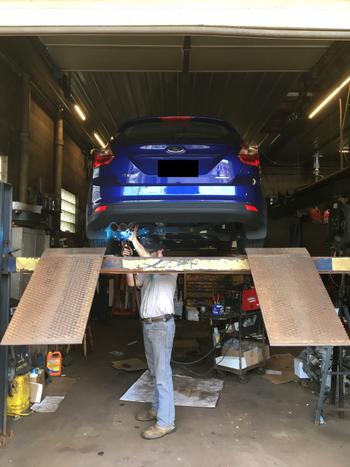 09/12/2018
2014 Ford Focus SE
I wasn't sure about putting this products on my SE (considering it's just a naturally aspirated four-cylinder), but I have been pleasantly surprised. This exhaust gave my car a completely new sound and appearance. I would describe the sound as much deeper and aggressive, and as for looks, I couldn't be happier with that badass looking dual left exit. My exhaust guy said it was very good quality materials and that it was one of the best fitting aftermarket exhausts he has ever installed. If you do get this exhaust, do not judge it's sound when you first put it on. It doesn't sound bad, but give it a month for the "break-in" period and it will sound even better. Very happy with my purchase, I would definitely recommend this product.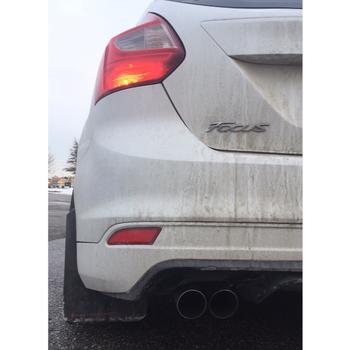 01/21/2018
Waking up the beast
i spent a couple months on youtube looking for the best sounding exhaust for my 2013 focus se and this one had my attention the moment i heard it. Of course videos do not do any exhaust justice, so i went through forums and people said if you want loud, mean, bassy, go with race. Wasn't sure how much loud i could get out of my car, but when i got this installed and revved for the first time.... holy f*** i did not expect this much noise to come out of a 4 cylinder. And its not just noise like a straight pipe, it has all the right notes, going thru the gears the car comes alive and on the downshitfs it pops and crackles and gurgles like no other! One thing though, drone is definitely existent, especially highway cruising. But i knew what i was getting myself into and i could not have been more happier with my race exhaust and the awesome customer service by Fswerks!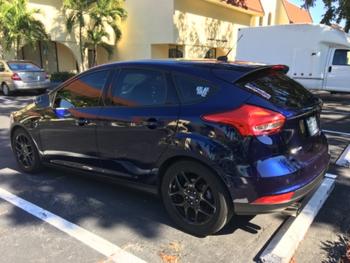 01/05/2018
Better than expected!
What a great experience! Steve was very helpful when I called to place my order and got my Exhaust shipped the same day! A few days later there it was arriving earlier than expected! I got it installed at a great local shop and man does she purr!!! The guy that installed it said he was shocked with how great it sounded! Deep growl with amazing notes!! Doesn't sound anything like a hypo farting in a tin can like many other exhausts I hear around town. If ur looking for something that is loud but also deeper with great mid to high notes get this now and you won't be disappointed!!! FSWERKS now how a customer for life! Bravo Zulu!
11/14/2017
4.5 Stars
Sounds mean, looks great. Installation was a breeze. Love the sound, but it is very loud. If you like the growling sound of cars then it's a good fit for you. Does have a drone at about 70-80+ mph but it's not bad if you have music at a decent level. Gave 5 stars but it's really 4.5/5. It makes a weird sound when accelerating at a decent pace. Kinda like a high rev then "bwomp" farty sound. However, this doesn't happen under slower or fast acceleration. Overall it's a mean exhaust that'll pop and growl & will turn heads.
10/28/2021
GREAT!
The installation was easy. The sound is phenomenal! Not super loud but enough to notice. Makes little pops and rumbles here and there. Was not expecting it to sound this great. Much satisfaction
Christian W.

United States
09/14/2021
Worth the money!!
I just got this exhaust last night and installed it relatively quickly and easily. The sound is FANTASTIC definitely the best exhaust i've heard for this car. It does drone a bit but it isn't anything to bad, for me at-least. Others who have been in the car with me said it sounds fantastic and they didn't mind the drone at all. Definitely can recommend this exhaust to anyone looking to get some bark out of their SE!
Colin V.

United States
08/06/2021
Better than I expected
Easy install and sounds great, gives it a nice rumble, I was worried it would be too loud but it's not, it's got just the right amount of noise, I'd say it adds some power too, it's not drastic but it's a noticeable difference, I'd say it's a must add for anyone that still likes their Focus
Jared K.

United States
07/20/2021
Best exhaust for this car!
When I bought the car I never thought I'd mod it mostly because when I was originally looking I didn't find anything(mods) that really stood out or caught my attention, fast forward 9 months later I started joining groups and figured out there was an entire community dedicated to this car and someone in a group said it sounded good. And they were right. It took a bit of time to actually be broken in and it's gotten a lot louder since. I really wish instead of the resonator that they had a straight pipe that would fit but it's alright nothing a little fab work could solve
Adam L.

United States
06/17/2021
Almost a year in...
I have had the race exhaust on my 14 SE for almost a year and let me tell you...it sounds freaking amazing!! It has gotten a little louder and the gurgles on the downshifts are even more amazing now. It sounds like it is a fast car though it obviously isnt, I don't care, I love the sound. A new coworker with an RT told me that the first few times he heard my car he thought it was an RS because it sounded so aggressive. Then he looked at it and realized it was a lowly SE lol. He was still impressed by the exhaust. Also had another coworker come out one day after I pulled in because he heard a beautiful exhaust and wanted the same for his Honda...I had to tell him he was out of luck...no ricer exhaust here!!
John S.

United States
LOL! Thanks for your feedback John :-)
05/06/2021
Fantastic sound and look
Wanted to eliminate the gross look of the muffler from behind my Focus and make the 2L duratec purr like the mountain lion she is at the same time. I have gotten many compliments and love this exhaust. So glad I found fswerks before spending twice as much for the same result.
Joseph B.

United States
04/22/2021
Very happy
Exhaust sounds great and went in smooth only complaint was that it was 2 weeks late and it has an extra hanger on one of the pipes but other than that no problem and would buy another exhaust in the future
Joseph C.

United States
04/05/2021
Race exhaust
I'm really happy with this exhaust, is not as loud when you start the car, but once you get on the throttle it sounds awesome. Drone is okay for me, but there is definitely some, 1 through 4 gear are really loud, specially 4th when you let go off the throttle around 4rpm, but I love it. Only issue was that FedEx wasn't careful and the resonator took a hit, but it didn't affect the sound. The hanger over the axle is unnecessary tho, my 16 hatchback has no hanger there so I just cut it off.
Luis F.

United States
01/18/2021
Great system all around
Great medium for good sound and not too loud. Looks way better then old system. Installation was not too hard only took a couple hours. All around sweet system and would recommend again.
Julian C.

United States
01/12/2021
Great price, easy install, sounds great
Came earlier than expected and delivers a nice and aggressive tone without being too loud. Not a lot of drone either, droning is most noticeable at about 3,000 rpms anything below or past that isn't too bad. Overall experience with FSWERKS was amazing!
Austin W.

United States