FSWERKS Tuned Cobb Accessport V3 - Ford Focus ST 2013-2018
SKU:
AP3FOR001F-91
Cobb AccessPORT ECU flashers from FSWERKS include all Cobb "Off the Shelf" programs AND FSWERKS Custom Programming. 
FSWERKS Tuned available Stages for 91 or 93 Octane fuel and Ethanol e30 blend:
Stage 1: Stock Focus ST or with any Air intake and a Catback Exhaust system.
Stage 2: Focus ST with FSWERKS Intake, FMIC kit and any Catback Exhaust system.
Stage 3: Focus ST with FSWERKS Intake, FMIC kit and any Catback Exhaust system with Downpipe [CEL will be present]
Stage 4: Focus ST with FSWERKS Intake, FMIC kit and any Catback Exhaust system with Race Downpipe (No cat for race use only) [CEL will be present]

The AccessPORT is the industry leading OEM ECU flashing, managing and monitoring assistant. Unlock power hidden within the ECU by replacing conservative factory settings with more aggressive calibrations. The result is impressive gains in torque and horsepower while maintaining a high degree of safety. The AccessPORT also comes with over a dozen Cobb "Off the Shelf" programs that are optimized for common performance modifications.

* Cobb Tuning OTS tunes approved for 2013-2018 Focus ST for Stage 1 & 2

Additional FSWERKS tune adjustments are available after purchase - Click Here
Flashing the factory ECU for more power is just the start of what the AccessPORT is capable of. The AccessPORT's full-color screen, intuitive interface, and extensive features allow you to easily interact with your car in ways you never thought possible. 
*Engine swaps, transmission swaps, intake manifold swaps, and turbo swaps are not included.

[ This product is legal only for racing vehicles which may never be used, or registered, or licensed for use upon a highway ]
FSWERKS Tunes, and Firmware updates can be loaded onto your AccessPORT via the free Cobb AccessPORT Manager software available for Windows/Mac OSX.
Currently only Stage 1,Stage 2 & Stage 3 Tunes are available for ADM (Australia) or EDM (Europe) 2013-2014 Focus ST vehicles. 
Results may vary. Power as tested on 2013 Focus ST vehicles using these identical calibrations. Generally speaking, the 87 and 91 calibrations run slightly lower boost, have a richer fuel curve, and a less aggressive ignition advance map to help compensate for lower octane fuel blends such as those found in Arizona, California, and Nevada; and/or less than ideal atmospheric conditions. The maps designed for 93 octane are the most aggressive.
*87 octane results are compared against a baseline of 87 octane fuel. 91 and 93 octane results are compared against a 93 octane fuel baseline. Your 91 octane results may be higher than listed above; as a baseline of 91 octane fuel may read lower than our 93 octane baseline.
SIMPLE INSTALLATION: Anyone can install the AccessPORT. No computers, wire cutting/splicing or tools of any kind are required. The AccessPORT is one of the easiest modifications you can make to your high performance vehicle. No tools are needed and no computer connection is required. Just plug the AccessPORT into the car's OBD-II port and follow the simple step-by-step on-screen instructions. In just a few minutes you will have a new performance map loaded on your ECU and be ready to experience the additional power and improved driveability of a proper tune tailored to your vehicle's modifications. The AccessPORT comes preloaded with several performance maps for common modifications, and includes access to a free online database of additional Off-The-Shelf maps.
CHANGE MAPS: Store up to 100 maps in the AccessPORT. Change maps whenever you want and be ready for any situation.  The AccessPORT can store up to 100 maps so you can be ready for any situation. Use the Change Map function to browse the maps stored on the AccessPORT and select the map most appropriate for what you want to do:
Running down the drag strip to beat your last ET?
Change over to your high boost map.
Heading out on a long boring highway drive?
Perfect time for that fuel economy map.
Parking your car overnight in a risky area?
Load the Anti-Theft map to prevent start-up. 
(for some applications)
Handing your pride and joy over to a valet for dinner? 
Switch to the Valet map to limit performance.
It's like an MP3 player for your engine. The "songs" are maps and the "volume" is the throttle!
CUSTOMIZABLE MULTI-GAUGE DISPLAY: Want Gauges? No problem. The V3 now supports up to 6 fully customizable gauges with 1/1000 resolution. Monitor all the parameters you want to see and customize each layout for street, strip or track.
GAUGES: Monitor OEM sensor data on-the-fly. Use the AccessPORT as an additional set of gauges to monitor data directly from the ECU.  Gauges allow you to view sensor data and calculated values in real-time right on the AccessPORT. There is no need for a clunky PC to ride shotgun with you in the passenger seat. Just plug the AccessPORT into the OBD-II port, select Live Data from the menu and choose a monitor to view. Any monitor that can be data logged can also be viewed in real time using this feature. Live Data can function as auxilliary gauges to supplement the stock gauge cluster, or it can be used to help in fine tuning custom calibrations. Unlike dedicated auxilliary gauges that can clutter up your dashboard, the AccessPORT functions as soft gauges, allowing you to decide what gauges to display. Some examples of gauges are:
Throttle Position
Boost Pressure
Ignition Advance
Wastegate Duty Cycle
Mass Air Flow
Intake Temperature
Air/Fuel Ratio
Calculated Load
Vehicle Speed
Bypass Valve Mode
Coolant Temperature
Charge air temperature and many more...
As you can see from this sampling, some of these monitors would be impossible to duplicate with a traditional auxiliary gauge.
DATA LOGGING: Record multiple data channels simultaneously for in-depth evaluation of engine performance. Stores up to 10 hours. The AccessPORT functions as a hand-held data logging device. There is no need to drag your laptop computer out to the car. Just plug the AccessPORT into the OBD-II port, select Data Logging from the menu and choose which monitors you wish to data log. Choose as few or as many monitors as you like. Hit enter and data logging begins. Once the data gathering is complete, hit the enter button again. The data is stored as a data log file within the AccessPORT. The AccessPORT can store up to 10 hours of data logging. The data logs are stored on the AccessPORT for as long as you want them there. Just unplug the AccessPORT and put it in your pocket, back-pack or briefcase. To analyze the data, simply plug the AccessPORT into any PC or Mac and download the data logs to view in your favorite spreadsheet or graphing software.   
PERFORMANCE MEASURING: Welcome to your own performance evaluation suite! Measure 0-60mph time, 60 foot and 1/4 mile ET's, and Trap Speed.  Every AccessPORT has built in Performance Monitors. These are great for showing the performance of your vehicle in the current state of tune with the modifications you have installed as well as helping to quantify performance gains when you make additional modifications. These are also great tools to help you improve your skills at the drag strip. It's like printing off your own time slip any time you want! The following Performance Monitors are available:
60' Time: Elapsed time to 60' distance. Indicates how well your car is hooking up off the line.
330' Time: Elapsed time to 330' distance
0-60 mph: See where your car stacks up against the 0-60mph times published in the major car magazines.
1/8 Mile: Elapsed time and vehicle speed at 1/8 mile distance (660').
1000' Time: Elapsed time to 1000' distance.1/4 Mile: Elapsed time and vehicle speed at 1/4 mile distance.
REV WARNING LIGHT: The screen of the AccessPORT will flash brightly to warn you when the engine has exceeded the limit you set. Perfect for use as a shift light! As an added bonus, the A
ccessPORT screen also functions as a Rev Warning Light. Simply enter the RPM you want the Rev Warning Light to activate at. The screen will brightly flash red and white to alert you when that RPM has been reached, while simultaneously showing any Live Data monitor!
TROUBLE CODES: Read engine trouble codes to diagnose issues. Clear them when resolved. Prevent expensive trips to the dealership.  The AccessPORT allows you to read engine codes to help troubleshoot issues and potentially save you from an expensive trip to the dealership. A brief description of the trouble code is also provided, which is handy when you don't happen to have a shop manual in your pocket. The AccessPORT will read any trouble code reported by the ECU. In most cases this equates to hundreds of trouble codes and descriptions to help diagnose issues where ever you may be. Once the issue is resolved, the AccessPORT can be used to clear the codes to turn off the check engine light.
SIMPLE UNINSTALL: Restore your vehicle's ECU to its original factory configuration simply by performing the Uninstall operation. In the event that the car must be returned to the stock configuration, the AccessPORT can be completely removed and the ECU restored to its factory condition. Once the AccessPORT is uninstalled, it can be installed on any vehicle the AccessPORT part number supports. Since the AccessPORT can be uninstalled, combined with the ability to update the AccessPORT firmware via the internet, it retains a high resale value.  
Alt SKU:
AP3FOR001F, AP3-FOR-001F, AP3-FOR-001, AP3FOR001

---
Customer Reviews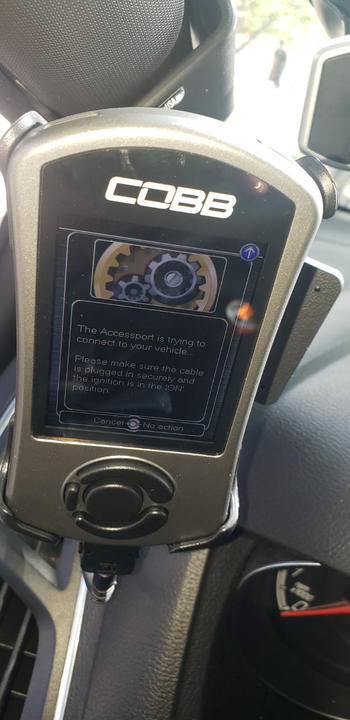 08/09/2020
Are receive my package In time
I'm really happy for your product a friend of mine recommended to me and I'm really happy
LEONICIO R.

United States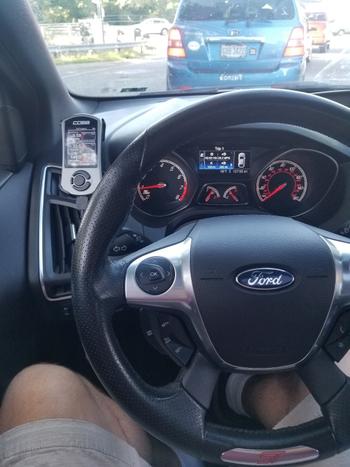 09/05/2019
Amazing Tune
You can immediately tell the power difference. I am running a Cobb cold air, intercooler, full exhaust with catless dp. I currently have all season tires becuase winter is around the corner and I'll soon the tires all the way through second gear if I try. With the Cobb accessport always hooked up I've seen it hit 22psi for the boost and with the Cobb bits I've never had over heating issues. This tune gives you tons of gains and on a 130k mile engine I'm not worried about sending a rod to the moon, it is such a well done of a tune.
Austin L.

United States
Thanks very much for your feedback Austin :-)
01/07/2019
stage 2 cobb tunning focus st 2016
Top notch experience with this guys. The tune was superb and still is. Definitely, it has woke up the car with more torque and more Ponies. I would recommend a stage 2 RMM for those who have stage one or the stock RMM. Raffi is a great tuner and also provided me with excellent customer service by answering all the question I had! Thanks, guys I'll be ready for stage 3 pretty soon;)!!
11/10/2021
Good seller , Good communication , good tune
Very great experience
Maxime B.

Canada
06/09/2021
Awesome
Absolute difference, my Focus ST runs smoother and efficient. With all the mods added so far and using the Stage 4 tune has made a significant difference. I am still new learning to use my Cobb accessport and the chosen parameters to my ST healthy and performing well, and continue to get the supporting mods i.e. better turbo and fuel system. My ultimate goal is to get a fine tune from my ST with the help of FSWERKS/support to get there. The question is how to get started, get the insight and move forward with this journey. I will add pictures here shortly as well. The customized stage 4 tune is phenomenal and really enjoy what it offers as I continue to use your services. Thank you!
John H.

United States
05/24/2021
Great product
Instantly felt the power of the FSWERKS tune.
Christopher R.

United States
04/08/2021
Stage 4 tune 93 octane
These guys know what's up kept me updated the whole way car runs Awesome with the tune y'all did a great job will recommend u guys
Austin

United States
01/28/2021
Cobb AP3 and Stahe 3 tume
Love the Cobb AP3. Easy and informative. Customer service / sales has been very helpful.
Scott B.

United States
12/26/2020
Accessport
It was fantastic. Plugged it in downloaded the maps and my brothers car is muchhhh faster and he loves his gift
David B.

United States
12/02/2020
What turbo lag?
On my 14 Focus with Roush intake and no other upgrades, the map from FSWERKS makes me feel like I upgraded my whole car. I have to fix my bad habits because now I get a near instant response from the accelerator, even in the middle of a tight corner. The turbo engages earlier and harder, and they leave just enough slack in the traction control to let you feel the road (and of course you still have the regular method to disengage if you are so inclined). I haven't tested launch control, since I had just mounted new winter tires for a European road trip, but I don't plan on using that function much anyway. The improved turbo response and power throughout the full RPM range are worth the price of admission. I also particularly appreciate the greatly improved acceleration at higher speeds. Going from 100-130 mph feels almost the same as 30-60, which I cannot say about the factory setting and is very handy on the autobahn. My only mistake was ordering the short shift kit before I'd received the gift card.
Jacob W.

United States
09/21/2020
You are living under a rock without this thing
Absolutely blown away by the difference this thing made for my 18 ST. The Cobb AP3/FSWERKS stage 1 tune is a must have. Even if you aren't looking for performance gains, this will refine your ST and give you access to important real time ECU data that anyone who cares about their car would want to have. 5 stars easily.
Jordan M.

United States
Thanks for your feedback Jordan :-)
04/28/2020
Truly Plug and Play
Loaded the COBB OTS stage 1 first by accident, Noob here, got FSWERKS custom stage one (w/ racing DP)loaded properly, noticable differences in favor of FSWERKS.
Kenneth F.

United States
03/03/2020
Excellent tune and service
This has so far been a very good tune, even only on stage 1 I can feel a tremendous difference
Carson R.

United States
10/01/2019
Much better fun driving
Quick delivery I love the power my st is making now. Stage 1 and even though I have a fswerks intercooler as well,I'll stay on stage 1 till I decide if I want more power, but as of now I'm pleased.
lester a.

United States
07/25/2019
WOW!!!
I have been buying from here for 6 years now and finally made it to stage 4. The tune that Raffi got for me puts me back in my seat. I am still working with Raffi for my e30 tune. Can't wait!!!!
David P.

United States
06/12/2019
Great Product, Awesome Tuner.
So far so great, can't wait to flash to stage 4!
Matthew R.

United States
03/21/2019
Great!
Responsive, both product and technician, tune works well, came quicker than expected.
02/12/2019
Fantastic
I received the accessport very quickly after order was placed, came with step by step instructions, Raffi was very quick to answer all my questions and assist with any issues or questions even after work hours. I have purchased many parts from FSWERKS and will return for future purchases as well!
12/15/2018
Amazing
Stage 1 tune. It's amazing! A lot faster and more power. Most importantly, all engine parameters look good and stay in their appropriate ranges. Amazing!
10/13/2018
Best bang for the buck!
Best investment/mod hands down!! Easy to use. Invaluable diagnostic tool.