FSWERKS Stage 2 Performance Package - Ford Focus ST 2013-2018
SKU:
FSWPP2-91
FSWERKS is proud to offer its top products bundled in our Performance Package to save our customers time and money. The Stage 2 Performance Package for 2013-2018 Ford Focus ST includes:
---
Customer Reviews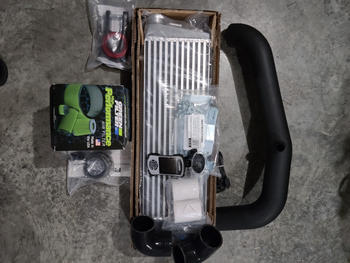 05/05/2021
Great stage 2
I love this set up and the tune. I jumped from stock straight to stage 2 and it's a big difference. The Better price for the budget compared to others and gave me room to do other mods and upgrades. The only problem I have/had is that the carriers delayed my delivery 5 different times took way to long and it was not FSWERKS fault at all. They can't always blame Covid-19 for delivery delays it's ridiculous I blame the carriers on that part. Other than that I like FSWERKS job.
Nelson D.

United States
I am glad you finally received your stage 2 performance package Nelson. Thanks very much for your feedback:-)
05/04/2021
Focus ST
Well designed parts and straight forward installation. Extremely good customer service
ANDREW S.

United States
Thanks very much Andrew :-)
07/08/2020
Best bang for your buck. Hands down.
Purchased with just the green filter. Had the supporting mods installed to go stage 4 with one step colder plugs. Installed the parts same day I received it and pulled an all nighter to get everything done. Install is painless if you know what you're doing. Loaded up the tune from Raffi and what a night and day difference. More of a progressive feel as far as power but it's all there. Very easy to drive if you DD your ST. The tune is nothing short of awesome. Thanks to Fswerks I now need new tires.
Ian I.

United States
Thanks very much for your great feedback Ian :-)
04/23/2020
Different Car
This is a must have for anyone who isn't content with how the stock st performs. I purchased this, along with a handful of other things from Raffi & Vic. When I got rid of my 335i and went to a 2018 Focus ST1, I was 20k miles in & I felt a huge gap from what I had to what I have. This honestly has made driving my ST 100% more enjoyable. The FSwerks tune speaks to the vehicle. If you're on the fence about a tune. Look no further!
Christopher R.

United States
Thanks very much for your feedback Chris :-)