FSWERKS ITG Cool-Flo Plus Air Intake System - Ford Focus ST 2013-2018
SKU:
FS018B
The FSWERKS Cool-Flo Plus air intake system is our top of the line kit for the Focus ST. It eliminates the factory airbox to allow for maximum airflow from all angles, yet still provides a barrier from engine heat. We achieve this by utilizing our powdercoated aluminum heat shield, which has a rubber hood seal that meets up with the hood when it closes. To further maximize airflow our heat shield incorporates a larger 3" inlet where our high performance air filter connects compared to the factory 2.75" inlet. The Cool-Flo Plus then takes it a step further adding our powdercoated 3" mandrel bent aluminum turbo inlet tube to the system, making this a true 3" air intake system from the air filter to the turbo. Features laser cut brackets and tig welded construction.
The factory airbox was designed, in part, to be quiet to meet the needs of the general population. Once the airbox and turbo inlet tube are replaced with the Cool-Flo Plus air intake system a much more aggressive and sporty engine note will be present. For the majority of auto enthusiasts, the resulting sounds of the turbo spooling and diverter valve whooshing are as appreciated as the added horsepower and torque. We include all of the necessary hardware and instructions for installation. Lifetime Warranty.
Note: A noticeable increase of induction noise is created with all open filter air intake kits. Only the ITG filter part#15BH-262 in the stock air box will maintain OEM like sound levels.
Filter: 15JC60/73C, JC60/73C

---
Customer Reviews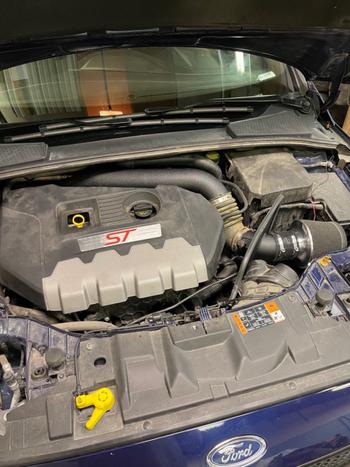 01/26/2021
Itg cold air intake
It is a well made bit of kit... however I think it is pretty cheap that I have to use part of the stock intake when I am paying $360... you could have included a silicone 45 degree coupler!!
Jeremy E.

United States
Hi Jeremy, Thanks for your feedback :-) Silicone 45 degree coupler would look nice in the engine bay but it just doesn't work as well as the rubber accordion Ford hose. The main reason we kept our kit this way since the silicone hose will pull on the intake shield under hard acceleration (all the time on the ST) and it will damage it in the long run. Thanks again
06/21/2017
FSWERKS ITG Cool-Flo Plus Air Intake System - Ford Focus ST
Overall installation was straight forward. The only issue I had was there was no hardware included to secure the plug for the MAP.
Thanks for your input Bill. 2015+ Focus ST cars don't need any hardware for the Map sensor. It is a push fit design with the o ring.
01/14/2021
Awesome intake
Awesome intake. Looks and sounds fantastic! FSWerks ftw.
Brennen J.

United States
05/14/2014
Impressed
Got my 2014 st cool flow intake installed it and truly impressed worth every dollar spent love this place and can't wait to order more parts..