FSWERKS Upper Front Strut Stress Bar - Ford Focus Duratec 2.3L/2.0L 2003-2011
SKU:
FS033K
An upper-front stress bar is an essential bolt on for all street & competition Ford Focus cars. The bar's rigid design helps to reduce the roll and twist of the front sheet metal frame, and in doing so quickens steering response and improves turn-in. Construction consists of strong 14-gauge mandrel bent heavy wall 7/8" diameter steel tubing. The tubing is then welded to 1/8" laser cut steel mounting plates. Designed specifically around the constraints of US model cars, the bar requires no modification of surrounding components (ie: Brake booster, fuse box, air box) when used in conjunction with the FSWERKS Cool-Flo or the stock factory air box. Fits all Duratec 2.3L & 2.0L. The FSWERKS upper-front stress bar is available in your choice of Chrome/Clear Powdercoated Finish or colored powdercoated finish.
Note:
Torque nuts to 18ft lbs.
2008-2011 Focus Coupe & Sedan Duratec Notice:


Fitment:
Ford Focus Duratec 2.3L 2003 2004 (ZX3, ZX5, ZTW, ZTS)
Ford Focus Duratec 2.0L 2005 2006 2007  (ZX3, ZX4, ZX5 & ZTW)
Ford Focus ST Duratec 2.3L 2005 2006 2007 (Sedan)
Ford Focus Duratec 2.0L 2008 2009 2010 2011 (Coupe and Sedan)

---
Customer Reviews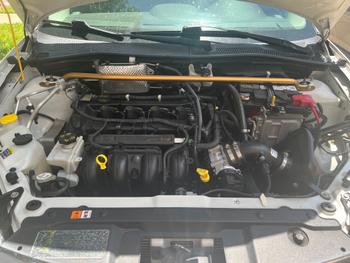 05/07/2022
Love the look!
Changed the color up a bit love the way it fit and was a good price!
Mr. Gaggles

United States
03/01/2022
Riding The Rails on my 2007 Focus Sport
If you've never driven a Focus of this era, then you can't truly appreciate the german feel of this car (Fords World Car platform) The combination of this Stress Bar with my Steeda stabilizer package on the front and rear of this little beauty has it riding on rails in the corners. No wallowing at all. The stabilizer itself adds an almost WRC look under the hood and color matches the color motif of this little car. A very good quality part at a fair price. Good Job FSWerks. https://www.facebook.com/100000498519074/videos/pcb.5659387960754432/3079055565642528
Archie M.

United States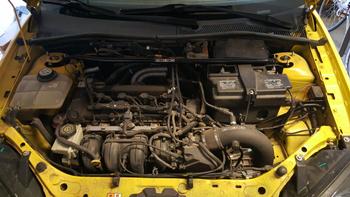 07/19/2021
Easy Install and quality product
5 minute install. Time dropped on my lap times so A+.
Rowdy

United States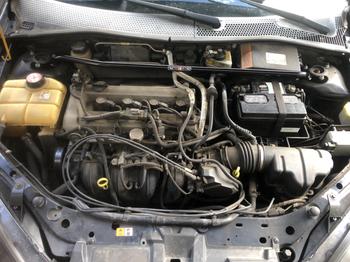 04/19/2021
No Stress bar.
Fast shipping. Fast install. Welds are on point. Powder coat perfect. Responsive steering. Will be purchasing the lower stress bar soon.
Joseph G.

United States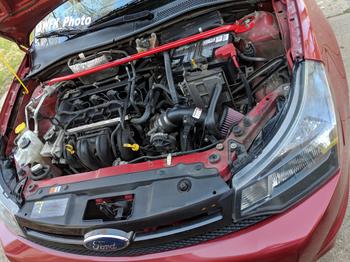 05/10/2018
Solid
Took a little bit of effort to get this bar installed. BUT I am glad that I did. Recommended 100%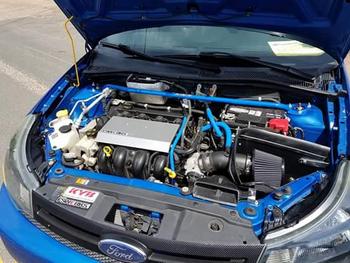 06/16/2017
best stress bar.
The fswerks stress bar is great,its an easy install and it works great and looks even better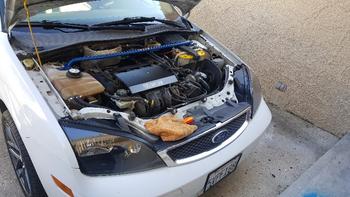 06/03/2017
FSWERKS Upper Front Strut Stress Bar -
Very good quality. Makes the car feel great love the hard turns less body roll recommend it also got the street exhaust nice car sounds bad ***
04/08/2021
Feels great
This plus the rear stress bar makes it corner so much better, the upper front on mine was rubbing the fuel hose almost so maybe protect that if you notice it may rub with engine movement.
JD

Canada
04/05/2021
Great addition!
This is a great addition to your focus! My only wish was for it to come in a nice green color, but I could always paint it.
Philip R.

United States
08/21/2020
great bolt-on
No issues or problems, strait-up bolt on and go.
Randy s.

United States
04/21/2020
Super Easy
Easy to install and noticeably tightens up the car. I still need to do a lot of suspension work, but if you need somewhere to start: this is a great piece.
Toben D.

United States
03/31/2020
Great buy
This item installed really easy and the red matched the infra-red color of my focus perfectly. Atheistic wize, it is amazing! I installed this along with CAI, and the steeda sway bar kit. The chassis is noticably stiffer. I will update this review once I have done some track time to provide more detailed responses
Clayton J.

Canada
02/21/2020
christopher a.

United States
01/17/2020
Super happy with purchase!
So far so good! The handling feels much tighter and responsive. Did both front and back at same time. Definitely recommend if your tired of all the body roll.
Josh C.

United States
12/20/2019
Excellent
Installé sur mon Focus ST 2007, un look puissant, agrément au handling. J'ai aussi acheté celui de derrière et je ne regrette vraiment rien. Expédition soigneuse, service impeccable. Thanks again guys...
Bruno

Canada
Translated; Installed on my Focus ST 2007, a powerful look, pleasant handling. I also bought the back one and I don't really regret anything. Careful shipping, impeccable service. Thank you Bruno :)
07/30/2019
Tightend up front end nicely...
Made the front end feel much tighter. Took out some of the shutter when cornering. Worth it even on a wagon !
03/26/2019
Road Race Ready!!
Best bang for your buck item for sure! I installed on my 07 Focus and it was truly surprising the difference in handling it made! The car feels so much tighter and "planted" going around turns. If you want that race car handling feel that youve always dreamed of, buy this strut brace!
07/31/2018
Just a little more precise
Which is all this car needed in terms of handling. With the addition of Michelin Pilot Super Sports and KYB AGX dampers this Focus SES goes from a good sport sedan to a very, very good sport sedan. For it's sport touring intent the FSWERKS upper strut bar allows this car to keep up with BMW three series in the twisties quite nicely.
06/08/2018
Quality Sway Bar
Item was shipped in about 24 hours, quick services. Installation of the sway bar only took about 15 minutes total. This sway bar is solid and holds the chassis against cornering forces well. The car corners noticeably flatter through both sharp and sweeping corners.
05/28/2018
Good bang for the buck
Very easy to install, excellent fitment . Really stiffened up the car and seamed to reduce body roll. Great part and service from FS