FSWERKS Stainless Steel Catback Street Performance Exhaust System - Ford Focus Coupe/Sedan Duratec 2003-2011
SKU:
FS022SSC
We use 2.5" diameter mandrel bent T304 stainless steel tubing in our designs for maximum flow and horsepower. FSWERKS systems come with our exclusive stainless steel high-flow straight-through design muffler and are finished off with a beautifully polished 3.5" angle cut T304 stainless steel tip. Also included are the necessary clamps and hardware to allow for an easy installation. All our stainless steel systems are backed by a 5 year limited warranty.
For Duratec Focus owners who wish to have an exhaust that is 100% C.A.R.B. legal in all 50 states, we are now offering our FSWerks Street exhaust system. Some Duratec Focus models have two catalytic converters, with the second being in the middle portion of the car. Our Stealth and Race versions of our exhaust keep the primary catalytic converter that is part of the exhaust manifold, but will eliminate the secondary unit further down. This option will keep the second converter in place and allow you to remain completely street legal if your Focus had two catalytic converters from the factory.
Stainless Tubing 
• Mandrel bent heavy wall T304 stainless steel construction
• Provides optimal flow

Precision Welding 
• Tig and Mig welds are used on our systems during assembly

Stainless Steel Flanges and Hanger Rods
• All of our exhaust flanges are laser cut out of T304 stainless steel and our hanger rods are cut from solid bars

Angle Cut Tip 
• Precision angle cut tip for agressive look
• Welded on stainless steel with etched FSWERKS logo


Fitment:
Ford Focus Duratec 2.3L 2003 2004 ZX4/Sedan
Ford Focus Duratec 2.0L 2005 2006 2007 ZX4/Sedan
Ford Focus ST Duratec 2.3L 2005 2006 2007 ZX4/Sedan
Ford Focus Duratec 2.0L 2008 2009 2010 2011 Coupe & Sedan
IMPORTANT : Supplied with all necessary clamps,  and mounting hardware for assembly. IT DOES require cutting but no welding is necessary!
---
Customer Reviews
03/23/2021
Great deal
Install was smooth I got the street performance exhaust system. Sounds great not so loud te get unwanted attention from law. Works with all the factory hangers. Built really good and looks fantastic.
Brian R.

United States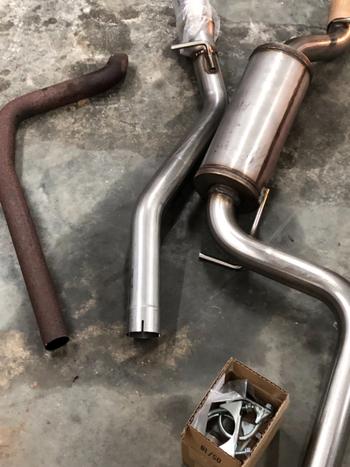 02/04/2019
Great Exhaust
Was the perfect exhaust for a daily driver! Easy installation took about an hour and a half with jack stands.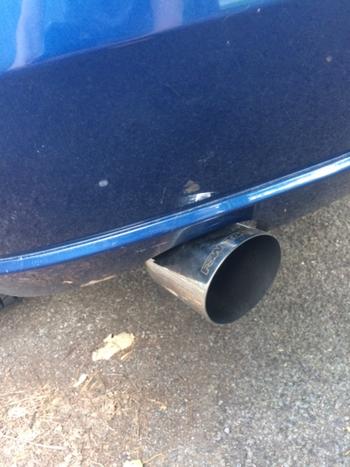 07/12/2018
Looks good, sounds good
Install was a pain with limited resources but it did get done. On a side note, I have an 08 focus. There was an extra hanger on the fswerks exhaust that had to be cut off which was a bit of a pain. But all in all I am very satisfied with the sound and the little bump up in gas mileage. Thanks!
10/27/2021
Awesome daily driver exhaust
Fast shipping, super easy install
Evan D.

United States
07/19/2020
2010 focus coupe performance exhaust
I'm 22 and was very iffy about getting it since video sound doesn't do any justice. I hate the sound of civics and most wrx. But this exhaust...wow this one is my favorite for any 4 cylinder. Its deep, perfect loudness (if you're looking for something to wake it up a bit) and overall just great. My focus is a 5 speed and it made it WAY more fun to drive. Sounds just like an st without a turbo. People complained about the drone...i never noticed one. My car had a small one with the stock exhaust on it and I still don't think its changed. If you want something deep and a wake up for your focus get the performance.
Adam D.

United States
06/13/2020
2007 Ford Focus ST
Sounds great. Simple install. Very happy overall
Richard B.

United States
05/06/2020
Sounds Amazing!
This exhaust was easy to install and sound so much better than stock. This exhaust has a low and deep rumble that sounds amazing.
Daniel C.

United States
10/07/2019
Excellent product!
Gives the exhaust some growl and bite that was not there before. Coupled with the ITG intake, this was a very nice addition. Awesome job, FSWERKS!
Adam F.

United States
10/24/2017
Nice exhast
This was a complete and utter pain in the ass to install because I had to do it in my driveway and only had one jack to lift and two to hold the car, which left less than the recommended 15'' clearance required to install the exhaust, but it can be done. It came with everything it said it would. Fits my 2007 ford focus SE wonderfully. My car accelerates faster and is a wee bit funner to drive. If it becomes a project car, i'll come here for the parts.
07/23/2017
Great exhaust
Great quality. Fits great. Sounds great. Not too loud. No drone. It made my 2007 Focus much funner to drive. I highly recommend this exhaust.
04/26/2016
Great catback, loud than you might think
Here's the breakdown. First week- %100 loud exhaust. Second week- %70 loud exhaust. Third week- %50 loud exhaust and stays that loud. Install was easy, and it came with all the necessary hardware and instructions. At idle it does rumble very nicely and at acceleration, sounds like a beast. BUT I HATE THE DRONE, usually happens at 2 rpm. So If you want an aftermarket catback but not an overly loud one, buy this one. As long as you can tolerate the drone.
03/28/2016
Great Exhaust
This is a very nice American made exhaust for a good price. Put this on in about 20 minutes and everything lined up great. Upgraded from a straight pipe to this and I could instantly feel power come back and the car is a little snappier with throttle response. Great quality piping, muffler, and tip. The sound isn't anything crazy, but it does have a nice deep end rumble. I would recommend this exhaust to anyone with a duratech!
06/20/2015
Almost perfect.....!
Arrived yesterday, installed today in a couple hours, and that was taking my time. Great mellow sound and great fitment. My only wish would be that the tailpipe/tip was 3/4" to 1" longer so the tip would show better Other than that, great product with great looking quality! Thanks!
04/11/2015
Awesome Upgrade!!!
I am very happy with this exhaust! The quailty of the the material is amazing. The sound is nice and deep. Very easy to install. Will hopefully be upgrading to the stealth system! Thanks so much FSWERKS!
02/22/2015
Perfect exhaust system
This was the first modification I made on my 2011 Focus's performance and let me tell you it was and is amazing. The sound is deep, not insanely loud, and when you're cruising at 2000-3000rpms the noise is very gentle. When you take up to 6000rpms you can definitely feel the power and the beast within your focus. Definitely a must for your Focus if you're looking to have a race theme sound and feel for your car.
01/22/2015
Pops and gurgles!
If your looking for a super high quality sport exhaust that doesn't drone at highway speeds, won't piss off your wife, and will make your focus sound healthier than ever..this is definitely the one to buy. Extremely smooth and deep on low end revs and cruising. Then when you get on it this exhaust really screams! Then you downshift and you get all those beautiful race car pops and gurgles! I purchased one for my 2007 Ford focus 2.0L duratec about 7 months ago and it completely changed the driving experience. If you don't want to go all the way with the race exhaust or the stealth option. Get this one. I promise you won't be dissapointed.