FSWERKS Green Filter Cool-Flo Race Air Intake System - Ford Focus Duratec 2.3L/2.0L 2003-2011
SKU:
FS016GB
The FSWERKS Cool-Flo Race air intake system fits all 2.0L and 2.3L Duratec engines from 2003 - 2011. This is a true cold air intake system that situates the air filter in the lower front region of the car, away from ALL engine heat. The Cool-Flo Race air intake system utilizes an easy to install one piece design that uses 3" mandrel bent steel tubing along with a laser cut MAF sensor housing and brackets. Other features include tig-welded construction and coated with wrinkle black powder coat.
Intake Tube
• Mandrel bent steel construction 
• Wrinkle black powder coat
• Tig-welded

Connecting Hoses 
• High temperature resistant 
• Three ply silicone construction 
• Oil resistant
• Stainless steel hose clamps

Green Air Filter
• Extra pleats used for maximum surface area
• Super strength to withstand engine intake pressure
• Pre-oiled with Green Filter Oil
• Limited lifetime warranty to the original purchaser

Note:
Our intake systems are not CARB Exempt. 
Fitment:
Ford Focus Duratec 2.3L 2003 2004
Ford Focus ST Duratec 2.3L 2005 2006 2007
Ford Focus Duratec 2.0L 2005 2006 2007 
Ford Focus Duratec 2.0L 2008 2009 2010 2011
Other SKU's: FS016, FS016B, FS016G, FS016GB
---
Customer Reviews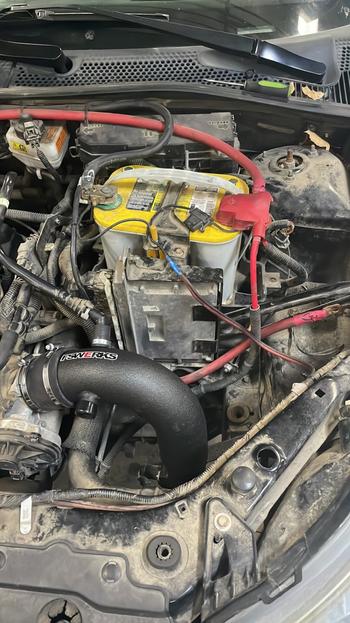 04/07/2022
Fs werks green cool flow intake kit
Its been great bump in power/fuel economy and it sounds awesome above 4000 rpms i put this on my 09 ford focus ses n/a 2.0 only mod i have other than a h/o alternator and subs
Jordan R.

United States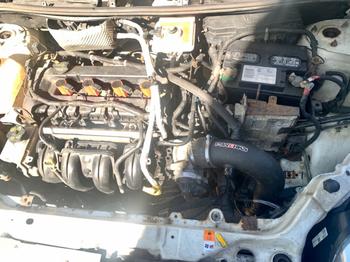 05/06/2021
Installed in 2010 Ford Transit Connect
I love the product. I installed in a 2.0 Duratec Ford Transit Connect van. Things that were different: 1. Had it use a 76mm to 70mm intake reducer. 2. Relocate and push the transmission cooler return line toward the driver side. 3. Drill and Retap the frame boss for the FSWerks rubber mount. 4. Plug an emissions port with a vacuum cap. 5. Fabricate a breather hose from the valve cover.
Brian K.

United States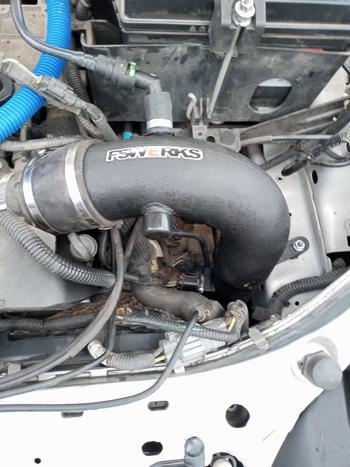 04/07/2021
Love it!
Love this intake kit helps the engine breathe much better along with mpgs. Not to mention it sounds great. Sounds like bov when shifting
Edward E.

United States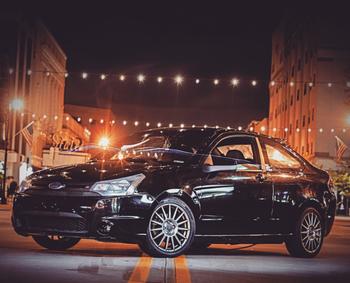 05/29/2020
Wow! Uncorked
Install was easy as hell, Paired with the race exhaust, header, Brisk spark plugs, and 93 octane tune this realllly opened it up. Above 4000 rpm it almost feels as if you're giving it a little shot of nos. Don't get a tone of induction noise from it or at least that I can hear but it really woke up the car. Well worth the 200$ would highly recommend buying it if you want to feel a bit more power.
12/14/2017
Works and fits great!
Definitely added a little bit of power especially in cold weather you can feel it. Fit perfectly and adds a bit of sound but my exhaust is so loud I can't hear it from inside the car normally.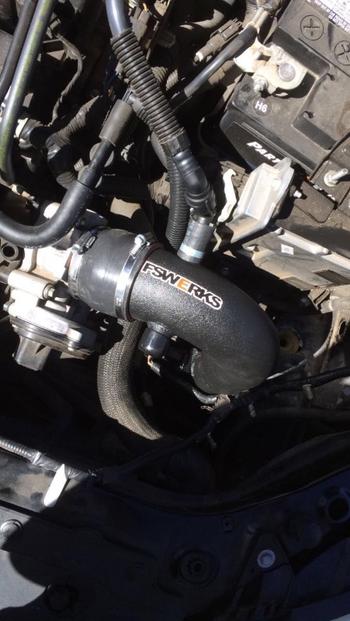 06/01/2017
Fswerks intake
Love it easy install love the gains I've noticed and mpg gains when keeping my foot out of the gas
04/02/2022
Sounds great
I've got a 2010 Focus SE with a muffler delete and 1 of 2 resonator delete. This produces a nice deep tone (as far as 4 bangers go) and really knocks the droning noise down on the highway/interstate. Only reason I gave it four stars is because the emissions cap that came with it did not fit. I had to go to a hardware store and get a rubber plug. It's been installed for a couple weeks and haven't had any issues. Not a huge deal but slightly annoying. FSWerks, I'd consider including the plug in the kit rather than the cap.
Aaron

United States
08/26/2021
Installation and Performance on a 2011 Ford Focus SE
To put it in I had to first connect my valve cover hose and the emission hose, remove the MAF sensor from the old intake and manage to make the wiring harness string from one part of the engine bays sidewall and drape it loosely until I could easily plug it in. Removing the old air box and intake was pretty easy, however removing the sensors and fitments from them took a lot of prying. The emissions hose in the bottom for the 2008-2011 ford focus needed some greasing to fit well in there and be snug. To actually get the filter in I had to remove the fender well, place the filter inside, and then put the new air intake on the throttle body. Honestly had a lot of fun doing it, and for a beginner project working on their first car without there being any kind of documentation on the internet for how to do it I honestly struggled. All in all I'm happy with the product, had fun installing it and will definitely be buying more products for my vehicle from FSWERKS in the future!
Trevor K.

United States
06/17/2021
nice quality product
nice product had to modify it a little hole for mass airflow sensor needed to be blocked this because my focus is a European and doesn't have a one fitment was perfect thanks for a great product
Petrus W.

Netherlands
Thanks for your feedback Petrus :-) We didn't know this can fit the European Focus!
02/15/2021
Not as easy as I thought
Ok, so it was a little complicated that I was expecting. I'm so super glad that a few people made YouTube vids, that helped me. Overall, wasn't bad, sounds amazing and I'm super happy
Roman G.

United States
08/21/2020
Cai works great !
10x better than the "filter for life"...picked up more mpg's for my commute to work.Even a little more power out of my 2.3.will buy again for my other focus !!!
randy s.

United States
07/16/2020
Perfect placement and great quality
The cold air intake went on perfect without a hitch! The filter placement is in the part of the Engine bay where it's nothing but cold air love it!
David M.

United States
06/13/2020
Sounds amazing
Removing the factory intake proved to be the most time consuming yet install is simple. Sounds amazing on start up and Acceleration. Great product and great price. Very happy
Richard B.

United States
05/21/2020
Cool flo intake
Works as it should and as always great quality
Sylan H.

United States
04/23/2020
Great CAI
Iv has it on for 3 weeks now loving the power and sound before the car felt like it was going to explode at about 3000rpm now it loves to get 4-5000rpm smoothly
Tyler S.

United States
04/01/2020
Choke point in middle of tube
This product is absolutely garbage if you want performance. The tube has a choke point at the mounting bracket that reduces the ID to less than 1.88". That's smaller in diameter than the stock throttle body. To make flow even worse it has the MAF sensor tongue in the middle of the choke point. This product will starve your engine for air and make any other intake improvements obsolete.
Phillip M.

United States
Hi Phillip, We are disappointed to hear your comments on our Cool-Flo intake. First of all the middle section of the intake is intentionally reduced to 2.5" tubing so the car doesn't give out CEL codes. Unfortunately the Mass air flow sensor on these cars don't run properly if the tubing is all 3". Also the actual ID in the middle section is 2.40" NOT 1.88" Lastly the MAF sensor fitting on the tubing is in the same location and depth as stock unit allowing it to work properly with the engine pcm. This does not starve the engine in any way. If you have any questions please contact us at 714-693-2555. Thank you
03/09/2020
It was a little difficult
It was a little difficult to install, but it seems to be working good no complaints so far.
Dominic D.

United States
01/23/2020
Big improvement over stock.
Added this intake as well as a tune from FSWERKS, and it made a huge difference on my 2005 Focus ZX4 ST. Love it, super easy install.
Thomas

United States
10/30/2019
Great product & easy install.....sounds GREAT (for a focus)
Very easy install and the colour pictures with the detailed instructions were great!
Don L.

Canada
10/09/2019
PERFECT
Great product, fit perfect and very easy to install. I have recommended this site to many of my friends.
William A.

United States