FSWERKS Rear Stress Bar - Ford Focus 2000-2011
SKU:
FS035K
Our rear stress bar's designed to minimize rear chassis flex under hard cornering, thus reducing under steer and improving stability. Construction consists of 16 gauge 1.5" diameter steel tubing and features tig welded ends. The bar's location taps into a three layer section of sheet metal for the strongest possible mounting point and requires drilling two mounting holes. After a quick installation you'll notice that you've retained over 90% of your trunk space! Legal for SCCA IMPROVED TOURING and STREET PREPARED classes. Available in powdercoated Red, Blue, Black and Silver Finish as pictured.

Fitment:
Ford Focus SOHC SPI 2.0L 2000 2001 2002 2003 2004
Ford Focus DOHC Zetec 2.0L 2000 2001 2002 2003 2004
Ford Focus Duratec 2.3L 2003 2004
Ford Focus Duratec 2.0L 2005 2006 2007
Ford Focus ST Duratec 2.3L 2005 2006 2007
Ford Focus Duratec 2.0L 2008 2009 2010 2011 (Sedan and Coupe)

Notice:
Does NOT fit the wagon
---
Customer Reviews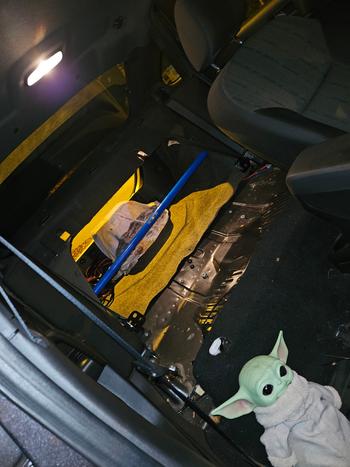 10/26/2023
Amazing
Stared gutting the focus and added this before a roll cage amd it looks great. Very easy install if you have the tools
Coby W.

United States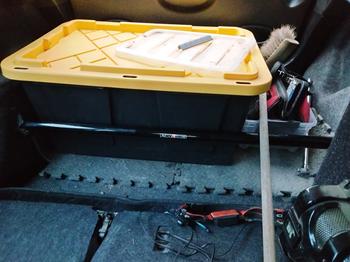 05/16/2023
Down with the stiffness.
Done. Just like that. Thanks. Best bang for your buck upgrade. Easy instructions, easy install.
Richard K.

United States
07/12/2022
Rear stress bar
It really made the car feel different it's so crazy how one thing changed the way the whole car feels, definitely recommend.
Haegen E.

United States
03/15/2022
Great Product
Works as descripted.
Ryan B.

United States
10/07/2021
beautiful part
I didn't buy one direct from FSwerks i bought one used off a friend when he parted out his SVT, from running no chassis bracing to running this rear bar was ridiculous it felt like a caged car on stock suspension when I track it. I run some pretty grippy tires and because of that I tend to lift my tires in the rear and I could feel the second one of my rear tires lifted and the second it was back on the ground. It was very simple to install it took me about 15 minutes counting the time to locktight both bolts and all I used was a drill bit and drill. Jacking the car up does make it easier to access everything but its not required I was still able to do mine on the ground just a little harder to reach since I run slightly oversized tires. Non the less it is a beautiful part a perfect fit and now gives me an area to mount my harness if I trap a high enough speed on the straight in time attack next year to need one.
Trey D.

Canada
05/18/2020
Project car
Could tell the difference after installing product easy installation it feels a lot more like better handling car
Andrew C.

United States
05/17/2020
well worth the money
instant handling give new life to my old girl easy install
Juan J.

United States
03/03/2020
Worth it
You can really feel a difference and installation was a breeze
Zach

United States
06/26/2019
Focus SVT rear stress bar.
Good quality and precise fit.
Michael D.

United States
05/17/2019
Rear Stress Bar
Ordered the bar for my 2008 ses- came in just a few days. One of the welds looked sketchy on one side but overall decent. Took about 45min to install, noticed the different in handling right away
02/22/2019
What surprised me
What surprised me the most was the amount of overall noise and vibration that this bar reduced in addition to making the car track better. This is on a car with all of the interior gutted in the rear and all 3 solid motor and transmission mounts. Install was not difficult at all.
05/14/2018
I'm shocked at the difference this made
I knew my car had a ton of body roll in the rear, but just wow the difference now. The car no longer vibrates loudly on the freeway either which was a bonus.. I feel no roll in the rear AT ALL when I take turns now. Massive handling improvement. I should have done this years ago. Hatchback focus are notorious for eating bearings so hopefully this will help with that, but even if it doesn't I'm very happy with the result. Thanks for offering this part :)
04/17/2018
Great bar - easy install
Can feel the rear has stiffened up since the install. 4/5 because the instructions are very hard to read. small black/white pictures do not help. I just winged it pretty much and got it installed fine. 5/5 if the instructions were in a PDF document and in color.
03/14/2018
my purchases
Great. The bars work great. Of course I don't have any data to back that up, but the focus seems tighter and react better. The exhaust is great. I am probably too old for the extra sounds. I had the exhaust installed. Didn't wish to purchase another tool to make removal of the old exhaust simpler. Product arrived quickly and complete. THANKS.
10/23/2017
Excellent Product!
I put one of these on my 2005 ST years ago when these folks were Focus Sports and it helped tremendously in cutting out the body roll. The ST was already handling well, but this stress bar just made it that much more enjoyable to drive. Handling is crisp and tight. I used this FS Stress Bar, which was super easy to install, along with a Sparco front tower brace and Eibach Progressive Ride lowering springs, which brought it down about 1.5 inches. Just enough to enhance the handling without making it look like it is in the weeds. Love FS Werks. Just ordered the engine cover. Can't wait to put it on.
06/16/2017
Makes a noticeable difference
The installation was a little tricky considering the bit used to drill the holes in the sides wasn't a standard bolt for most drill sets. After installation there was a significant loss in body roll and made cornering more comfortable for the driver and passengers.
06/01/2017
Rear Stress is No Stress
While having an 07 Focus, I did have to drill holes which were kind of tough but it wasn't a difficult job by any means. The handling is greatly improved and I love the way it looks!
03/20/2017
Little hard to install but worth it.
The stress bar worked great, after a couple of holes and some issues in finding a proper drill bit I got the bar in by an hour. There is a great deal less of force around corners and movement on the freeway is less noticeable.
11/15/2016
Easy Install?
Amazing quality and very very easy install. Thanks FSWERKS!
10/18/2016
Front and rear stress bars
Super eazy to install And with a strut tower brace Lower stress bar and a rear stress bar Tightens up the car alot 2011 ford focus se