FSWERKS Lower Front Stress Bar - Ford Focus 2000-2011
SKU:
FS034K
This Stress Bar is a quick two-point bolt-on installation which mounts to the front of the control arms. This bar is perfect for adding improved stability by reducing subframe flex. Made from 1 Inch heavy wall steel tubing, and available in gloss black or silver powdercoated finish.
All bars backed by a LIFETIME warranty against manufacturing defects and workmanship.
Installation Note:
The factory bolts which will secure the stress bar in place are designed to be used only once. However, the original bolts can be reused a few times before new ones are needed.

Torque specs:
New bolts, 89ft lbs + 90 degrees
Stock (reused) bolts, 120ft lbs
Fitment:
Ford Focus SOHC SPI 2.0L 2000 2001 2002 2003 2004
Ford Focus DOHC Zetec 2.0L 2000 2001 2002 2003 2004
Ford Focus Duratec 2.3L 2003 2004
Ford Focus Duratec 2.0L 2005 2006 2007
Ford Focus ST Duratec 2.3L 2005 2006 2007
Ford Focus Duratec 2.0L 2008 2009 2010 2011

Notice:
Does not fit Ford Focus SVT due to header clearance.

---
Customer Reviews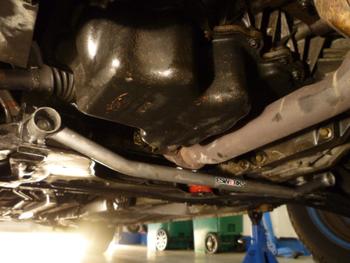 08/22/2023
Fits without causing any fits
Install was pretty straight forward. Use an adjustable wrench on the cotrol arm nut. Went out and bought some combo wrenches after the install. Will be much easier with correct wrench when having to replace arms in future. Grateful that none of the bolts or nuts were seized after 19 years. Was sure to grease everything with lots of Permatex. Because the rust in the picture is after one Minnesota winter. Had the sockets, breaker bars and torque wrenches. So could work under the car and get things torqued. Just pulled on the tire to get the driver's side hole lined up. Squeezed the arm up in place with my hand. I do notice a difference a difference in the steering with the FSWerks strut and lower braces. I have the VF rear engine mount installed. You can see the red mount in the picture. The bolt-ons have really tightened up the steering. Making for a lot more confidence in the vehicle.
Errorik

United States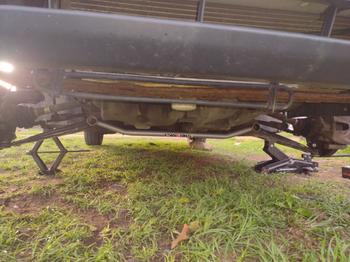 05/12/2022
Great product
The lower stress bar mounted real easy to the front control arm took me about 10 minutes once the tires were off to get it installed on my 05 zx3. It helped stiffin up the front end with the help of my massive speed tower strut bar my cornering has gotten more responsive in the corners. Thank you everyone at fswerks for great products keep it up
Nathan S.

United States
Thanks very much for sharing this Nathan :-)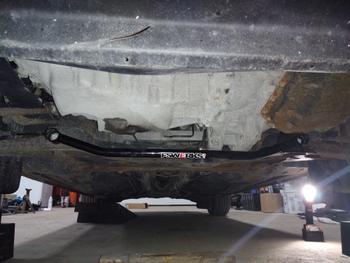 01/31/2022
Tied everything together. 08-11 owners: Take your wheels off.
Seemed to tie everything together. Already had an upper strut brace installed and this really helped seem like it tightened up the front as a whole. Constantly driving on snow and ice currently so hard to get a real feel for any handling improvements. Went with the new bolts as well. 08-11 owners really should remove both front wheels to access the 21mm lock nut on the backside of the control arm. Made a world of difference.
Jarik

United States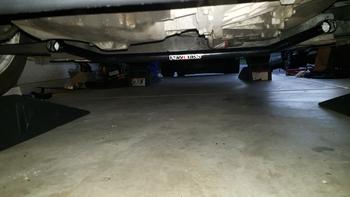 07/19/2021
Easy Install and quality product
Pretty simple install. I used the new bolt option. Recommend using a high lift while car is under load especially on passenger side. I had trouble trying to reach torque specs with tire in the way. I got it as fat as I could then removed the tire and got the extra 90 degrees.
Rowdy

United States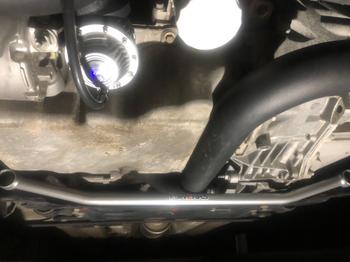 10/21/2020
Fit great with my jbr pipes
Install was a breeze. Reused factory bolts but torqued to spec. Fit with my jbr charge pipes on my 17 ST just had to adjust my coupler. Also noted quality was great and smooth silver finish. Now fswerks send me some apparel lol.
Jj

United States
Looks nice! thanks for the feedback :-)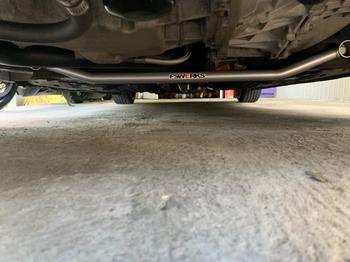 06/04/2020
Awesome!!
Awesome product!! Keeps car flat on turns and stable!!
10/20/2023
Amazing
This helps so much. With stiffening up the front end. Makes the car feel so much better. It hard to explain. But definitely worth getting. Plus if you have the front strut brace as well. It makes the car turn so much flatter & quickly. Adding strength to the front subframe.
S. Wagner

United States
09/18/2023
Installed good. Made a difference in the way the car feels in sharp turns
daniel j.

United States
11/09/2022
Great Product
I ordered this product and received it 2 days later! Installed it tonight on a 2008 Ford focus se. You will need to take the wheels off to get to the nuts holding the 18 mm bolt in. I used a 7/8 wrench to hold the nut. After it was all said and done I took the car for a drive around some decent corners and wow! What a difference this product makes on cornering! Thank you FSwerks!
David G.

United States
07/19/2022
Tighter
my car is just a daily driver and this makes the front end feel tighter , get one you will not be disappointed
victor p.

United States
12/01/2021
Awesome Product
Like my title says, Awesome Product! Installed this on my 2007 ZX4 and the first thing I noticed is how happy the chassis is now, especially with have the upper front brace and rear brace. Adding this one really just made the chassis souch better. Great quality product! Fast turn around to getting it shipped out even through the Thankgiving week. Definitely a must have to add on when you have the other two. Highly recommend this to make that super happy.
09/17/2021
great seller
fast shipping perfect fit
stefane t.

Canada
07/20/2020
Still trying
Bar looks great, I'm sure it would bolt right up if I were stock. It doesn't clear my exhaust flange for my downpipe and I will need to modify my flange and the bar to make it work.
Callen S.

Canada
07/16/2020
Just Right
Did not feel immediate difference in handling until driving hard. Easy install. Wish I had known it is very close to the exhaust flange and can vibrate car at higher rpms.
Aident V.

United States
04/30/2019
Thanks
Thanks Thanks Thanks
12/11/2018
Subtle
Good quality, I bought one for each of my foci . Not too flashy and not ridiculously stiff. Would recommend if you have to coin!
07/07/2017
Stress free
No problems love all the fswerks products I've purchased, only disappointment was not getting the color I wanted
Sorry we ran out of your desired color as inventory can change quickly... but happy you are happy with the product
06/15/2017
Focus lower support bar
Have not installed yet , Looks good hope it does a good job
Thanks Matthew, please let us know your thoughts after you install it.
06/12/2017
Great addition
I actually purchased and installed the Lower Front Stress Bar, the Upper Front Stress Bar (Strut Tower Brace) and the Rear Stress Bar all together on my 2005 ST. Took a couple of hours to install all three with basic hand tools. Well worth the investment, in my opinion. While I don't "track" the car, or race it, I do enjoy "driving" it. I don't have any numbers to quantify how well these work, but I can say that, subjectively, the whole car is much tighter and feels noticeably more solid. I've owned the car for going on 4 years. It's lowered (Eibach Pro Kit), with Ford Racing, SVT dampers, FSWerks cold air intake, FSWerks Stealth exhaust, and VF-Engineering Rear Engine Mount (thanks FSWerks :)). These braces are the latest addition, and I couldn't be happier. Handling is improved, as the car seems to turn in better (less under steer/push), and actually rotates slightly on lift throttle (I think the alignment is working better with the new found stability in the suspension). Thanks FSWerks for some great products. Having lots of fun with this car, without breaking the bank.
04/30/2017
Great buy!!!
This is a great product well made. Install went very well and it was easy. The only thing that was got in the way was the trans pan on the driver side but that was only a corner of the bolt but still easy. For install I used 21mm shallow and beaker bar for the nut on the back and 18mm an extension and impact. I would high recommend getting new bolts and nuts. Front wheels have more grip!!