FSWERKS 4-1 Race Header - Ford Focus 2.3L/2.0L Duratec
SKU:
FS029
Our FSWERKS 4-1 Race Header is designed for track use and plays a very important role in maximizing exhaust flow for all out performance for your Duratec Focus. Construction consists of 16-gauge heavy-duty steel tubing and laser-cut flanges measuring a full 3/8" thick. We use 1 7/8" diameter large mandrel-bent runners which merge into our 2 1/2" ID collector for maximum flow. The FSWERKS Race Header will give lightly modified cars an 8-10 horsepower gain and an increase of 6-8 lbs. of torque measured AT THE WHEELS. Highly modified cars can see even better results. Supplied with wiring and connectors to extend the oxygen sensor harness, 2-bolt gasket, and mounting bolts. Finished in a polished ceramic coating that can withstand constant temperatures of 1200° Fahrenheit. Does not include a flex pipe, which may be needed on some vehicles. Race Only Application, not for street use.

Fitment:
Ford Focus Duratec 2.0L 2005 2006 2007
Ford Focus Duratec 2.0L 2008 2009 2010 2011
Ford Focus Duratec 2.3L 2003 2004
Ford Focus ST Duratec 2.3L 2005 2006 2007
IMPORTANT :  Supplied with outlet gasket, oxygen sensor extender FS029E and mounting hardware for assembly. No welding required.
NOTICE: This product is for RACE USE ONLY. Not for street use or public roads. Not for sale in California. A release waiver MUST be filled out with your order or it will not ship. Please complete the form here: http://www.fswerks.com/pages/releaseform
---
Customer Reviews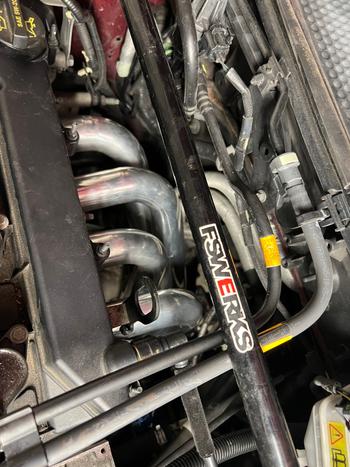 04/30/2023
Solid Product!
Install was straight forward. It was harder to remove the OE exhaust manifold. Sounds amazing paired with the street exhaust. Has a ton of burbles and pops coming down in the RPMS. Definitely a head turner when coming down the street in a stock ZX3. A lot of shocked faces, so far from people wondering what car it's coming from. Would definitely recommend these to everyone!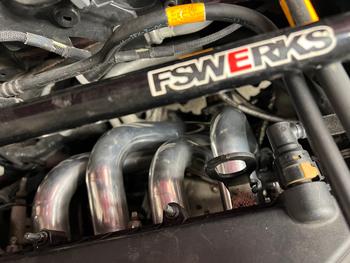 03/27/2023
Love these!
Hard part was removing all the old and rusted hardware from the OEM Header. Once that was out it was a very simple and straight forward install. Paired this with the OEM exhaust and flex pipe. Sounds a lot more open now when WOT, but sounds stock when driving normal speeds. Butt dyno definitely felt some gains. Very happy with this purchase. You will need to purchase a new exhaust manifold gasket, but an off-brand is only about $30. Untuned currently & haven't seen a check engine light yet from removing the 2 front 02 sensors.
09/09/2022
Great product
Great product you can tell that pride was taken in building and designing of these headers they fit perfectly to my 05 zx3 se
Nathan

United States
12/27/2020
High quality per usual
I have this header on my 2.5 swap and install was a breeze. It's really easy to reach the nuts with basic hand tools. Keen eyes will spot the spike in the collector and how the tubes fire in a circle. Attention to detail was paid there. The only thing I would ask for is a second o2 bung opposite side of the existing one to connect a wideband.
Reggie B.

United States
12/03/2020
Nice product
Install was pretty easy on my 2007 ZX3 S. Only issue was a slight fitment issue. The header rested on my steering rack. Was able to get it off the steering rack by flooding the dog bone and inching the motor forward a bit. It still rested on the rear line. I bent the steering line down to get it off the header.
Rowdy S.

United States
10/16/2023
Very nice product
This product looks great. It is a quality piece. It fit very well in my 2009 Ford Focus. I believe it has given my car a small performance increase. I do have a check engine light on due to having only one O2 sensor. This is not an issue for me, but it would be nice to be able to use both O2 sensors and avoid that without having it tuned
Jace F.

United States
04/25/2023
Ordered Headers and Flexpipe
I needed extra hardware and pipings with my order. Contacted the team via email. best Customer service i ever had, fast respond,courteous and ready to help with your needs for your project. Highly recommand !! Thx again to Fswerks team! Alex G.
Alexandre G.

Canada
04/23/2023
Excelent product!
I bought this header for my 2004 mazda 3 2.3L engine and it can be used without problems, it fits oerfect! The response of the car iis great. Highly recomended.
Pedro A.

United States
03/23/2023
08 Focus Coupe
Have 08 focus coupe 5 speed. Header and flex pipe are awesome! Don't forget to get exhaust manifold gasket. Had stealth exhaust and when adding header and flex pipe sound is hardly noticeable until 2500rpms. Really nice sound! Did have to bend power steering line at the bottom of the header towards rear of car to not have then making all kinds of noise on take off thats with a Polyethylene rear engine mount also. Lastly after installing, warm car up then let cool then retighten the header/exhaust manifold nuts. Calibrate your elbow because torque wrench won't fit for all exhaust manifold/header nuts.
Brian

United States
07/12/2022
question
will these fit on my 2018 ford focus sedan?
weston

United States
06/09/2022
4-1 race header
I bought this header for my 2012 focus. The part isn't listed to fit the mk3 focuses. The header bolted right up to the engine. It was a direct for all that I had to do was buy the flex pike that FSWERKS has for the mk2 focus. Overall I am very happy with the header. I have the mk3 fswerks racing catback with the header. The header made my car way louder and it sounds great.
Nick D.

United States
08/25/2021
Looks good
Finish wasn't the greatest but performance is amazing. Added a little grumble when paired with factory exhaust
Joe

United States
06/14/2016
Great Product, Awesome customer support.
I paired this with the stealth exhaust loving the sound of my focus now. Actually interacted with owner of FSWERKS over external affair involving them and he went above and beyond to make it perfect.
02/11/2016
Wicked upgrade
I installed this header on a MK3 (with some adjustments needed), even though it's designed for a MK2, regardless it's a great upgrade, best mod to date it's changed the way the car performs...much more responsive and a large power gain from 3200rpm up to redline.....Fs werks should make some minor changes and offer this for MK3 applications!!
10/06/2015
best header made for the Dtec engine
So I own a 2014 mk3 ford focus 2.0 NA. I bought this header because the only company that made a direct fit header for the mk3 was obx and I prefer the quality of Fswerks products. I will say up front that this is NOT a direct fit part for the mk3 focus, however it does bolt up directly to the engine. it is about 1 inch short of the factory exhaust manifold so it will pull the exhaust forward about 1 inch. otherwise it fits perfectly. I currently have the stock exhaust and this header made a noticeable difference in power and acceleration. i can only imagine that with a full aftermarket exhaust it would get even more power. with the stock exhaust, the noise increase is minimal. this is a quality built product and a must do mod for anyone looking for more power. I have a custom ECU tune and would recommend that to anyone adding a header to get the most gains.
04/02/2015
Fwerk's header is a quality piece.
Looking for a header for your D-tech, look no further. Here is a top quality piece, just add the flex & steath & a fwerk's tune w/ the rear o2 sensor & egr delete & your golden. Well worth the cost.
02/22/2015
Great performance upgrade
I've had the Race Exhaust system from FSWERKS on my 2011 Focus and as soon as I purchased the 4-1 Header and installed it, you could notice a BIG difference in performance. The headers also made the car a lot louder which lead me to purchasing the "Stealth" muffler to my exhaust. Great product overall, 5 stars.
11/12/2014
Finally
So glad I could get rid of the stock manifold setup. There's so much more response and power gains feel almost everywhere. I coupled this with the flex pipe and fswerks stealth exhaust and it really sounds sweet.