VF-Engineering Rear Engine Mount - Ford Focus SPI / Zetec / SVT / Duratec 00-07
SKU:
FS045
Billet / Polyurethane Engine Mounts
The Ford Focus factory engine mounts were designed as soft, flexible units, to provide a comfortable drive. The drawback was the relatively large amount of engine movement the OEM mounts allowed under torque load and on hard acceleration. Such engine movement decreases stability under high performance driving conditions and rapid gear selection.
To reduce this movement VF-Engineering engineered a complete fitted replacement with specially shaped molded, 70A durometer polyurethane inserts. The mount body is machined from billet aircraft grade aluminum, being almost twice as strong than the OE cast material. Installation should take no more than 10-15 minutes. This high performance mount provides a difference in the stability of the car when accelerating and braking hard. Gear changing under hard acceleration is also enhanced.
NOTE: For street use, we recommend using only the rear engine mount. Using all mounts together will cause some vibration (due to the nature of performance polyurethane mounts) that may not be desired for a daily driver, and is more for track use (Road racing, drag racing, autocross, etc).
Fitment:
Ford Focus SPI 2000 2001 2002 2003 2004
Ford Focus Zetec 2000 2001 2002 2003 2004
Ford Focus SVT 2002 2003 2004
Ford Focus Duratec 2.0L & 2.3L 2003 2004 2005 2006 2007
---
Customer Reviews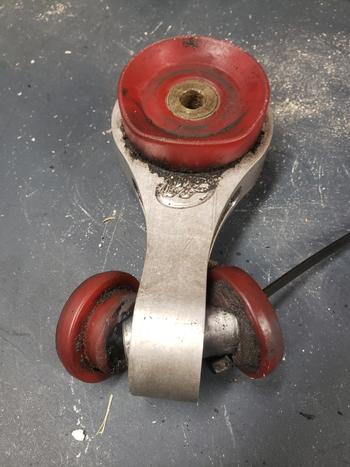 08/28/2021
Didn't last long
The part was really good when new. Only lasted 3 years. Doesn't look like i can buy new urathane inserts either. I'll be replacing with oem, or another brand. Not raced or hot rodded. Completely factory 03 svt. Used as a commuter.
RYAN P.

United States
Thanks for the photo... looks like standard wear as these tend to last about 3-4 years... And yes we and VF are the only manufacturers offering replacement bushings for the mounts we offer... https://www.fswerks.com/collections/engine/products/fs045b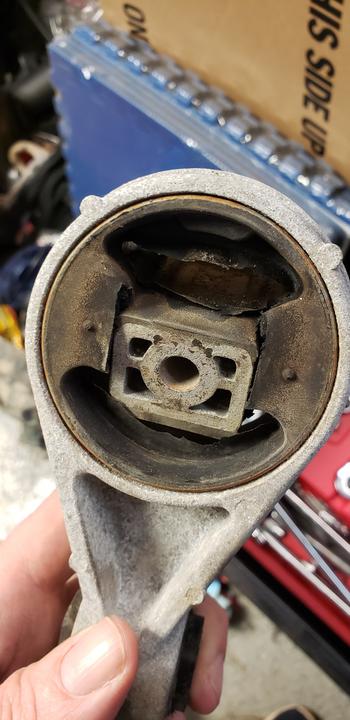 04/06/2020
Much better than OEM
Part ordered on friday night arrived monday and installed Monday.... so far much better than the oem part, I see a lot of people say this is a hard install as a mechanic a few tips are 1 Remove the passenger side motor mount this let's you have more room when you jack up the motor , 2 it's a tight fit so use a dead blow hammer to tap it in place , 3 use a pry bar and pick to find the holes as you cant see much and it should take less than 20 min to install ;) gone swap all 3 I see they say theres vibration but having a fox body with solid motor mounts I don't see it being that bad :) here's a pic of the part and the trashed oem mount that lasted 3 months lol
Pat

United States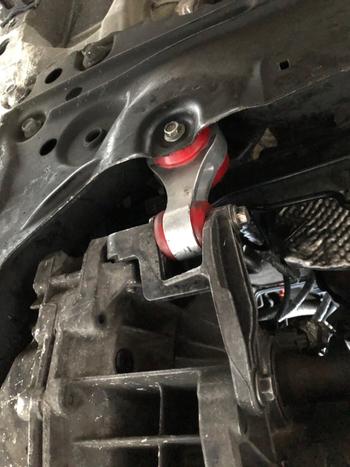 03/06/2020
Zx4 Rear Motor Mount
Very easy to get the stock mount out. The hard part is getting the new one in. After some time & help we got the part in & it makes an incredible difference in the car. Night & day difference. No more engine movement, smooth ride, better response. Love it !
Gabriel S.

United States
09/07/2020
Fast shipping
The part showed up so quickly! The motor mount slipped in with ease and seems to have cured my ailments. So far I am very happy with this product.
Manuel N.

United States
08/03/2020
Drive to reverse clunk minimized
Good quality, brass inserts were not the correct size for factory hardware, had to put it on a drill press and make them larger.
Brandon M.

United States
Hi Brandon, Thanks for your feedback. I am sorry to hear you had to make a change to the inserts for this mount. I am assuming we sent you the wrong item number or you may have ordered the wrong mount for your car. This mount is for 2000-2007 Focus only. Thank again.
07/26/2020
Excellent
As described. A little stiff but more torque
Rafael P.

United States
06/13/2020
Highly recommend!
Love this company. Was arguing with a salesman from from another company about a 3 week lead time on a part after being told it would ship in the next couple days. Before I concluded with the salesman from another company, I had the part purchased from FSWERKS, an email about processing, then shortly after, a tracking number. All before canceling my order with the other guys, what a story!
Jeffrey L.

United States
06/13/2020
Torque Mount Install
FSWERSK!! You all rock! This mount really makes a diff in the shift and overall feel of the car! For those on the fence... by this product it works! If you want to see me install this... check out Focused Hands on Youtube!
Focused H.

United States
03/13/2020
A new "bone" for your SVT
The part is a great improvement over the stock or OEM engine mount in terms of quality and is very easy to install.
Craig K.

United States
03/05/2020
Focus Torque Strut
This is a well Engineered Torque Strut that should alleviate excessive Engine Movement that contributes to repeated broken Engine/ Transmission Mounts.
Lisa C.

United States
02/06/2020
Great product! Big Difference
Huge difference in control of vehicle, less wheel spin, less wheel hop and much smoother between gears with the stage 1 clutch kit. Would definitely recommend for a first mod.
Cam C.

United States
07/30/2019
Motor movement control...
I have replaced the "dogbone" motor mount 2 other times. On manual trans cars they don't last. This VF-Engineering rear mount is fabulous. Cured rough shifting, smoothed out clutch engagements. Should have done this the first time. Well worth it !
JIm S.

United States
07/24/2019
05 Focus ZX3
Replaced OEM with aftermarket. That failed. Replaced it again and failed. Decided to look outside of Canada; worth the exchange and duty. Amazing what a well engineered part can do and the huge difference in feel it can make. Thank you!
Tim Z.

Canada
07/18/2019
Well worth it!
Great! Definitely helps, recommend
Brandon D.

United States
02/23/2019
Quality part
Haven't installed yet
11/03/2018
Great Well-Made Product.
I am a machinist and this one's very well-made. Took less than an hour to install on my '03 Focus SVT. Shifting is more precise and I barely notice any increased vibration in the cabin.
10/03/2018
VF rear mount
Throwing this on our stage rally car this week. The mount seems of much higher quality than our last one.
06/20/2018
Happy driver
Installing this rear motor mount improved the ease of the movement of the shifter - thanks