FSWERKS Stainless Steel Catback Stealth Exhaust System - Ford Focus Coupe/Sedan 2000-2011
SKU:
FS022SSQ
We use 2.5" diameter mandrel bent T304 stainless steel tubing in our designs for maximum flow and horsepower. FSWerks systems come with our exclusive stainless steel high-flow straight-through design muffler and are finished off with a beautifully polished 3.5" angle cut T304 stainless steel tip. Also included are the necessary clamps and hardware to allow for an easy installation. All our stainless steel systems are backed by a 5 year limited warranty.
Stainless Tubing 
• Mandrel bent heavy wall T304 stainless steel construction
• Provides optimal flow

Precision Welding 
• Tig and Mig welds are used on our systems during assembly

Stainless Steel Flanges and Hanger Rods
• All of our exhaust flanges are laser cut out of T304 stainless steel and our hanger rods are cut from solid bars

Angle Cut Tip 
• Precision angle cut tip for agressive look
• Welded on stainless steel with etched FSWERKS logo

Optional accessories you may be interested in:
Wurth Exhaust Assembly Paste
Fitment:
Sedan
Ford Focus SOHC SPI 2.0L 2000 2001 2002 2003 2004 Sedan
Ford Focus ST Duratec 2.3L  2005 2006 2007 Sedan
Ford Focus Duratec 2.0L 2005 2006 2007  Sedan including ZX4  
Ford Focus Duratec 2.0L 2008 2009 2010 2011 Coupe & Sedan
IMPORTANT : Includes all necessary gaskets, clamps,  and mounting hardware for assembly. DOES NOT require welding!
---
Customer Reviews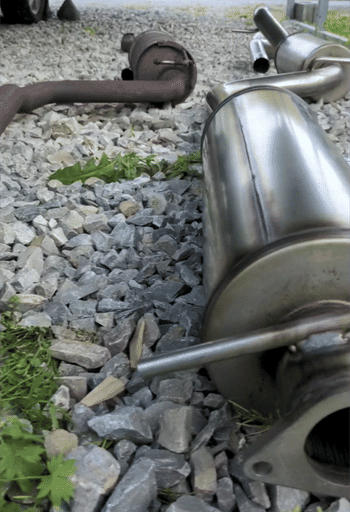 04/28/2022
2007 Focus ST 2.3L Really a disappointment....really
This exhaust is exactly what one should buy to replace their factory one, but no change in sound. My previous exhaust was rusted which included the muffler (worst part, pipes (probably leaking with some small holes), and hangers (one fell off upon removal!). It was a pot hole away from completely deteriorating. The pipes were mostly surface rust and I used one piece as a cheater bar to break the collector gasket bolts loose. I wanted a kit that was simple bolt on (2-3 hour job) that could be done I'm the ground without any special or specific tools, was stainless steel, and sounded good with NOOOO drone at highway speeds (60-75mph). This kit met HALF that and here's why: 1."the kit includes everything and no welding required" --but a saw zaw, a chisel/grinder/punch IS required 2. "beautifully polished 3.5" angle cut T304 stainless steel tip. Also included are the necessary clamps and hardware to allow for an easy installation" --but they provide cheap $1.50 USD muffler clamps (basically a bent bolt with thread on each end) and no sleeve clamp. It's a $500+ USD SHIPPED stainless steel clamps and you cheap out on exhaust clamps? Really? This absolutely blow my mind!?! 3. Sound....the most important part of any exhaust purchase. Do the tones vary from my previous exhaust? --Sound is identical to my previous rusted exhaust. Which did NOT drone either. This exhaust does NOT drone at all. But the sound tones did not change at all. NO CHANGE, I swear. Final thoughts:. Good bolt on direct fit, good and consistent welds, looks good when changing oil, and if younger you can show off to your buddies "hey I got am expensive stainless steel exhaust". I would look elsewhere if another company even perhaps make another bolt on exhaust for a 2.3L Focus. Complete installation of this kit on my YouTube channel to those who want some heads up on install so you are prepared But as always remember "Your rig, your call" ®
Pv2smurf

United States
Hello, Thanks for your detailed feedback. Sorry the U-bolt exhaust clamps weren't as good as you expected. We Have been using this design for over 20 years with good results. I am surprised you feel the sound level is the same as stock. It's definitely deeper and slightly louder than a new stock system. Please note that our exhaust system will get a few decibels louder after about 30 days of driving. Thanks again. FSWERKS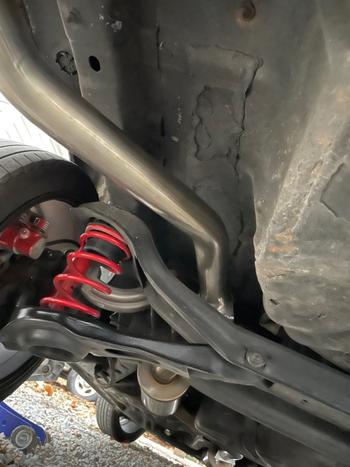 12/28/2021
Fs werks stealth exhaust
A very good product at a good price fit was dead on with all of the stock located hangers on the vehicle and it sounds a lot better it doesn't have that river sound but that sound of a performance vehicle
Danny

United States
12/15/2021
Excellent exhaust, excellent value!
This was super easy to install and it sounds PERFECT for a daily-driven 4cyl. Love the subtle looks of the angle cut polished tip as well. It fits great and my non-Focus car buddies have had nothing but nice things to say about it!
Ian B.

United States
08/18/2020
Sounds great!
Upgraded the factory "sport tuned" exhaust on my 2009 SE Coupe (sans-lunchbox resonator from the factory) to this. I've driven it for a week now and it sounds great. Really brings out the undertones in the exhaust note that you can't hear with the factory exhaust. It does drone a little bit in the cabin compared to the factory exhaust, but only when you're on the gas. If you're climbing a hill you'll hear it but if you're on flat highway or going downhill you won't. Cruise control also seems to kill the drone somehow. Noticed a bit more midrange torque but could be the placebo effect. I am tuned and also have an intake, so it could have made a difference. I'm in the process of building a 2.5L Duratec to swap in place of my 2.0L, and part of that build is an OBX EBay header, I am hoping that doesn't make this exhaust too loud for me. I may consider welding a sports CAT in front of the first resonator to quiet things down. But I have heard that a header with this Stealth exhaust is a nice combo. After getting used to it with the stock mani/cat, I think it could still be a little louder. I also have a small hissy exhaust leak somewhere, could be my factory flex pipe leaking or from my DIY install. I'll fix it eventually, not knocking FSWERKS for that. All in all a good buy, and it looks freaking sweet from behind. Thanks!
Ben W.

United States
09/01/2018
Stealth Exhaust on a WAGON!
That's right. I've installed a stealth system on my 2005 ZXW. Only had to extend the tailpipe 6 inches to get the tip out the back. I had to fabricate my own rear hanger as the 'stock' sedan tailpipe hanger was in the middle of my trailer hitch. I LOVE the bark she now has on excel, cruising a 70 MPH is very pleasing. Real sports car sound. Not a rice burner like a lot of the other systems out there. Why did I wait so long. FSWERKS great job !
06/24/2021
Easiest Exhaust
I am blown away how easy this was to install. From start to finish the job took about 45 minutes. Everything lines up perfectly and mounts with no questions asked. I have installed quite a few exhaust systems on different vehicles that were said to be direct fit. They were far from it. FSWerks needs to team up with some other companies and show them how to build an exhaust system that's modular, easy to install and comes with some damn mounting instructions. Bravo Gents!
Shane

United States
We love it! Thanks very much for the great feedback Shane :-)
04/01/2021
Fswerks nailed it!!!
Really love the sound, not exaggerated loud but very noticeable deeper more aggressive sounding, really tied in all my other mods and I love it.
Jose-Luis M.

United States
12/14/2020
Stealth exhaust
After running several different setups on my daily driver I ordered this system. I should have went with this from the very beginning! The welds and quality of this kit is reason enough to purchase.I've ran several name brand exhaust systems on different civics and integras when I was into Honda tuning and paid way more for systems that couldn't hold a candle to this kit! Don't bother thinking just order and thank me later or better yet thank FS Werks on a quality system!
Joseph R.

United States
07/10/2020
Your purchased product FSWERKS Stainless Steel Stealth Exhaust System - Ford Focus Sedan 2008
Great quality Product! Definitely use lots of lube on those old rubber hangers to remove the old system.
david t.

United States
05/28/2020
Amazing product
I love this exhaust. Installed very easily. 100% straight forward with 0 fitment issues. Highly recommend this exhaust and sounds amazing.
Travis B.

United States
05/12/2020
10 out of 10
Easy installation and in love with the sound!
Tim W.

United States
04/23/2020
Quiet and Subtle When Wanted, Barks When Wanted
This went on my 2004 Focus Sedan 2.3L Duratec. Taking off the old exhaust was the hardest part; you'll need something to cut through the pipe just in front of the rear "axle" and, if you have a Duratec, the flex pipe flange has a dowel pin that needs cut off with a hacksaw and filed smooth. Apart from that, everything pops off the hangars and unbolts, and comes right out. installing the new exhaust was very easy; it took maybe thirty minutes and can be position-adjusted on the hangars. The quality of the system is flawless: the welds are astoundingly well done, the metal is smooth and perfectly machined, and it fits perfectly under the car. The sound: on startup it makes a growl, and on idle is just a background purr that sounds beautiful and is barely audible over the other noises from the engine bay Accelerating gently, it growls noticably but conversation is still completely possible, and cruising is again a quiet purr, barely audible over tire and wind noise, even at highway speeds. So it is quite subtle and unintrusive when you drive gently. You will be very aware of the difference for ten or fifteen minutes, because it's a new sound, but then you'll suddenly realize hey, you forgot about the sound completely for five minutes. When you stomp the pedal or let revs climb high, it wakes up, shakes off the robe and reveals an aggressive roar that will startle your passengers. It will let out muffled pops and burbles as it revs down, which elicit giggles from even those who don't like loud cars. "Stealth" is an excellent name for this system, and is ideal for a "sleeper style" build. The quality of the sound is excellent too; it's not a raspy fart-can abrasion like many cars out there often use. A little tip: when you have the old exhaust off, before you put the new one on, start the car and rev it a couple times. :) My only grip is that I had to cut out my bumper's exhaust opening a little bit to accommodate the very large exhaust tip, but it took no time at all and you can't even tell I did it. This is likely due to the existing cutout being very small, and the specific position I adjusted the new system to in order to keep clear of the slightly bent heat shielding under the car. Worth all $480.
Steven R.

United States
12/25/2019
Quality construction
Went together easily, super nice overall quality. It sounds and looks very nice. It is definitely stealthy. I cant really even hear the exhaust noises from inside the car, but thats the idea. From outside the vehicle and under load, it has a nice deep tone without the pops and crackles that a lot of 4 cylinder cars make. Running this in a 2005 focus st, it did delete the secondary converter
Devin C.

United States
04/29/2019
Exhaust
Haven't had the time to install but unbelievable quality and welds highly recommend can't wait to hear the sound. ....thanks!
09/13/2018
The Right Balance
This system is really a nice balance between a little more but not too much sound. Should have done it sooner. Components are very good quality and it fit just fine. I should have done it sooner.
12/28/2017
Great product from a great company
Installed this myself without too much trouble, it's a two person job and a sawzall is a must. The extra money spent for the stealth is worth it as highway drone is non-existant. I look forward to buying from FSWERKS in the future.
12/06/2017
Great sound.
Love the way this sounds. Definitely got rid of the factory rasp and has a nice tone that comes alive under full throttle. Perfect figment and easy to install. Highly recommend.
09/24/2017
Perfect replacement!
Installation was easy and the sound of the exhaust is louder than stock, but not "race car" loud. Without a doubt, my 2008 focus breathes better and I can confirm that my MPG average has increased by almost 2. MY personal recommendation to anyone wanting this, or any other FSWERKS exhaust is to use a band clamp on the pipe joints instead of the U-bolt style. They look cleaner to me. With that said, the provided clamps will work as they are supposed to. No regrets buying this exhaust. Thank you!
07/18/2017
Not a review. Have a question
I would like to know if this one you don't have to delete the rear o2 sensor. I wanna leave it in place. So does this exhaust go behind it. 2011 focus SES
06/03/2017
2007 SES Sedan
I love the exhaust! Although I ended up purchasing the straight pipe to replace the cat. The race exhaust sounds absolutely amazing! I would recommend this exhaust all day.