FSWERKS Engine Cover - Ford Focus 2.0L/2.3L Duratec 2005-2011
SKU:
FS082K
Give your engine a little clean bling. Our engine cover fits all 2.0L & 2.3L Duratec engines from 2005-2011 (US & Canada models). Other features include all tig-welded construction and powder coated with your choice of silver, wrinkle black, semi-gloss black, NEW Gloss Red or offered bare aluminum so you can coat the color of your choice. Includes mounting hardware, instructions and 4 FSWERKS decals. 
Fitment:
Ford Focus Duratec 2.0L 2005 2006 2007
Ford Focus ST Duratec 2.3L 2005 2006 2007
Ford Focus Duratec 2.0L 2008 2009 2010 2011

Notice:
Bare finish covers will show welds, scratches and some fold marks.
---
Customer Reviews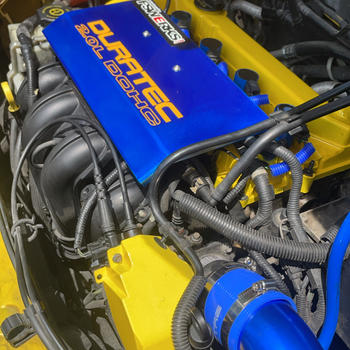 09/01/2021
Simple addon that makes it look much better under the hood
Love this thing. Bare finish was easy to paint and install. Looks great. Installation instructions were clear and easy. Item shipped very quickly
Harlan

United States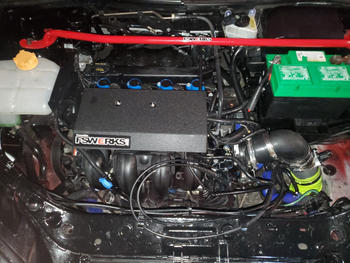 04/21/2021
FSWERKS engine cover
This is a great piece as there are not a lot of items for a 2005 ford focus zx5. I recommend if you're looking to jazz up your engine bay and add a little bit of protection.
Angelo Z.

United States
Thank you Angelo. We appreciate you sharing the photo :-)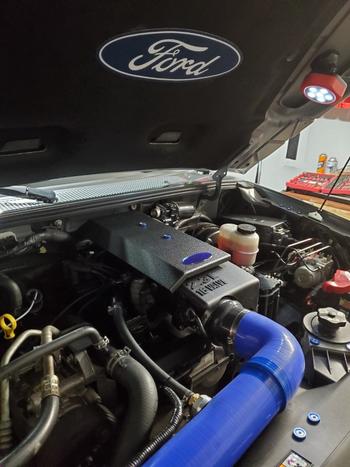 04/19/2021
Excellent
I almost sent it back but, then realized I just needed to make a mounting bracket. So glad I waited.
Paul T.

United States
Looks interesting! Thanks for sharing Paul :-)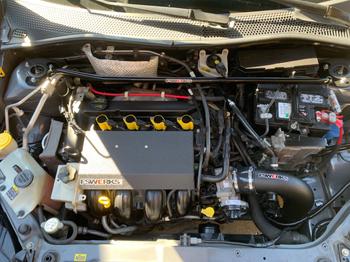 02/21/2020
Love the look it gives my engine
Super super easy to install! Such a great finishing touch for the looks under the hood!
Josh C.

United States
Your engine bay looks great! thank you Josh :-)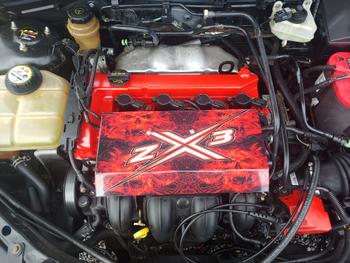 01/02/2020
Great product
Fast shipping on all orders friendly staff here great product for your money worth
C.Alt

United States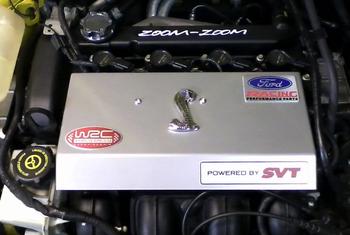 05/20/2019
An awesome piece...well worth the wait.
I had decided to get one of these engine covers for my 2007 MK1 Focus, but they were out of stock...for a while... I called FSWERKS twice for updates on availability and BOTH times experienced excellent customer service. A BIG thank you for that. I kept watching the website and made my purchase as soon the cover became available. Installation was a breeze with the great instructions that are included. And it looks awesome, not too big, not too overwhelming bright (mine's silver finished) under the hood. It looks like it should have been there all along.....and it looks better than the pics on the website try to show. It is a "must-have" if you like a tidy, tricked-out engine bay!!
Thanks very much for your feedback Rick :-)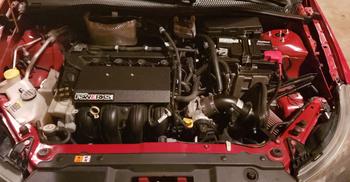 03/24/2019
Cover bling
Easy to install looks great
Looks good Cody, thanks for posting the photo :-)
10/07/2021
Quality Product
Easy to install and looks good.
Thomas B.

United States
06/10/2021
Very nice
Thank you very cool
Ilya M.

United States
04/12/2021
2012 Ford Focus SE 2.0
Installed this on my 2012 Ford Focus SE Duratec 2.0. The install hardware wasn't compatible with my specific engine, the mounts you're supposed to build off of aren't even and thus needed additional spacer to make an even length. Once the lengths were matched the plate pushed down on the oil check plug and the oil cover. 3 inch spacers were needed to clear those interferences, some washers and nylon nuts wrapped it up! Covers the wiring to the boots and other wires but leaves boots visible... good or bad that'll be up to you. Welds are clean, perfectly even surfaces. I got mine bare since I was painting the plate, only issue is where the plate is creased the metal "resists"(?) taking primer, needed a few extra layers to reduce the shaded areas. Over all it's great, smaller than expected and far cooler custom looking and cheaper than the plastic Duratec engine covers you can get.
Jose G.

United States
Thanks for your feedback Jose . This engine cover is not for 2012 Focus, its only for cars up to 2011. We are surprised you got it work on your car:)
04/17/2020
Awsome !
Awsome fits perfectly for 2005 Ford Focus
Richard A.

United States
12/20/2019
Parfait
Une note parfaite….expédition, produit. Le look est super et l'installation plus que facile. Thanks guys !!!
Bruno

Canada
Thank you Bruno, translated; A perfect note .... shipping, product. The look is great and the installation more than easy.
07/19/2019
LOVE THESE GUYSN GALS
the products were exactly what they said easy to install great directions. Have ordered many things b4 n will order more things in future..
nik s.

United States
03/29/2019
2011 FOCUS ENGINE COVER
EASY EXPERIENCE....VERY WELL PACKAGED FOR SHIPPING.....CAN TELL CARE WAS TAKEN TO ENSURE ITEM WOULD MAKE IT UNDAMAGED....THAT IN ITSELF SHOWS THE CONCERN FROM "FSWERKS"....WILL DO BUSINESS AGAIN!!!!
03/16/2018
ENGINE COVER (WRINKLE BLACK)
Arrived very quickly, well packaged and protected and came with all install hardware & a few decals. Super fast install, less than 5 minutes. Looks great and seems to have quieted the engine a little. Highly recommended modification
01/07/2018
Engine Cover for Ford Focus
My son asked for this engine cover Christmas for his 2011 Focus. He was very pleased with how it fit and looked, and he painted it to match the exterior color of his car as well. It definitley gives a nice clean look to the engine compartment. Our experiance with FS Werks ordering process was very easy (although i paid USPS more than what the engine cover costs to get it here in time for Christmas, lol)
06/04/2017
FSWERKS ENGINE COVER mk1.5 FOCUS
I love the way it cleans up the engine bay! Easy install and I would highly recommend this item!
01/16/2017
Simple and looks great!
Awesome, great quality, easy and clear instructions and cleans up the engine a bit!
12/17/2016
looks great but seems a bit expensive
Does tidy up the engine bay..i like the cover very much
02/22/2016
Focus build
Quick install. Great customer service.