FSWERKS ITG Cool-Flo Race Air Intake System - Ford Focus Duratec 2.3L/2.0L 2003-2011
SKU:
FS016B
The FSWERKS Cool-Flo Race air intake system fits all 2.0L and 2.3L Duratec engines from 2003 - 2011. This is a true cold air intake system that situates the air filter in the lower front region of the car, away from ALL engine heat. The Cool-Flo Race air intake system utilizes an easy to install one piece design that uses 3" mandrel bent steel tubing along with a laser cut MAF sensor housing and brackets. Other features include tig-welded construction and coated with wrinkle black powder coat.
Intake Tube
• Mandrel bent steel construction 
• Wrinkle black powder coat
• Tig-welded

Connecting Hoses 
• High temperature resistant 
• Three ply silicone construction 
• Oil resistant
• Stainless steel hose clamps
ITG Air Filter
• Three layer reticulated polyester foam element 
• Optimal filtration of particles as small as 10 microns
• Pre-oiled with ITG dust retention coating
• Limited lifetime warranty to the original purchaser
Note:
Our intake systems are not CARB Exempt. 
Fitment:
Ford Focus Duratec 2.3L 2003 2004
Ford Focus ST Duratec 2.3L 2005 2006 2007
Ford Focus Duratec 2.0L 2005 2006 2007 
Ford Focus Duratec 2.0L 2008 2009 2010 2011
Other SKU's: FS016, FS016B, FS016G, FS016GB
Installation instructions:
VIEW PDF INSTRUCTIONS

---
Customer Reviews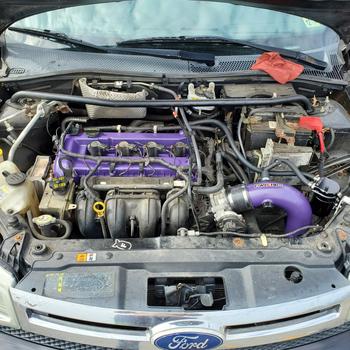 03/12/2022
Fantastic
Fantastic little addition. Easy to install, woke up the ol' duratec for sure, and sounds awesome too.
Elijah

United States
02/06/2022
Car has some giddy up now!
Car runs alot smoother, there's alot more life in her and not to mention it gives my car a nice sound to it!
Anthony L.

Canada
12/20/2021
Nice!
Great product and even better customer service! Actually purchased this last year for my son after having a terrible experience with a competitor. The air intake works well and the customer service was phenomenal!
Shannon

United States
03/02/2021
Air intake system
I'm really enjoying my new air intake system!! Price was good, shipping was excellent and the installation was easy!! I would recommend this to anyone and everyone!! Thank you FSWERKS!!!
John R.

United States
Thanks for your feedback John :-)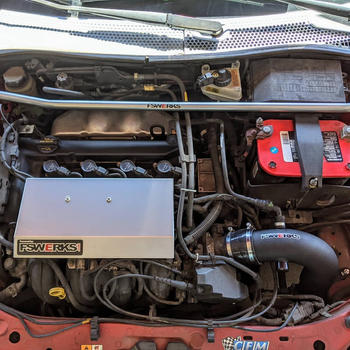 10/19/2020
Perfect fit and I have a fun whistle!
Love it. Fit perfectly and it sounds a little like a turbo. My gas pedal is noticeably more responsive.
Christopher P.

United States
04/23/2020
Great product
I was looking for a quality product to replace the factory lifetime air filter system.This product is high quality and fit like a glove. I decided to add the protective pre filter cover after. Car is definately more responsive. I would definately recommend it
Imi K.

United States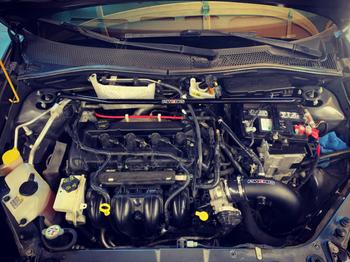 01/31/2020
Easy install! Looks great under the hood!
Everything went great! Got everything installed in an hour or so. Hardest part was getting old intake out.
Josh C.

United States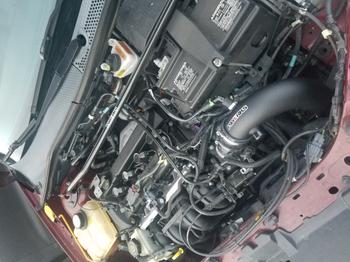 11/18/2019
Best Intake Ever!!
Do yourself a favor and don't settle for the "short ram intake" that everyone does. I made my own intake before this one and I seriously regret not getting the fswerks one sooner. This intake delivers so much more power.
Mitchell B.

United States
10/23/2019
Completely different car
Pretty easy to install also gives the car a great sound paired with the race catback hoping to get a tune on it soon! pulls harder, gets pretty good mileage too
Rj

United States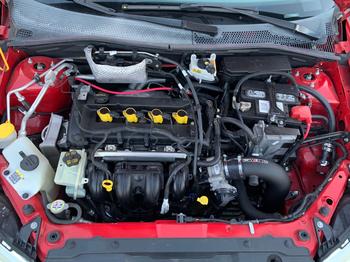 09/06/2019
FS Werks intake
Simple to put in ( wife's 08 Focus ) works great and the car runs better and has more kick in it. Better then the K&N intake I had on it. I'd recommend it
Travis K.

United States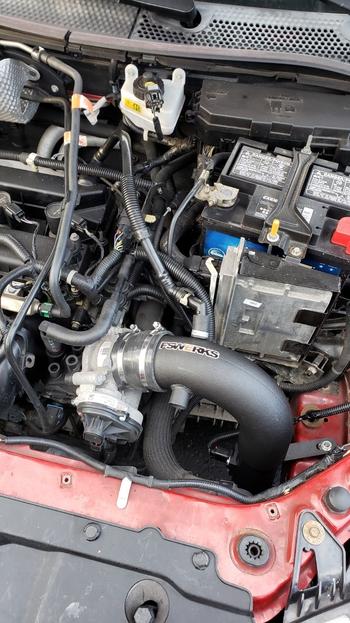 03/26/2019
Gotta Love FSWERKS
Combined with their race exhaust kit, the FSWERKS CAI has turned a mild compact sedan into a disturbingly loud (to others, I love it though) monster that apparently attracts cops more than a Subaru STI backfiring down the road (I started my car one day and a cop immediately whipped a U turn and tailed me home from work). This company is the reason why I don't think I'm ever gonna sell my Focus, since my lack of horsepower is masked by the wall of sound out my tailpipe.
02/28/2018
Great intake!
I got this intake because I was very unhappy with steeda' s "CAI" and it was very similar to the intake I had on my original 05 focus back in 05. There is a noticeable increase in power over stock and the steeda intake. Also the car sounds better on the intake end!
10/06/2023
Gotta Love It!
I recently added this system to my 2004 ZX5 (w/ 2.3l Duratec) to compliment the previous install of the catback stealth exhaust and what a difference. The ease of instllation, prompt delivery time, a definate engine response when you gotta go, the new appearance of the engine bay and the ehaust sound has really transformed my car. Five Stars to FS Works!
Donald W.

United States
09/11/2023
Air intake
Fit perfect. Works great. And I bought a damaged one not a new one.
Tim W.

United States
03/20/2023
Great product
Install was easy. Took less than an hour. I thought people were crazy saying that the throttle response was better. It truly is. And when I keep my foot out of the throttle, , my fuel economy actually increased. Amazing product!! What's next.
Jason F.

United States
12/26/2022
Really Great Addition
Pretty simple install, only issue was having to rerun some wires for the MAF and some of the plugs didn't fit untill a lot of fenegle was implied. Otherwise is great and the car definitely gained some sound and some pops when paired with the exhaust setup i have
Jeremy B.

United States
11/13/2022
Super easy to install, works great
It took like 40 minutes to install, very easy, looks good in the engine bay and feels good driving.
James U.

United States
07/14/2022
Good product for the $$
Straightforward install - good quality. Definitely woke up the duratec a bit. Noisier in the cab as you would expect and has a strong whooshing sound when accelerating and upon startup. Ultimately happy with it - better than a new air box unit from ford and I can actually clean/replace the filter.
Nathanael M.

United States
12/29/2021
Intake
Installing was easy as I had a make shift one but was always getting a check engine light. With this new intake the sound an performance is way better!!!
Patrick R.

United States
10/12/2021
Amazing, but one problem
The intake sounds amazing and it's great except for the connecting hose to the engine slides off every time I return home, and it's not a long drive it's a short drive. I tight it really good and it still comes off. Idk what I'm doing wrong, but thanks.
David J.

United States
Please give us a call so we can get the solution for you on this.