ITG Pro-Filter - 16V Zetec/8v SPI/SVT
SKU:
15WB335
The ITG "Pro-Filter" is a high grade direct replacement filter for your vehicle. These drop-in filters are designed to fit inside your factory airbox and are suitable for road or competition use.
The Pro-Filter utilizes the same three layer Reticulated polyester foam used on the MAXOGEN air filters. The three layers of foam selected for the Pro-Filter combined with the arresting stickyness of the dust retaining oil, give a high level of filtration to protect the engine from all the damaging particles in the ambient air stream.
Unlike some of the competition, ITG filters have a massive dust load-up tolerance, which is the ability to absorb a large amount of dust without reducing air flow capacity. The design, skill and technology employed to bring this filter to production are superior to all other filter makes, and yet the price is still competitive. The wealth of design skill available at ITG has created the lightest, most capable filters in all fields of motorsport from Formula 1 to the World Rally Championship. The Pro-Filter range receives this same attention to detail at the design stage and is then taken into production with the consummate quality for which ITG is renowned. Increase your vehicle's potential by fitting it with a drop-in Pro-Filter! No additional oiling ever needed.
LIFETIME WARRANTY to original purchaser with proof of purchase.
Fitment:
Ford Focus SOHC SPI 2.0L 2000 2001 2002 2003 2004
Ford Focus DOHC Zetec 2.0L 2000 2001 2002 2003 2004
Ford Focus SVT 2.0L 2002 2003 2004
---
Customer Reviews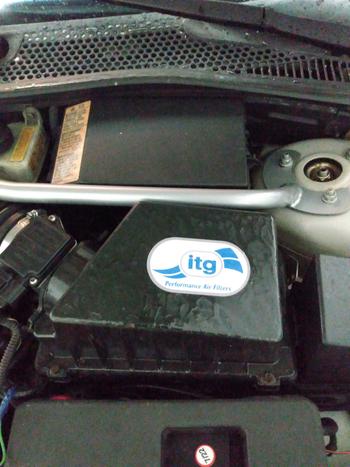 08/17/2023
Better than schtock
Fits just as tight, cramped, as the stock paper filter. So accurate fitment, ha. Wanted me some F1 for my First Gen Focus. Old filter was bad. Had K@N filter in other cars. Thought I would add itg to my order. Since FSWERKS is supporting my 20 year old vehicle with nice after market options. Get a little more sound... I think. It is an old car with lots of sounds that youthful tuners pay extra for. Put on the sticker for extra horsepower ;)
errorik

United States