FSWERKS Upper Front Strut Stress Bar - Ford Focus SPI/Zetec/SVT
SKU:
FS030K
An upper-front stress bar is an essential bolt on for all street & competition Ford Focus cars. The bar's rigid design helps to reduce the roll and twist of the front sheet metal frame, and in doing so quickens steering response and improves turn-in. Construction consists of strong 14-gauge mandrel bent heavy wall 7/8" diameter steel tubing. The tubing is then welded to 1/8" laser cut steel mounting plates. Designed specifically around the constraints of US model cars, the bar requires no modification of surrounding components (ie: Brake booster, fuse box, air box) when used in conjunction with the FSWERKS Cool-Flo or the stock factory air box. Fits all SPI, Zetec, and SVT. The FSWERKS upper-front stress bar is available in your choice of Chrome/Clear Powdercoated Finish or colored powdercoated finish.
Installation Note:
Torque all 4 mounting nuts to 18ft lbs
Fitment:
Ford Focus DOHC Zetec 2.0L 2000 2001 2002 2003 2004
Ford Focus SOHC SPI 2.0L 2000 2001 2002 2003 2004
Ford Focus SVT 2.0L 2002 2003 2004
---
Customer Reviews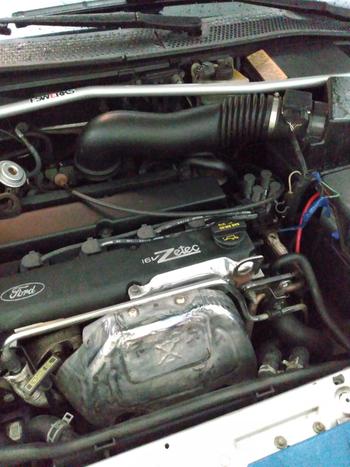 08/17/2023
Happiness in a strut brace.
Got my order from FSWerks on time. The items were actually packed liked the person shipping it cared. The feel, fit and finish of the brace itself is nice. Needs to hold up to salt and snow. Worth refinishing when the time comes. It installed without much of a fuss. The only negative thus far is that I can hear all the other suspension stuff that needs to be replaced :D
errorik

United States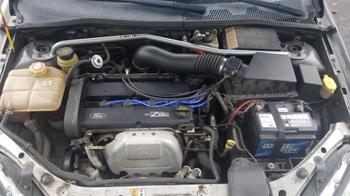 06/07/2022
Awesome product
Fit right in no problem. The bar was instantly noticeable while driving. Tightened my steering and noticed a reduction in bodyroll while cornering. Even if you're just a casual daily driver I recommend this strut bar. Very pleased.
Gabriel H.

Canada
08/07/2020
Easy Install. Feels More Nimble.
I'm not sure how much of a difference it makes on the road, but car is a bit quicker on track. And it is well priced and easy to install.
Nicholas H.

Australia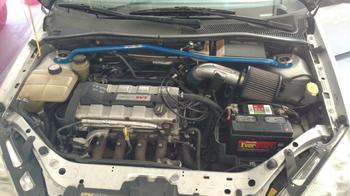 06/12/2019
Terrific. Perfect fit and sure
Terrific. Perfect fit and sure improved handling.
Michael D.

United States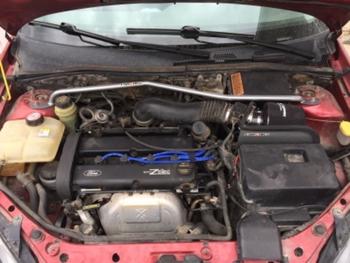 05/06/2018
Great Quality!
Fits good, looks great! Required a little bit of prying to get all the holes lined up, but too be expected on a car that's not exactly spring fresh anymore. :-)
02/08/2023
perfect fit
Great simple upgrade
Tom R.

United States
10/21/2021
Easy to install
This is easy to install and if you like the turns like me you will feel the difference. Steering is more responsive. Love it.
Albert A.

United States
08/27/2021
Great Buy
Looks awesome, Easy to install, Can't wait ti rip around the track
jonathan p.

United States
06/28/2021
Mk1 Ford Focus strut tower brace
It was a perfect fit. Installed and minutes and I couldn't be happier with the performance upgrade!
Michael C.

United States
03/27/2021
Front Stress Bar for a 2002 SVT Focus
Excellent. Raj in sales knew what he was talking about. As a road racer of several decades, the FSWORKS front stress bar works. The bar enhances handling, especially over rough and uneven services. This is the only stress bar I was able to find from a major aftermarket supplier that actually fits an untouched engine bay without any modifications. Very simple/quick installation.
Ira S.

United States
Thanks very much for your feedback Ira :-) Regards, Raffi
01/21/2021
Exhaust and strut bar .
Excellent .Thank you very much .
Anthony T.

Canada
12/15/2020
Noice
Looks good, helps with body roll.
Vincent C.

United States
10/13/2020
CoolShirt Cooler Mount
As advertised fit like a glove. Well made well coated
Richard Becktell Jr.

United States
07/14/2020
Front Strut Stress Bar
I have a 2003 Focus SVT which still goes well. I guess over the years metal fatigue can slowly set in because when I fitted the stress bar it felt like the steering was rejuvenated. I was surprised how noticeable the improvement was.
James F.

United States
05/28/2020
FSWERKS Front Stress Bar
Great product, fitment is perfect, almost looks factory. Stiffens up the front end quite a bit
Blake I.

Canada
05/17/2020
well worth the money
it handles so much better give new life to my old girl
Juan J.

United States
01/25/2019
Love the way it looks in my engine bay and the way she handles
It looks perfect in my engine bay and the handling has improved alittle
09/10/2018
Perfect
I took my 03 focus for a mountain drive. I can take turns 10 mph faster. Highly recommend
03/06/2018
Great strut tower brace!
Very Good. This brace fit perfectly. I had purchased one recently for Steeda that did not fit my car. I had to pay for return shipping!!! Anyway, the FSWerks bar was a perfect fit. I highly recommend.
01/13/2018
Must have for the canyon carvers
It looks great! And it works as intended. I would make sure you have the right tools and a buddy as it will make the job easier