FSWERKS Custom Performance Program ECU Tune for SCT Flasher NOT purchased from FSWERKS - Ford Focus 2000-2011
SKU:
FSSCTPROG2
FSWERKS SCT Performance Program for Non-FSWERKS Flashers. If you've already purchased an SCT flasher from another company and would like to have official FSWERKS programming we can make this happen. Or perhaps you purchased a used flasher and would like to use it on your Focus; we can help you with that, as well. 
FOR CUSTOMERS WHO DID NOT PURCHASE SCT FLASHER FROM FSWERKS
Custom Tunes are only compatible for SCT Flashers including X2, X3, X4 and LivewireTS for Ford vehicles.  Not for turbo applications.
Please call 714-693-2555 and speak to our ECU programmer for further details.

Fitment:
Ford Focus DOHC Zetec 2.0L 2000 2001 2002 2003 2004
Ford Focus SVT 2.0L  2002 2003 2004
Ford Focus Duratec 2.3L 2003 2004
Ford Focus Duratec 2.0L 2005 2006 2007
Ford Focus ST Duratec 2.3L 2005 2006 2007
Ford Focus Duratec 2.0L 2008 2009 2010 2011

---
Customer Reviews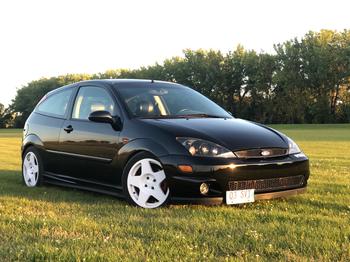 09/10/2019
Amazing tuner!!!
Raffi just woke up my focus SVT. Like, wow. If you want best bang for your 150$, get a tune. I never thought flashing an ECU count change how a car handles. I'm wrong. Very wrong. Incredible job by Raffi at FSWERKS!!!
Aaron S.

Canada
Thanks for all the kind words Aaron :-)
09/26/2021
Very good highly recommended
Awesome highly recommend for the Ford Focus
Logen O.

United States
10/24/2019
Great tune!
Very good tune. Car drives much better and shifts way better than stock. Highly recommended!
Skyler W.

United States
11/13/2018
Good tune missing option
Good tune. Like it a lot. I notified the technician that an option was not included in the tune i ordered. Its been a week since I was told he would look into my tune. 3 stars since the option would seem extremely basic to code in and yet its been a wrek
Thanks for your feedback Michael. Sorry about the delay on the adjustment but I think its taken care of now :-)
10/19/2018
Ford Focus mk2 2010 automatic
I absolutely LOVE this tune, it was so simple and made such a huge difference in my car! I 10/10 recommend this for anyone trying to get a bit more pep out of their focus!
03/28/2018
SVT Focus Tune
Raffi was excellent to work with and was quick to respond to my questions. There were a couple hiccups on one of the features of my tune but he was quick to address the issue and he sent revised tunes promptly. His tune really woke my little Focus up.
06/16/2017
amazing tune.
I absolutely love the custom tune for my 2010 focus,I couldn't be happier with it.works perfect with my cold air intake and my exhaust.
03/17/2015
Fantastic!
Great tune, everything I could hope for, better throttle response, great idle quality, more power. These guys know their stuff. Thank you FSwerks, and if you need a tune for your Focus you've come to the right place.
11/18/2014
power
All I can say is this tune rocks, pulls much stronger than the COBB ots files. Love the response as well. Now if I could only get traction, lol.