FSWERKS Race Header - Ford Focus 16v Zetec
SKU:
FS025
Our FSWERKS 4-1 Race Header is designed for track use and plays a very important role in maximizing exhaust flow for all out performance for your Zetec Focus. Construction consists of 16-gauge heavy-duty steel tubing and laser cut flanges measuring a full 3/8" thick. We use 1 5/8" diameter mandrel bent runners which merge into our 2 1/2" ID collector for maximum flow. Since the Race Header is for track use, it does eliminate the factory emissions equipment, but we do provide fittings for the EGR valve as well as the oxygen sensors. The FSWERKS Race Header will give lightly modified cars a 6-8 horsepower gain and an increase of 5-6 lbs. of torque measured AT THE WHEELS. Highly modified cars, such as our FSWERKS project Focus have yielded gains of up to +25 horsepower and +13 lbs. of torque measured AT THE WHEELS. Finished in a polished ceramic coating that can withstand constant temperatures of 1200° Fahrenheit. Optional Flex Pipe FS026SS is available.

Fitment:
Ford Focus DOHC Zetec 2.0L 2000 2001 2002 2003 2004
(Not for Ford Focus SVT)


NOTICE: This product is for RACE USE ONLY. Not for street use/public roads. We will Not ship this item to a California address. A release waiver MUST be filled out with your order or it will not ship. Please complete the form here: http://www.fswerks.com/pages/releaseform
---
Customer Reviews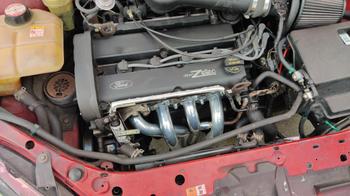 04/03/2021
Great sound and performance!
I love how these headers instantly change the look and characteristics of my car. Took a professional mechanic to install because I had some clearance issues with the EGR tube and lining it up to the stock down pipe can be tricky but possible. I recommend getting the FSWERKS downpipe as well. I have this mated to a FSWERKS cat back race exhaust, and it roars! Not in the tin can ricey way either. I'm also running a SCT X4 93 octane tune with a rear O2 sensor delete.
Keon M.

United States
02/10/2021
Great service and products.
Order arrived a few days early. Everything in the package as ordered. Customer service was the best I had ever experienced with a company definitely recommending and coming back for more products.
Antonio C.

United States
Thanks very much Antonio :-)