Lamin-X 3rd Brake Light Cover - Ford Focus SE & ST/Focus RS/Fiesta SE & ST Hatchback
SKU:
F2849
Lamin-x Light Covers come precut for your vehicle fitment.
Choose Red or Gunsmoke color.
All films are adhesive-backed for peel n' stick

Optically transparent

5-year Lamin-x product warranty
Fitment:
Ford Focus SE 2012-2018
Ford Focus ST 2013-2018
Ford Focus RS 2016-2018
Ford Fiesta S/SE/SEL 2011-2018
Ford Fiesta ST 2013-2019
Notice: These items are cut to order and thus will add an additional few days to process your order regardless of your shipment choice. If you order with other items this item would ship separately from your other items.
Note: Does NOT include brake lite assembly. These items may not be legal in your state - please check local laws.
---
Customer Reviews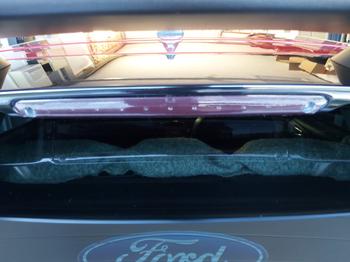 07/06/2020
Gunsmoke 3rd brake light cover
First order from FSwerks and very satisfied with the result. Ordered Lamin-X 3rd brake light cover for my tuned car. Very good rendering and very satisfied with the result. Easy installation
Patrick B.

Belgium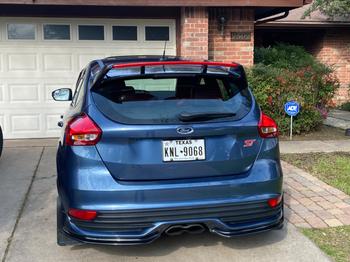 02/26/2020
3rd brake light laminx
I placed it on te light dry no water, just cleaned the light real good. It worked great no water treatment needed before install. Also didn't use any heat for the application. Very easy to install. Been driving in the rain and windy days and it's holding up real good. Very nice product
Eduardo M.

United States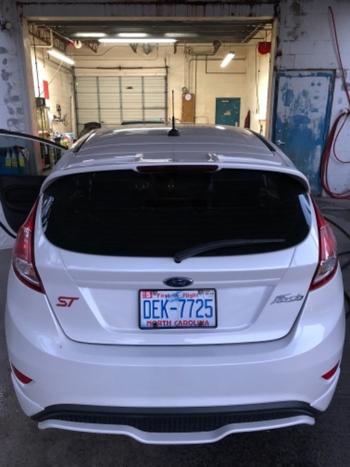 03/30/2018
Tint looks great but!
It was easy to put on, but for 2017 fiesta st the rear window wash nozzle was on the opposite side of the tint. I have to cut my own hole. Wasn't that big of a deal, but would have been nice to know that up front.
Thanks for your feedback Josh. Sorry a few Lamin-x covers were cut wrong by mistake and the problem has been fixed now.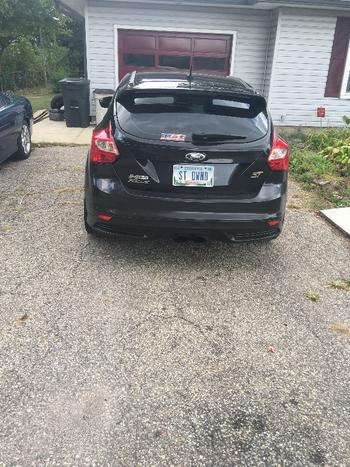 10/05/2017
Awesome!!
The experience was fantastic, product fit perfect, shipping was quick, couldn't ask for better service!!!
12/31/2021
stanley g.

United States
07/01/2021
A good cosmetic improvement
The installation was easy, and it provided a very minor but surprisingly noticeable improvement. I would say it was a good purchase, especially for the price.
Matthew K.

United States
09/09/2020
Pleasantly surprised!
Very good quality! Misaligned 1st try, peeled off with no deformation. 2nd time, I got it right and am very pleased with the outcome. Love the appearance. Highly recommended.
Jim W.

United States
07/28/2020
Love it
Love it looks nice and it really easy to install it
Kennedy P.

United States
07/14/2020
Dat Red
Quick and easy install. You feel the quality in the material. I have a titanium colored st1, and I went with the red cover. Thanks to Steve! he advised keeping red on the back due too regulations. Sets off the color scheme I'm going for. 10/10 bois !
Christopher R.

United States
05/06/2020
Awesome service!
My experience ordering from FSWERKS was great! Orders some Lamin-X for my Focus ST fogs and third brake light. They arrived quickly and were very easy to install.
Alain R.

United States
04/03/2020
Great Tint Cover
Looks great on the car. Recommend removing the light to make it easier to install easily
Jonathan T.

United States
01/02/2020
Great quality
The material was great quality and the installation was easy and effective. Shouldn't take you more than 15 mins to install.
Willmar L.

United States
12/09/2019
Easy to install but...
This item easy to install I had my little sister do it while I was cleaning my engine bag. Although it was easy to install I would say it doesn't do much since the 3rd brake light is already slightly smoked it doesn't change much
Kody A.

United States
03/05/2019
Works exactly as described
I've previously purchased fog light overlays from the Lamin-x, and the experience was mostly the same with this 3rd brake light overlay. Prompt shipping, packaged arrived in great condition. Install took a few tries as expected with light overlays.
08/06/2018
Perfect fit
Film was easy to use and all cutouts were cut perfectly.
03/29/2018
Mike
Excellent product, easy installation, great customer service!
03/25/2018
Lamin-X- 3rd Brake Light Cover
Experience was a fairly quick receipt of the product. Unfortunately, It was cut incorrectly. It is much easier to put on if the light is off the vehicle. heavy duty quality material. You can manipulate it multiple times to have it fit correctly.
11/22/2017
Perfect
Fit's 100% OEM, haven't gotten pulled over yet with it. VHT Nightshades on the OEM Tails with good wax and polish as well and the rear of the car looks great. Now all I need is to tint the windows to finish it off. Cheers!
11/17/2017
Looks Great
Super easy to install. Looks awesome on the car. Much better than cheaper alternatives.