FSWERKS Stainless Steel Catback Sport Exhaust System - Ford Fiesta ST 1.6L 2014-2019
SKU:
FS023ST
The FSWERKS Sport Exhaust system for the Ford Fiesta ST uses 2.5" diameter mandrel-bent T304 stainless steel tubing for maximum flow and horsepower. The FSWERKS Sport Exhaust system features a stainless steel high-flow straight-through muffler design and is finished off with beautifully polished dual 3" angle cut T304 stainless steel tips. Also included are the necessary clamps, hardware, and instructions to allow for an easy installation. All FSWERKS stainless steel exhaust systems are backed by a 5-year limited warranty. This system retains all emissions equipment and is perfect for Fiesta ST owners who wish to have a 50 state street legal exhaust.
Peak Dyno Gains
+5.4whp & +4.3wtq
Max Dyno Gains
+11.5whp @ 6,200rpm & +10wtq @2,800rpm
Light Weight Design
• Stock OEM exhaust system weight = ~33lbs 
• FSWERKS exhaust system weight = ~28lbs
Stainless Steel Tubing
• Mandrel bent heavy wall T304 stainless steel construction
• Provides optimal flow
Precision Welding
• Tig and Mig welds are used on our system

Stainless Steel Flanges and Hanger Rods
• All of our exhaust flanges are laser cut out of T304 stainless steel and our hanger rods are cut from solid bars
Dual Angle Cut Tips
• Precision angle cut tips for an aggressive look
• Stainless Steel with etched FSWERKS logos
---
Customer Reviews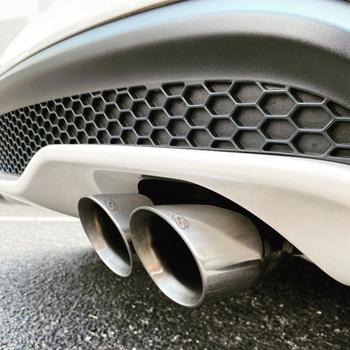 07/20/2020
Sport exhaust system
10/10 fitment. The sound is low deep tone and has no drone at all which is good, but I do wish it was a bit louder on wide open throttle. Other than that, cannot complain at all. Fit on 2019 FiST
Christian M.

United States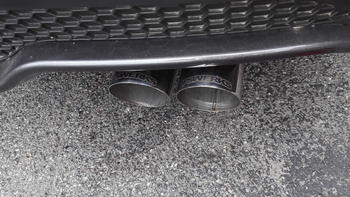 06/09/2020
The best Catback system so far !
It was incredibly easy to install, quality was very impressive, performance improvement very noticeable.
Andres R.

United States
Thank you for the great feedback Andres and posting your picture :)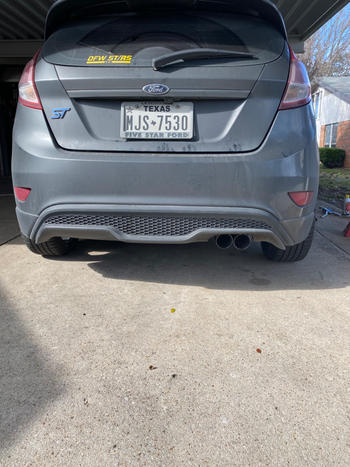 03/10/2020
Amazing Quality and Sound
Easy installation, quality sound, and great customer service. I literally made my decision via IG communication and sound clips that FSWerks had posted. This exhaust is exactly what I was looking for. Bigger tips, a tad more sound over stock, and wife approved in regards to drone (none). Car doesn't bring much attention unless I mash the gas. I love it. Now I just need to order my FSWerks license plate and eventually an intake. You guys rock. -Chris L IG: CP_Lott
Christopher L.

United States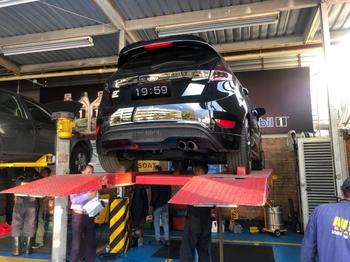 08/10/2019
Great Budget Exhaust for "sleeper" mode
I was looking for a cheap but great quality exhaust for my Fiesta ST 2019. It is really easy to install if you have how to lift the car. Everything fits perfectly but you might need 2 persons to align correctly the exhaust. BTW, the exhaust was exported to my country in Latin America without any issue!
Juan O.

United States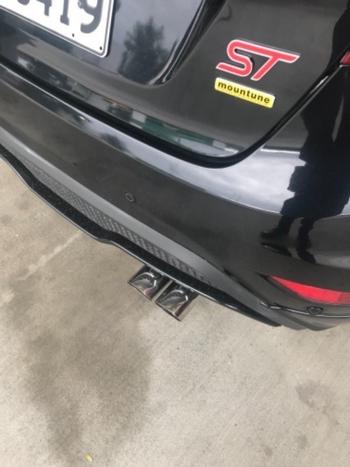 02/28/2018
Perfect upgrade from factory
Fantastic system. Very high quality welds and joints. Sounds is perfect. Slightly louder on idle but much louder on wide open throttle. Would definitely recommend.
06/02/2022
Excellent quality
The build quality was excellent. It had great looking welds all around, along with great installation instructions. Easy to install by yourself. It's quiet for normal driving, but makes a nice deep tone at higher revs without resonating. Highly recommend!
DANIEL M.

United States
Thanks for your feedback Daniel :-)
05/20/2022
Great product!
Easy install. Combined it with a catless down pipe and thing sounds great. No drone what's so ever. Has a nice note when you get on it.
Brandon F.

United States
02/28/2022
Moar roar for less
Added at least 10hp and a sweet sound, but not too loud. Loving this addition to my FiST.
Jody R.

United States
07/16/2021
Amazing Exhaust!
Been running with the exhaust for a few months and I love it! Makes the car sound a bit meaner and louder! Get some pops when shifting or downshifting if done just right! No drone! Drove for two hours to Santa Barbara and the whole drive was comfortable with no drone. It sounds amazing in the mornings on a cold start. Not to loud unless you want it to be, then floor it! Great exhaust!
SmollFiST

United States
04/03/2021
Great System ... No Disappointments
Product delivered exactly as in photos. Took me 2hrs to install since I had to use a hacksaw to cut the OEM tailpipe. Installation was a breeze with the pipes sliding together without any issues and the heavy duty clamps. I ordered a aftermarket exhaust gasket and the COBB hangers, but since this system is lighter than the OEM system, the OEM hangers probably would have been fine. I extensively researched the systems on the market before deciding on FSWERKS. I was looking for verified torque/HP benefits with a mild increased sound. It's exactly what I wanted. Thank you FSWORKS.
FIST E.

United States
03/01/2021
Great system and works with trailerhitch
Called 1st to ask questions. I have the trailer hitch installed. The guy I spoke to upfront honest said he didnt know how the system would work with the hitch. He gave me measurements, checked and took a chance. No worries it goes together better than with stock exhaust. I had knocks on rough bumps with stock. None with fswerkz system. Again sound great worth every penny. Super easy to install. Instructions dead on.
Brian S.

United States
12/23/2020
I like this exhaust
Easy to install. Sounds awesome! It's not too droney on the highway, but makes the car sound more aggravated than stock.
Matthew W.

United States
09/15/2020
Fiesta St Exhaust
I'm a 74 year old rodder, now reduced to driving a tuner, hahaha....needed a little punch & exhaust note for my little ST, so went with a FSWERKS cat back system. Easy installation, quality system, not too loud, exactly what I was looking for. Would recommend it highly to anyone!
Paul R.

United States
07/19/2020
Awesome exhaust
All the awesome noise you want with zero drone. It gives a lot of burgles on deceleration and the cold start was more aggressive than I thought would be too. Changes all the noises in the best ways without the drone and I couldn't be happier. Cheaper than many other name brands out there which is a huge plus. Paired with a Whoosh catted downpipe
Shane

United States
02/22/2019
Minor confusion
I bought this exhaust for my car 2-3 years ago. I noticed there seems to be a whole in the muffler in the bottom. One of my friends suggested that is was intentional to let out moisture. I'm not sure. Other than that. On stock turbo and stock downpipe it drone a tad until it broke in more. With a hybrid turbo and hiflow catted downpipe it droned less. With a bigger turbo and catless downpipe there's NONE. I put 1000 miles a week on my car and this is the right amount of loudness. I highly recommend
02/08/2019
Perfect for city vehicles
Super great exhaust, slightly louder at cold start, but quiets down after 20 seconds. Sound super good under throttle, just the perfect tone without the rasp that is not always welcome on 4bangers. But at highway driving or off-throttle, it quiets down and isn't intrusive. Definitely get this if you are concerned with pissing off your neighbours, you can seemingly get the best of both worlds with this exhaust
11/20/2018
Fast and sounds great
Shipment was quick. As for the exhaust sound, i love it. It was like stock but louder however not annoying. No droning, deep tone.
04/28/2018
Arrived on time, great quality,
Arrived on time, great quality, fit and finish. Used it to replace a tsudo performance I'd had on for almost a year and the interior drone finally did me in, so it had to go, there really is no drone with this system, you can just hear the exhaust inside under acceleration but it's still quiet and once your at highway speeds it's all but gone, I can actually hear the tires on the road again. All in all i would tell anyone who has a Fist to purchase this over any other system out there, thank you FSWERKS for an amazing product
Thanks for your feedback Jesse :-)
04/15/2018
Fswerks catback exhaust
Went to purchase the mishimoto catback and was informed it would be on backorder for 6 months. I opted for that system because it was resonated and offered black tips. Bought fswerks instead. Non resonated but with no drone sounds fantastic. Fit and finish fantastic and had the tips powder coated black. Still saved money and couldn't ask for more. Thanks fswerks
03/29/2018
Fsworks st exhaust review
The St performs and sounds great. Quality not quite up to snuff but Acceptable. I had the exhaust installed pro. The fit is good Karl