FSWERKS Stainless Steel Catback Race Exhaust System - Ford Focus ZX3/ZX5/Hatchback 2000-2007
SKU:
FS020SS
We use 2.5" diameter mandrel bent T304 stainless steel tubing in our designs for maximum flow and horsepower. FSWerks systems come with our exclusive stainless steel high-flow straight-through design muffler and are finished off with a beautifully polished 3.5" angle cut T304 stainless steel tip. Also included are the necessary clamps and hardware to allow for an easy installation. All our stainless steel systems are backed by a 5 year limited warranty.
Stainless Tubing 
• Mandrel bent heavy wall T304 stainless steel construction
• Provides optimal flow

Precision Welding 
• Tig and Mig welds are used on our systems during assembly

Stainless Steel Flanges and Hanger Rods
• All of our exhaust flanges are laser cut out of T304 stainless steel and our hanger rods are cut from solid bars

Angle Cut Tip 
• Precision angle cut tip for agressive look
• Welded on stainless steel with etched FSWERKS logo



Optional accessories you may be interested in:
Wurth Exhaust Assembly Paste

Fitment:
Ford Focus DOHC Zetec 2.0L 2000 2001 2002 2003 2004
Ford Focus Duratec 2.0L 2005 2006 2007
Ford Focus Duratec 2.3L 2003 2004
Ford Focus SOHC SPI 2.0L 2000 2001 2002 2003 2004

Notice:
Does not fit Wagon

Optional:
Stealth Muffler #FS02027 is available to change your race exhaust to a stealth system.
IMPORTANT : Includes all necessary gaskets, clamps,  and mounting hardware for assembly. DOES NOT require welding!
---
Customer Reviews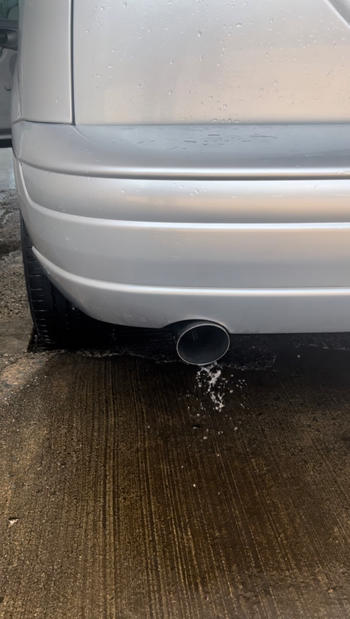 08/11/2023
Sounds better than i expected!!
Perfect fit, easy install, sounds amazing!! Beautiful pop crackle sound when revving!
James B.

United States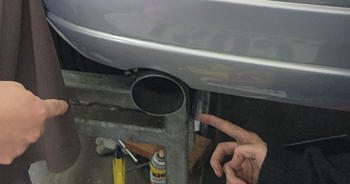 10/15/2022
Works great, opens 'er up
Im sure if you have the car you're aware how zippy the thing is. Your gears feel like a close group of friends because theyre so short and fast you can be in 5th at 37mph and be chugging along fine. Well if you get this exhaust, you can now be in 1st all the way up to 37mph before you hit limiter. Of course, in such a case you could expect to be spending more than you had already disliked on gas, but it paints a picture. Your HP certainly goes up a little and you get to be loud without being deafening, unless, of course, you happen to have your window down when you hit that money shift next to a wall or passing vehicle, in which case, you might expect to need hearing aids 40 years sooner than you had expected. Its a fun toy with performance increase that makes the car all the more fun and at a reasonable price. Installation was seamless (with the usage of a circular grinder for removal of the stock)
Aidan B.

United States
Thanks for your feedback Aidan :-)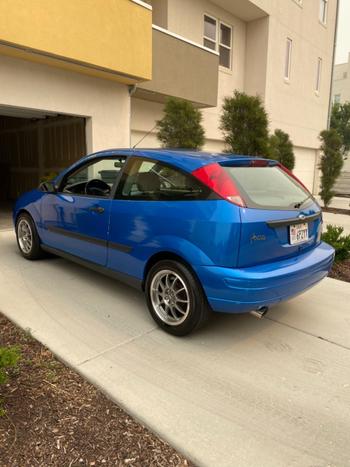 08/11/2021
Just what I was looking for
Super easy to install. Sounds awesome! Couldn't have asked for a better exhaust
jonathan p.

United States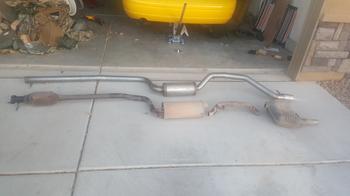 12/03/2020
Easy Install and quality product
Fit great easy install. Sounds great with the stock header and pretty loud with the race header. Still tuning the car so I have not taken it up past 4600 rpm but I am sure it is going to scream at around 6500.
Rowdy S.

United States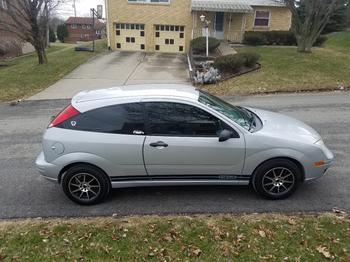 09/27/2018
05 zx3 race exhaust
This product went on without a hitch. Makes the car have such a great sound. People were great to deal with.
07/03/2023
Race Exhaust
Very fast shipping and sounds amazing!! Easy installation.
Jacob M.

United States
11/17/2022
I love it
I put the catback race exhaust on my Focus hatchback and it sounds amazing. Definitely worth the price.
Jason V.

United States
08/05/2022
Very great exhaust
Very happy was installed with ease and not overly loud.
Ronald W.

United States
12/05/2021
Sounds great
Very easy to install. Fitment was perfect. Didn't have to do any modifications at all.
Thane W.

Canada
03/26/2021
Happy but could be better
Love the system however the length and shape created issues on install. I had to pay a shop to modify it because it didn't sit correctly and was causing the downpipe to leak which resulted in a smelly and noisy several days before I could get it into a shop. It's still affordable enough that I'm okay with that but it was annoying.
bryan v.

United States
03/10/2021
Great exhaust even better sound
The exhaust is easy to install just follow the instructions and your on your way to a great sounding car this is the second one i have ordered and will order another when I get another focus
Nathan S.

United States
Thanks for your feedback Nathan :-)
08/26/2020
Amazing
the sound is magnificent on my Ford focus 2007 se, very bass sound, not too loud, not too discreet either with a fairly satisfactory rumble and aime pop. it took 45 min-1h max to install, fit perfectly. Very happy with my purchase!
Defa10124

Canada
Thanks very much for your feedback :-)
04/13/2020
A great replacement for an stock exhaust.
I bought the exhaust too replace my old rusty worn out stock exhaust for my 2003 ford focus zx3. The install was a little bit tight in some places. You really have too put some force specially with the midpipe too get it on perfect, I also ordered a replacement flex pipe from FSWerks as well. Both were super easy too install in all honesty and they gave me extra hardware just incase. I would definitly recommend this exhaust too someone. The sound is great it is nowhere near loud though so there is no drone it just sounds more rumble and a lot more backfire noises especially when coming too a stop. Which is exactly what I wanted. in 5th gear at 65MPH which is the highest speed limit here in maryland, You do not notice it which is great because I like too take long drives and trips too places and that would get old really fast. It is stainless steel so i expect it too last for at least 17 years speaking the old exhaust lasted that long and it was just regular steel. an easily 10/10 I have had the exhaust on the car for about 2-3month and no complaints.
David E.

United States
10/10/2019
Great sound
This exhaust has a nice sound and the install was super easy. Everything fit very well and I am very happy
Justin W.

United States
09/19/2019
Fswerks race exhaust
Love the tone the race exhaust gives my Focus! Would recommend to anyone looking for quality craftsmanship in an exhaust. Andrew Honey
Andrew H.

United States
08/07/2019
FSWerks Race Exhaust
Great sound! Good price, fast shipping!! Highly recommend
Scott W.

United States
10/26/2018
Great product
The exhaust was easily installed and looks beautiful. It has a nice grumble and pops at low rpm while not droning on obnoxiously on the highway. Very fine product so far. Only issue I've had is getting it all to fit perfectly in the space provided. Be aware fire walls may need to be bent to install but wont rub if moved back afyerwards.
10/08/2018
Top Notch!
I'm really impressed with the quality of this exhaust, especially for the price. It lines up with all the factory hangers and has plenty of clearance, so it couldn't be any easier to install. The welds are clean and all the bends look nice and make sense. It has a nice deep tone and it significantly reduced the drone inside the car at highway speeds. Feels like it didn't loose any low end torque, noticeable gain in the mid-range, and throttle response seems better.
07/14/2017
Amazing
Very impressed by this product. The sound is perfect. Install was very simple, took about 20 minutes (if that) at my shop with a lift. Very good exhaust.
06/29/2017
Amazing
Sounds amazing. Extremely easy install at work in my downtime. So far it's my favorite addition to my car.