FSWERKS Stainless Steel Catback Race Exhaust System - Ford Focus SVT
SKU:
FS020SVT
We use 2.5" diameter mandrel bent T304 stainless steel tubing in our designs for maximum flow and horsepower. FSWerks systems come with our exclusive stainless steel high-flow straight-through design muffler and are finished off with a beautifully polished 3.5" angle cut T304 stainless steel tip. Also included are the necessary clamps and hardware to allow for an easy installation. All our stainless steel systems are backed by a 5 year limited warranty.
Stainless Tubing
• Mandrel bent heavy wall T304 stainless steel construction
• Provides optimal flow
Precision Welding
• Tig and Mig welds are used on our systems during assembly

Stainless Steel Flanges and Hanger Rods
• All of our exhaust flanges are laser cut out of T304 stainless steel and our hanger rods are cut from solid bars
Dual Angle Cut Tip
• Precision angle cut tip for agressive look
• Welded on stainless steel with etched FSWERKS logo

Optional accessories you may be interested in:
Wurth Exhaust Assembly Paste

Fitment:
Ford Focus SVT 2.0L 2002 2003 2004
IMPORTANT : Includes all necessary gaskets, clamps,  and mounting hardware for assembly. DOES NOT require welding!
---
Customer Reviews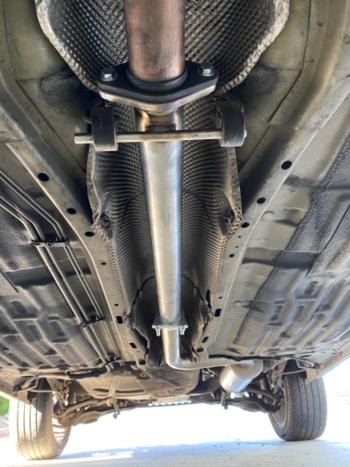 09/06/2023
Best exhaust for the SVT!
I've ran both the stealth and the race and I have decided the race is where it's at! Great sound! Not rice. Great built quality and fit! Just makes the car soo much more fun to drive! Highly recommend!
Alex R.

United States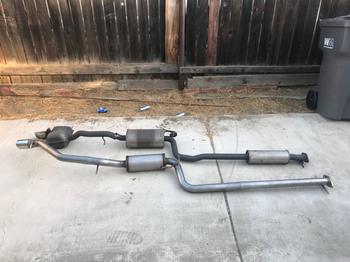 07/15/2020
Maybe not for CA. Can't beat the smiles per gallon though
Other reviews say it's not too loud, and that's why I bought it but... This thing is border line legal/illegal in CA. I contacted FSWERKS because it doesn't say anything online about it being street legal or off road use only and they said it was designed to be street legal in CA. With that said this thing is awesome, it pops it bangs and makes all race car sounds you could ask for and the pops and bags don't sound artificial like I feel the Focus RS pops sound like. The rasp is very deep and DOES NOT sound like a Honda at all. Install was easy but you will have to cut your stock exhaust. You can't beat the shipping from these guys, got mine faster than a Amazon order.
Roberto B.

United States
06/30/2021
Fit and Finish is top notch
This FSWerks exhaust replaced my Magna flow exhaust and the fit and finish is top notch and the install was incredibly quick.
Brent V.

United States
08/05/2020
Race exhaust review
I was worried the race system would be too loud or "raspy" with a new header and a new catalytic converter, turns out it's sounds amazing nice grumble at the lower rpms and and nice tone at high rpms. Very happy with my purchase highly recommended!!!
Phillip C.

United States
12/14/2018
True SVT Sound!
This is the perfect exhaust! Grumbly low end, just enough rasp after 4k rpm. If you don't enjoy loud, it's not for you. I personally got the race exhaust. It's not loud enough with the stock cat to interrupt conversation or music from the radio. Low end throttle response is way less lazy/lethargic. It is also great for passing the Honda's! The 3.5" tip is a great cosmetic upgrade over factory as well. Pipe is well constructed and easy to install. Couldn't be happier!
08/22/2016
Svt race exhaust
I'm really satisfied with the product it deserves the price of the exhaust it's an easy installation the sound of my car is really nice has an off road pipe n it's sounds good job by making this type of exhaust systems I'll give a 5 star because I'm really happy of what I got thank you fswerks for the product that you sold to me i would recommend this product for any focus ownwer is a really good product and I'll keep buying more products from you guys soon thank you !!
06/14/2014
Great bang for the buck!
I installed this system as a direct replacement for my stock SVT exhaust. At the time I also installed a 2.5" race pipe. With the offroad pipe in place of the cat, the system was borderline loud enough to get pulled over at anything below 3k. Over 3k in the throttle at all and it got ridiculous (in a good way but way too loud LOL). Fast forward, I've installed the cat again (now that i could afford a new one) and the system is quieter than stock. Sitting in the driveway, windows down, sunroof open results in the engine (mechanical) being louder than perceived exhaust note. Would recommend this to anyone looking to keep incognito (with cat). Going to pickup the race conversion pipe for this catback(eliminate the first resonator) to see if I can get somewhere in the middle of the two extremes above.