FSWERKS Stainless Steel Catback Performance Exhaust System - Ford Focus ZX3/ZX5 Hatchback Duratec 2003-2007
SKU:
FS020SSC
We use 2.5" diameter mandrel bent T304 stainless steel tubing in our designs for maximum flow and horsepower. FSWERKS systems come with our exclusive stainless steel high-flow straight-through design muffler and are finished off with a beautifully polished 3.5" angle cut T304 stainless steel tip. Also included are the necessary clamps and hardware to allow for an easy installation. All our stainless steel systems are backed by a 5 year limited warranty.
For Duratec Focus owners who wish to have an exhaust that is 100% C.A.R.B. legal in all 50 states, we are now offering our FSWerks Street exhaust system. Some Duratec Focus models have two catalytic converters, with the second being in the middle portion of the car. Our Stealth and Race versions of our exhaust keep the primary catalytic converter that is part of the exhaust manifold, but will eliminate the secondary unit further down. This option will keep the second converter in place and allow you to remain completely street legal if your Focus had two catalytic converters from the factory.
Stainless Tubing 
• Mandrel bent heavy wall T304 stainless steel construction
• Provides optimal flow

Precision Welding 
• Tig and Mig welds are used on our systems during assembly

Stainless Steel Flanges and Hanger Rods
• All of our exhaust flanges are laser cut out of T304 stainless steel and our hanger rods are cut from solid bars

Angle Cut Tip 
• Precision angle cut tip for agressive look
• Welded on stainless steel with etched FSWERKS logo


Fitment:
Ford Focus Duratec 2.0L 2005 2006 2007 Hatchback
Ford Focus Duratec 2.3L 2003 2004 Hatchback

IMPORTANT : Supplied with all necessary clamps,  and mounting hardware for assembly. IT DOES require cutting but no welding is necessary!
---
Customer Reviews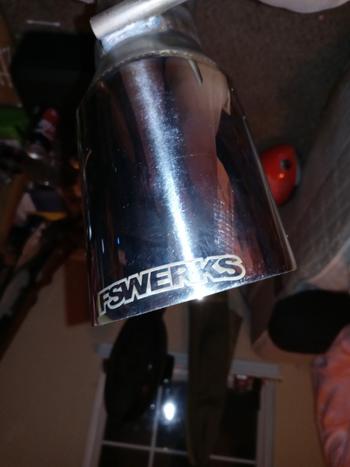 02/15/2021
Sounds amazing, not too loud.
Overall it was an easy install took about 40 minutes with a hack saw and some hand tools! Highly recommend changing the flex pipe gasket while you're down there, mine was shot.
Cecil N.

United States
08/12/2023
Easy to install
Exhaust sounds great and was easy to install
Tyler T.

United States
11/02/2022
Quality product
Very good quality exhaust system, not too loud or quiet, just right! .The throttle response is much smoother and feels like the engine is less restricted too! A+
Clinton R.

United States
06/06/2022
Exhaust system is sick
Excellent craftsmanship and a breeze to install! So pumped on this purchase, I wish it was just a little bit louder but whatever! Still sick
Sonny D.

United States
10/27/2021
Piped up!
Fit perfectl, super easy installation, very well built, and has nice sound. FS WORKS is a must for any Ford Focus owner.
Brian L.

United States
08/27/2021
Great product
The removal of the stock exhaust was the hardest part of the install it went in very easy and I did it by myself in my garage it took about an hour. It had a deep growl to it and sometimes gives off some pops defiantly changed the car, will defiantly be buying from here again.
Ayden H.

United States
06/05/2019
Sounds great
Ordered online, waited a 5 days for shipping, (cali to ny). The guy that installed it says it wasnt has easy as clamps and what not, he had to weld and cut pipe, but he made it work. Everything so far is great!
Nathaniel H.

United States
02/26/2019
Amazing product!
Install was simple, only took about and hour and a half. The sound is perfect, exactly what I was looking for. And it pairs really well with the CAI!
11/28/2017
Exhaust System
Fit well, runs well. On this order and other orders, the customer service I have experienced from FS Werks has been excellent.
09/14/2016
Perfect
No words to describe it gives my ride a mean sound I recommend this type trust you wont regrets it
05/14/2014
Nice!
Got a Street Performance catback exhaust and couldn't be happier with the sound! Nice and smooth in the low end but man, does it roar in the high revs