FSWERKS 2.5" Stainless Steel Stealth Muffler - Ford Focus (00-11)
SKU:
FS02027
FSWERKS 2.5" Stainless Steel Stealth Muffler Section, to change from a FSWERKS Race System to a Stealth System. Muffler diameter is 6.1" and it's 30" total length.


Fitment:
Ford Focus Duratec 2.0L 2005 2006 2007 2008 2009 2010 2011
Ford Focus Duratec 2.3L 2003 2004 2005 2006 2007
Ford Focus SOHC SPI 2.0L 2000 2001 2002 2003 2004

Notice:
Only fits vehicles already installed with FSWERKS Race Exhaust
IMPORTANT : Comes with all necessary gaskets, clamps,  and mounting hardware for assembly. DOES NOT require welding!
---
Customer Reviews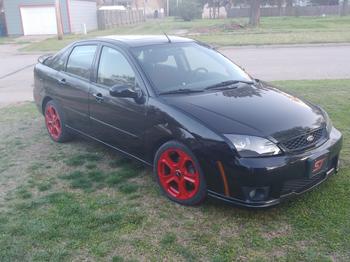 05/20/2020
2.3 ST? I had to have this.
I've had a 2.0 with "race". Love it. No issues. Perfect mix of sounds and everything fit perfect. Bought "race" for the 2.3 ST in my driveway. TOO LOUD. While around town it wasn't bad- above 60mph- too loud. If you like it loud- obnoxious- race. Don't feel bad about buying this after the fact like I did. Car still pulls the same- just more tolerable at interstate speeds.
Gregory M.

United States
03/28/2022
Perfect
Exactly what I wanted to pair my my race exhaust and the new header
Dylan C.

United States
12/29/2019
Very good totally different sound
Very good totally different sound from the race exhaust a lot quieter
Trenten S.

United States
10/08/2019
Race system conversion
Massive difference from the race exhaust with this muffler on. While I did enjoy the race sound for a while, it wasn't appropriate for a residential area and I felt that it made me a target for traffic stops. This muffler mutes the sound quite substantially but under throttle you can still tell that you've got aftermarket parts. Much more enjoyable driving experience all around.
Brandon G.

United States
09/17/2019
Great sound reduction
The piece was a little short for my Trubendz system (which is fine, not expected to match) but it works phenomenally. I installed an ORP on my focus SVT and it was WAY too loud. This quieted it down to reasonable levels while keeping an aggressive tone. Included the gaskets (a lot of companies don't for some reason) bolts we're good quality stainless as well. Great product!
NATHAN M.

United States
02/03/2019
Was loud with race kit and now is very quiet.
Very Happy,thanks again Fswerks.
03/21/2018
Fail
Failed to read comments when I bought my header exhaust intake and I got the race exhaust because I was scared stealth would be to quiet BUT LORD MUFFLER PLEASE COME AND SAVE ME
08/23/2017
good quality and easy to assemble
I replace my old system STEALTH MUFFLER 2 1/4" 2003 15 years ago with the new system STEALTH MUFFLER 2 1/2" is little more bigger and quieter than the old system I can feel the power but strange long sound blam, blam, blam, blam.
06/14/2017
Stealth muffler
Bought the Stealth muffler after I added a header to quite the car down, sounds much better, and still makes good power. Good quality from fswerks as usual and was easy to add to the existing race exhaust
10/15/2016
Yeah BABE!
Terrific, it runs great!
02/22/2015
PERFECT SOUND WITH 4-1 HEADERS
I used the Race Exhaust for about a year on my Focus before I installed the FSWERKS 4-1 Headers. I ordered this because the sound was too loud with the race and headers, and let me tell you. The stealth exhaust + 4-1 headers is the perfect performance sound and power enhancing upgrade. Amazing product and very easy to install yourself.
11/11/2014
Perfect for daily driver ... and your wife
When I first got my FSWERKS exhaust, I purchased the race system... loved the fit.. went on so easily, no problem, great quality, excellent price. Only problem was little too loud for daily driver, so you know what they say... keep the wife happy - bought this to turn into a stealth system... totally smooth sound and same great power.. I would recommend for anyone that wants a nice system, and for anyone that's married ;)