FSWERKS Rear Engine Mount - Ford Focus SPI/Zetec/SVT/Duratec 2000-2007
SKU:
FS045N
The Ford Focus factory engine mounts were designed as soft, flexible units, to provide a comfortable drive. The drawback was the relatively large amount of engine movement the OEM mounts allowed under torque load and on hard acceleration. Such engine movement decreases stability under high performance driving conditions and rapid gear selection.
To reduce this movement FSWERKS engineered a complete fitted replacement with specially shaped molded, 70A durometer polyurethane inserts. The mount body is machined from billet aircraft grade aluminum, being almost twice as strong than the OE cast material. Installation should take no more than 15 minutes. This high performance mount provides a difference in the stability of the car when accelerating and braking hard. Gear changing under hard acceleration is also enhanced.
Replacement polyurethane and metal inserts are also offered.

NOTE: For street use, we recommend using only the rear engine mount. Using all mounts together will cause some vibration (due to the nature of performance polyurethane mounts) that may not be desired for a daily driver, and is more for track use (Road racing, drag racing, autocross, etc).
Torque Specifications: (35ft lbs) two bolts
Fitment:
Ford Focus SPI 2000 2001 2002 2003 2004
Ford Focus Zetec 2000 2001 2002 2003 2004
Ford Focus SVT 2002 2003 2004
Ford Focus Duratec 2.0L & 2.3L 2003 2004 2005 2006 2007
(For all sedan and coupe automatic and manual transmission cars)
---
Customer Reviews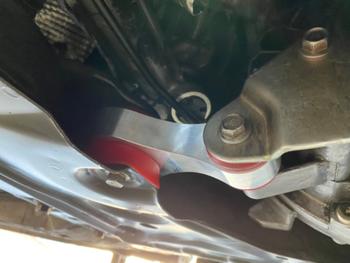 09/06/2023
MUST HAVE!!!
Fit and finish was perfect! Made a big difference! Highly recommend!
Alex R.

United States
08/17/2023
Salvage title to supercar... a boy can dream
Nicely machined and made part. Order arrived upon time. All parts were well packed and undamaged. Bought all three mounts because they were on sale. Two upper mounts seem good. Engine was moving around and loading up the driveline, a lot. Could just push on top of motor with a single finger and load it up. Was thinking I was going to have to junk car because body or subframe is broke/bent. This "transaxle roll restrictor" fixed the rocking and shifting issue. Power gets to the wheels faster and smoother. Accelerates like a "hot hatch" now. Stock ZX3 so took some trial and error to get the piece in and the bolts lined up. It is a nicely machined piece. However, the under carriage of the ZX3 is not nicely machined. Used 1/2" 13mm sockets. More futzing around than the SVT or versions with an easily movable plate. Resorted to soft hammering in the piece in a couple of times to loosen up the tight fit. Putting the mount almost in place. Then getting the egine side bolt in. Then rolling/moving the motor to get the body side bolt lined up. Easily enough for a beginner wrench. The worst part is all the neglect falling in your face. Seeing why your power steering is not working :D
Errorik

United States
08/14/2023
does not add as much vibration as you think
after installing i noticed a difference immediately and was pleasantly surprised
Michael R.

United States
08/10/2023
Rear engine mount.
It's been a good product and it was a necessary upgrade after getting a tune with drag launch. Highly recommended for anyone that drives there car hard on a daily.
Steven L.

United States
05/03/2023
Great
Great much better shifts on automatic.
Norma K.

United States
03/27/2023
Missing link
This motor mount completely blew me out of the water after install. I no longer have shift grinds and changing only the rear mount did not add any noticeable vibrations. Every focus owner should atleast replace this mount to get better drive ability and response. I will continue improving handling on my car and FSWERKS never ceases to amaze me with their knowledge and opinions. You guys earned a customer for life.
Mario G.

United States
03/24/2023
Perfect
Very solid mount. Will definitely be upgrading the side mounts as well. I had to sand down the end of the steel piece inside the bushing by maybe half of a mm to get it into the bracket on the transmission, but other than that...easy install.
Bryan W.

United States
03/21/2023
RMM
It was a breeze to install and took out any play from the vibration I usually was feeling.
Jacob H.

United States
03/13/2023
So far so good
Easy install, works well,
Austin S.

United States
10/05/2022
Engine torque motor mount
Good quality part
Juan H.

United States
09/09/2022
Great improvement
Car shifts better and helps with wheel hop on take off made my 05 zx3 feel like new great product i highly recommend this to all of my focus friends
Nathan

United States