FSWERKS Green Filter Cool-Flo Air Intake System - Ford Fiesta ST 2014-2015
SKU:
FS013G
The FSWERKS Cool-Flo air intake system is our top of the line kit for the Ford Fiesta ST. It eliminates the factory air box allowing maximum airflow from all angles. We also remove the factory plastic turbo inlet plumbing and replace it with our powder coated 2.5" mandrel bent aluminum tube, making this a true 2.5" air intake system from the air filter to the turbo. We've also incorporated a powder coated aluminum lower heat shield to help isolate the air filter from hot engine bay temperatures. The Green air filter used on this kit also has a special radius inlet to improve airflow.

* Closeout Price, Limited kits available.



Peak Dyno Gains
+5.6whp & +4.4wtq
Max Dyno Gains
+8.8whp @ 6,300rpm & +6.1wtq @2,700rpm
Laser Cut Brackets
TIG Welded Construction
Hardware & Installation Instructions
Wrinkle Black Finish
Limited Lifetime Warranty
*Shown in white for demo purposes only
Fitment:
Ford Fiesta ST 2014-2015
Note:  This item is recommended for USA and Canada Vehicles only.
            DOES NOT FIT 2016-2019

Note:
This product is not CARB Exempt and is not legal for use on public roads in California or other states adopting California emission standards.
---
Customer Reviews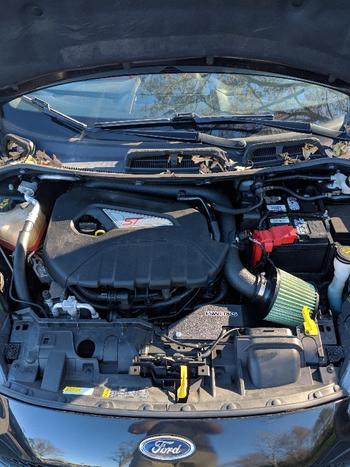 12/14/2017
FSWERKS intake Fiesta ST
The item came exactly as describe and looks great in wrinkle black. Installation was not difficult but was tedious do to where Ford placed the turbo; instructions that came with the intake were spot on and include detailed photos. Car sounds so much better now, you can really hear the turbo spool and when you let off the throttle you get the woosh sound a lot louder. As far as performance goes, I can't really say but it does feel a bit faster according to the butt dyno. The only problem I had with the product is the intake tube does not seem to fit flush in the coupler that connects to the turbo. Not really a big deal, I just check it occasionally to make sure it is still in there snug. Overall an excellent product and I got it for much cheaper (thanks to cyber monday sales) than anything else on the market. Bang for your buck it is an amazing upgrade.
12/11/2018
Great product and nice sound!
Shipping is fast, product is great but had some problems at the installation. At the end, i love this product
04/20/2016
That sound tho!
this intake not only performs well but it has a sound like no other! The turbo noise is now very audible both with windows up or down with a nice woosh when you lift the throttle, instructions were good but it did require cutting a hose and using a heat gun on another to remove fittings, would have been a lot nicer if it was plug and play like other similar intakes. But that sound tho! it makes up for the extra effort in the install the first time you lay into it and hear the glorious sounds it makes. only reason I gave it 4 stars instead of 5 is because the tube came slightly squished in on one of the ends. I contacted customer service via email and they were very helpfull. I was able to bend it back fairly easily and they gave me a 30$ credit for my troubles.
12/03/2015
Easy install, Great Fitment, Sounds Superb
5 star intake on price, quality, and sound!
09/12/2015
OMG the sound!
I installed this morning and the sound is glorious! It's nice and throaty and you can clearly hear the bypass valve now. The install was a breeze, while I had the intake tube out I also installed the FSWERKS shift kit as well, total time actually working maybe an hour and a half. I kept track of my intake temps as I was driving today, while traveling 30mph + the temps stayed within 11 degrees of ambient temperature. Worth every penny.
11/14/2014
Music to my ears
Love how my Fiesta ST sounds now, it has just the right amount of sound and added a small gain as well. Finally sounds like a proper turbo engine.
04/04/2014
2014 Ford Fiesta ST FSWERKS Green Filter Cool-Flo Air Intake System
I put this intake on my 2014 Fiesta ST in a short amount of time with very little tools. I'm very impressed with difference it made immediately, and it sounds amazing too. I Highly recommend it for the new Fiesta ST.