FSWERKS Crank Underdrive Pulley - Ford Focus Zetec
SKU:
FS040-PULLEY
Tap into hidden horsepower with the FSWERKS crank underdrive pulley (UDP). Made from 6061 lightweight aluminum - No belt is included  (sold separately SKU:FS040BELT) . The FSWERKS crank pulley underdrives your accessories by 23%. This, in turn, decreases the drag on the engine, unleashing power that you never knew you had. And since the FSWERKS (7 ounces) crank underdrive pulley is lighter than OEM (3 lbs. 4 ounces) crank pulley, you'll benefit from the weight reduction of rotating mass; resulting in a more responsive engine. FSWERKS crank underdrive pulleys come in a red anodized finish.

Fitment:
Ford Focus Zetec 2.0L 16v 2000 2001 2002 2003 2004
Ford Escort ZX2 
---
Customer Reviews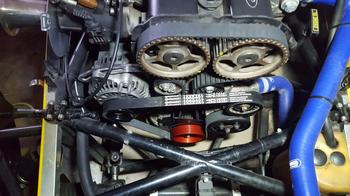 03/01/2019
Blacktop Zetec Install
Nicely finished, install a breeze after trimming existing crank pulley plastic shield.
Thanks for your feedback and picture:)
09/22/2017
Used on 2002 SVT Focus
Excellent product. Installation was easy. Noticeable improvement with throttle response and engine performance when AC is turned on. NOTE: Does not protrude as far as the stock pulley. Needed to grind down two spots on the small "lip" of the plastic guard that surrounds the base of the pulley (NOT the serpentine belt cover) to allow clearance for the belt. Only took a few seconds with a rotary (Dremel) tool.
Thanks for your feedback Brian :-)
01/03/2022
highly recomend
great price and service
larry s.

United States
09/16/2020
Great product
High quality part. Easy to fit even with trimming of the lower cam belt cover. Rev's nicely now!
Luke G.

Australia
09/17/2019
Perfect; quick and as promised
Very sarisfactory
Mies V.

Netherlands
05/07/2018
Noticeable improvement!
Makes a nice noticeable improvement to the way it revs up! Feels a little less lazy then stock, and no noticeable change in any of the accessory function. As well, This does fit the Non-A/C Focus with a Zetec, you will just need to use a Continental 4060760, or equivalent belt. (6 rib, 76"/1930mm long), as well as the usual trimming to the plastic lower timing cover.
05/06/2018
Does work on non-A/C Focus!
Does work on a non-A/C Focus with a Zetec. You'll need to get a Continental 4060760 belt (aka 6PK1930, or 6 rib-1930mm/76" long) to make up for the smaller pulley, as well as the usual trimming of the lower plastic timing cover.
06/12/2017
Perfect for ZX2
Bought this for the Escort ZX2, same engine, with belt size 835K6. Easy installation and results in a way smoother idle and acceleration. One of the few underdrive pulleys for the Zetec engine you can still buy new. Highly recommended.