FSWERKS Cool-Flo Turbo Inlet Tube Kit - Ford Focus ST 2013-2018
SKU:
FS018BTUBE
If you're looking to enhance your current high performance air filter, this is the perfect mod! The FSWERKS Cool-Flo turbo inlet tube kit has some of the same components that we use in the Cool-Flo OEM and Cool-Flo Plus kits. Our 3" mandrel bent aluminum tubing replaces the restrictive stock plastic intake tube, allowing for maximum airflow and improved looks. We include a 4 ply hi-temperature silicone coupler, stainless steel hose clamps, rubber mounts, and instructions. Made from 6061-T6 aluminum and features laser cut brackets, TIG welded construction and lifetime warranty.
Note: Heat shield and air filter not included
Note:
This product is not CARB Exempt and is not legal for use on public roads in California or other states adopting California emission standards.
---
Customer Reviews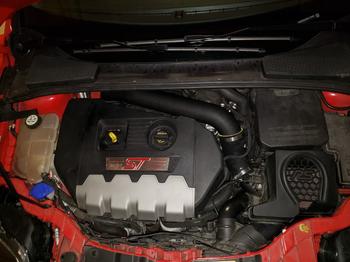 11/22/2020
Excellent build quality
Only inlet tube I have seen on the market that has 2 mounting brackets. Installation was straight forward and reuses stock PCV valve hardware. I have seen an increase in fuel economy with this inlet.
Timothy A.

United States
Thanks for your feedback Timothy :-)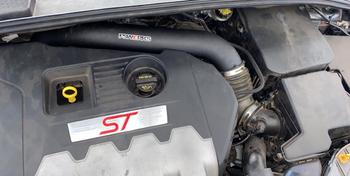 07/16/2020
Great product
Excellent turbo noise/flutter/BOV noise Haven't noticed any negative effects
Nicholas S.

United States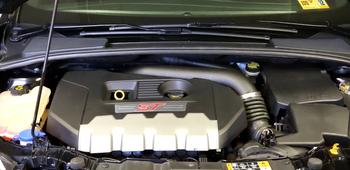 10/16/2019
3" intake tube
Easy to install took about 30 minutes. Looks good and sounds great.
Fred F.

United States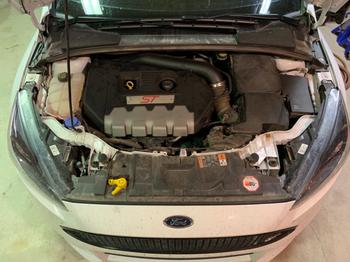 06/16/2019
The exact part you wanted
Knowing that there are cars out there with factory air boxes putting down 500+ hp to the wheels I didn't want to waste my time or money buying a complete intake system. FSWERKS is the only company I found that provided only the intake tube on its own as I already had a high flow Green filter installed on the car. The fitment is great and this product looks at home in the engine bay.
Dillon W.

United States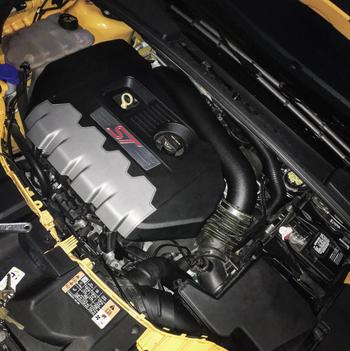 12/16/2017
Great product, easy install
Highly recommend if you're looking for gains of an Intake system but would still like to keep stock airbox. Only part that was a pain to install was taking off the clamp off the old turbo inlet tube. Rest was a breeze
06/26/2023
Turbo go whoosh
Turbo sounds amazing now
Mike B.

United States
06/29/2021
engine go brrrr
easy to install, engine sounds are much more lively
zach m.

United States
05/13/2021
Amazing
Perfect! Item took only a day to get here and went on in an hour so worth the money acceleration and turbo flutter is amazing. Definitely will be ordering more parts from them.
Nathan S.

United States
01/19/2021
Turbo inlet pipe
Great fit. Easy to install. Nice intake sounds after the install. Will definitely order more parts from FSWerks!!
David W.

United States
10/11/2020
Nice!
Noticed a lot more flutter and performance with this! Tube didn't fit perfectly; had one support hole not line up. Only noticeable with the cover off, still happy with the purchase.
Donald W.

United States
03/02/2020
Fs werks turbo inlet
Item came in quick and was packaged well. Finish looked pretty good, and install was very easy. Don't bother removing the cowl and wipers as its not needed unless your arms are massive. Everything lined up good and had no fitment issues. The sound is great, I already had the fswerks air box and the tube makes a noticeable difference dispite reading otherwise.
Jamie G.

United States
05/23/2019
A+
Install was a breeze, performs exactly as expected and sounds fantastic. Definitely a quality product and I will be using more fswerks products in the future.
09/21/2018
Inlet tube
Good quality and great fit
05/14/2018
Cool Flow Turbo inlet tube
Works as expected.
12/13/2017
Cool-flo intake
The installation was super simple and easy. Oh and what a difference does it make! Power gains, less lag, longer peak boost and the wicked sound! Absolutely love this cold air pipe. Worth it.
08/15/2016
Great intake
Easy to install and sounds great. On the highway, the intake temps are roughly 3-4 degrees over ambient which is good.
08/15/2016
Great intake
Easy to install and sounds great. On the highway, the intake temps are roughly 3-4 degrees over ambient which is good.
04/14/2015
Easy install
This was super easy to install. I took the old intake off before it got to my house. Then it was only about 5-10 mins to put everything back together. Looks alot better than stock and feels well built.
03/04/2015
Awesome Intake
I am very pleased with this intake. FSWerks did it right when it came to making this product. Looks great and improves intake sound just enough too. This is how the OEM intake should have been make! I would highly recommend this to anyone looking to change out the stock intake tubes and it was fairly easy to install.
01/14/2015
Better MPG
I've only had it installed for about 2hrs and my MPG went from 15city to around 20ish. My town has a lot of stop sign and really short streets.