FSWERKS ITG Cool-Flo Air Intake System - Ford Focus SPI / Zetec / SVT 2.0L 2000-2004
SKU:
FS010
FSWERKS is proud to offer the Cool-Flo Shield air intake system. Don't be fooled by other systems offering no protection from engine heat. This unit comes complete with our heat shield and rubber seal that meets up with the hood to reduce the surrounding air intake temperature by as much as 50% when compared to our competitor's versions. By reducing intake temperatures we are able to take advantage of the cooler and more dense air resulting in improved throttle response, better combustion and more power.
Included with the kit is the FSWERKS heat shield with rubber seal, and an Induction Technology Group, Ltd. air filter which features cutting edge technology derived from Formula 1, WRC/F2 Rally, and BTCC. Also included is an ITG breather filter, silicone connecting hose, installation hardware, and installation instructions. Factory mounting points are utilized for installation without the need for permanent modification or fabrication. The best intake for 2000-2004 Zetec and 2002-2004 SVT engines.

Heat Shield
• Steel construction 
• Two stage powder coated finish 
• Rubber hood seal 

Connecting Hoses 
• High temperature resistant 
• Three ply silicone construction 
• Oil resistant
• Stainless Steel Clamps

ITG Air Filter 
• Three layer reticulated polyester foam element 
• Pre-oiled with ITG dust retention coating 
• Optimal filtration of particles as small as 10 microns 
• LIFETIME WARRANTY

Note:
Our intake systems are not CARB Exempt.

Optional accessories you may be interested in:
Outerwears Pre-Filter 
ITG Cleaner
ITG Oil

Fitment:
Ford Focus 2.0L 8v SPI 2000 2001 2002 2003 2004
Ford Focus 2.0L 16v Zetec 2000 2001 2002 2003 2004
Ford Focus 2.0L SVT 2002 2003 2004
---
Customer Reviews
06/26/2023
'04 Focus SVT - Cool Flo install -
Quality product, good instructions. Installed in my 2004 Focus SVT in about an hour, fit like a glove. Measurable increase in performance especially in the 3000-5000 rpm range. Car winds up much quicker. Completely satisfied. Great value.
JAMES A.

United States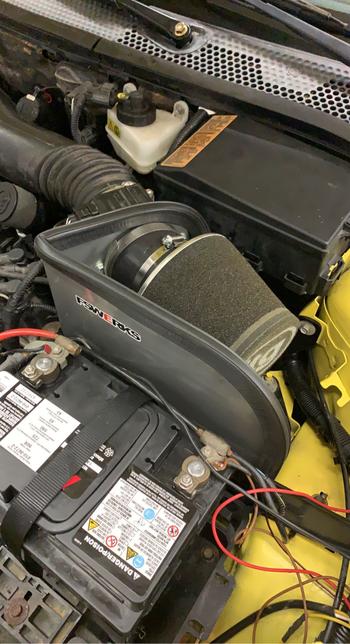 09/22/2022
Mint
Factory fitment on my 02 zetec and sounds nice, pairs well with magna flow catback
Ben

Canada
04/23/2021
Little disappointed on fitment but quality is excellent!
2000 Ford Focus ZX3 One clamp doesn't fit because the overall diameter of the intake tube is bigger once the coupler slips over. Wasn't able to use adapter for the small breather filter had to design my own but works well The seal on the frame sat to high so made my hood hard to close so used something different and now it fits nicely Definitely needs a little redesign for the ZX3 but works perfect for the SVT
NEAL D.

United States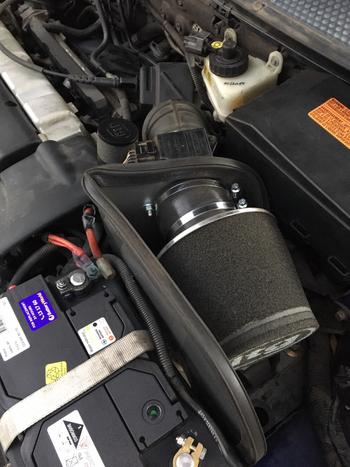 05/11/2020
Great sound. Easy Install.
I have just fitted this to my ST170 (the Focus SVT in the USA). It was a relatively straightforward install and makes for a "throatier" sound at low rpm and when blipping on downshift. If there is a performance gain, I can't feel it, but I was only ever really buying it for the sound. Customer service was excellent. Products were delivered to Australia in three days.
Nicholas H.

Australia
Thank you Nicholas. Great picture for the installed intake :-)
04/21/2023
Woke the car up a lot
Was great have to get a egr pipe plug if u have a deleted egr system
Tylor O.

United States
04/07/2023
More noise
I love this intake, it gives my car a little more noise at a higher throttle and I love the sound
Jared B.

United States
02/23/2023
Sounds Great!!!
super easy install, fits perfectly on my 02 svt focus, and it sounds super cool on acceleration.
Bram G.

United States
09/22/2022
factory fitment
Factory fitment on my 02 zetec, sounds pretty good too.
07/24/2020
Very clean install!
Bought for my buddy's '04 SVT. Easy to install. Fits nicely. Quality craftsmanship. Will buy another for my car.
Dennis B.

United States
06/26/2019
Rips combined with MagnaFlow
Love it all day. Now the IFG breather is shredded after years of use. Help me find a replacement. What is the inside diameter of the crankcase breather hose and the best size for replacement clamps. I'm in the hospital. Otherwise I would measure myself. And again, this kit is mean.
05/06/2018
Nice intake noises!
Sounds great, good quality kit! Only issue was the included clamps for the silicone joiner between the filter and the MAF were just a bit too small to slide over the MAF flange. Luckily I had a clamp in my garage of the right size.
04/24/2018
Awesome intake
The intake is good. But with a slight modification to the weather stripping... The intake works amazing!!! I recommend getting a hood with a scoop so the air can funnel in from outside, it really does work and if you wanna see it in action, come up the canyon and I'll see you there.
02/15/2018
Great intake!
It takes 20-30 min to install this its really straight forward. It sounds great and looks great, as well as the outerwears prefilter. The only reason i gave it 4 stars is because the small breather filter is not red like in the pic, and the blue silicon connecting hose is not blue. They were both black in real life, no big deal but i wouldve loved the colors.
Glad you like the intake, sorry about the colors, ITG changed the color of their breather filters and we haven't updated our photo - taken care of now, thanks for the heads up.
07/22/2015
Great Intake!
Bought this intake after reviewing many other products for my SVT, and have not been disappointed. Quality build and great look. Would recommend to anyone.
02/12/2015
Perfect for my Zeyes 2.0
I've tried many other air intakes such as the k&n ram flow and base line intakes and they've all choked my engine out. This one has done wonders for performance and sound. I am beyond impressed with this intake. Thanks fswerks.