FSWERKS Lower Rear Engine Mount - Ford Focus ST / RS / FOCUS TiVCT
SKU:
FS043N
The ALL NEW 2019 FSWERKS CNC machined aluminum engine mount helps put the power to the ground instead of being wasted and absorbed through the soft stock engine mount. Wheel hop is also drastically reduced resulting in smoother and quicker launches and gear changes. We use an advanced and unique poly material that helps achieve this without excessive vibration or harshness at idle or while cruising. Poly material is 70A shore hardness.
Note: While the FSWERKS sport engine mount is the softest in the industry there will be some increased vibration or harshness compared to the stock Ford rubber mount.


The installation of the FSWERKS lower rear engine mount is a straight forward process. It will take approx. 45 minutes and it's a direct replacement for the factory component. Includes easy to follow installation instructions.  Replacement poly inserts are also available SKU:0043 CLICK HERE TO VIEW

Fitment:
Ford Focus TiVCT 2.0L 2012 2013 2014 2015 2016 2017 2018
Ford Focus ST EcoBoost 2.0L 2013 2014 2015 2016 2017 2018
Ford Focus RS EcoBoost 2.3L 2016 2017 2018
Mazda Mazdaspeed3 2007 2008 2009 2010 2011 2012 2013

---
Customer Reviews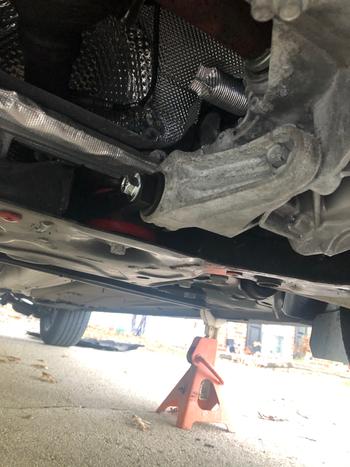 12/31/2019
Rmm for focus sel
After having the mount on the car for almost a month, I can say I love it. I don't feel any change in NVH, but when you smash the pedal the motor is no longer banging off the firewall. Extremely glad I went with fswerks for the rmm. Install took about 15 minutes, longest part was jacking the car up.
Mike

United States
07/27/2023
Focus ST Rear Motor Mount
At least in my 2018 ST, there was no additional vibration or noise noted in my car with the FS Stage 2 tune. I don't do hard drop the clutch launches, only controlled roll into the throttle pulls. Traction is noticably better allowing me to go deeper into the throttle before the onset of wheel spin. Surface dependent you will still get torque steer, but that is controllable with the throttle. Highly recommended!
Sean H.

United States
01/24/2023
Wheel hop greatly improved
Wheel hop on the focus st was horrible now it's much better still there but as good as it can be without a new traction bar and lsd. Overall great product.
Camren K.

United States
05/13/2022
Great purchase and overall very pleased
Great for the price and works great. Didn't notice any major NVH. Helped a lot with restricting engine roll. Definitely recommend for daily driver, will be taking the car to the track soon so we'll see if anything changes
Anthony T.

United States
02/04/2022
Smooth Shifts
I used to have issues with shifts between second and third feeling loose. Well once I installed this each and every shift became an experience. I was hesitant to do this, beat around the bush for two years. Now, I wish I had done this sooner. You will notice more vibration at lower idle ~800RPM. But if you are idling for a while, just shut your car off instead.
Matthew B.

United States
12/20/2021
A must for performance!
This rear motor mount made a huge difference in my cars performance, I had alot of wheel hop and now it keeps planted and the traction is felt. As for the NVH I can say it is excellent almost non existent, this is a must for the Focus.
Ricard

United States
10/25/2021
Best rear mount
Easy to install. Is a little vibration in the car but if you change the idle of the car from 850 to 950 the vibration almost go away still there but is not bad at all. You feel the vibration went you clutch in and put the first gear but went you start moving the car is go away.
Jineliz L.

United States
10/18/2021
Results
I was impressed at the amount of wheel hop reduction. It's not completely gone, but I definitely enjoy the drive even more.
Adam F.

United States
04/05/2021
Definitely would recommend
Easy install. Makes the car feel better at launch no wheel hop and no more annoying feel of the engine rocking back.
Bayu M.

United States
01/31/2021
Better than Expected
Just installed this on my 2014 SE sedan and I'm impressed. Installation was easy, only took me about 30 minutes. Noise and vibration aren't bad either, I'd say it's on part with the 2005 ZX3 that I had before this Focus. I was hesitant to make this purchase after putting a urethane trans mount on my 350z which made it unbearable to drive, but this is better. I loved my ZX3 and was missing something with this 2014 and I believe this put a little of the ZX3 in the SE.
Phillip B.

United States
12/31/2020
Must have for ANY MK3 Focus!
Recently put this on my 2015 DCT, what a difference it makes in overall drivability! You no longer feel the drivetrain flex before it actually puts power down, and it greatly reduces the shuddering (it's still there but not nearly as noticeable). Yes it does introduce some additional vibrations, mainly at idle, but after a week or so you get used to it and it's worth it for the benefits. Again, highly recommended, just buy it.
Ben G.

United States
Thanks for your feedback Ben :-)
12/28/2020
Good buy!
The rear motor mount was actually a much better purchase than expected. I still have some wheel hop. However, it is considerably less than it used to be. Not to mention the car responds slightly quicker. The installation is a bit different on a 2012 than a 13+ Focus. However it is not hard to do, just somewhat difficult to get to the bolts.. You'll need a few simple tools and a torque wrench. On top of that FSWERKS offers the ability to accurately tell where your package is if you have an app called shop.
John v.

United States
Thanks for your feedback John :-)
07/08/2020
An engine mount that makes sense
Very well built engine mount that's not overly stiff compared to most competitors. Doesn't rattle your brain while at idle or with the AC on. Feels very similar to the stock engine mount but noticeably stiffer. If you're looking to daily your Focus with a few pulls or occasional track day, this mount is for you.
Ian I.

United States
06/29/2020
Lower Rear Engine Mount Review
Easy install, took a total of 40 minutes to install with basic shop tools. The motor mount stiffens up the front of the car a lot. You can feel it most in the steering, it becomes much more responsive. 10/10 would Recommend.
sam r.

United States
06/18/2020
FSWERKS Rear Motor Mount
I purchased the factory motor mount for the electric Focus about a year ago. It was an improvement over the stock unit in my garden variety 5 spd Focus S sedan. When the new FSWERKS rear motor mount was available with the replaceable poly inserts, I had to try it to see if I could eliminate the shudder felt when releasing the clutch in 1st gear. I had already replaced the front and the tranny mounts with no success. BOOM the transformation was immediate! The shudder was gone (like an idiot I tried to make it happen by popping the clutch a few times) the solid feel to the chassis was totally unexpected. I would highly recommend this inexpensive modification no matter what trim level Focus you drive. Thank you FSWERKS for this quality product.
John S.

United States
06/09/2020
Rear motor mount
Second purchase from fswerks, great parts, quick delivery, awesome customer service
John F.

United States
02/25/2020
Great Customer Service
I purchased a engine mount 4 years ago that failed. I called them and they hooked me up with a replacement that was just installed yesterday. A noticeable difference between both products for sure in a positive way and I appreciate them standing behind their name and offering a discount for the replacement.
Kenneth P.

United States
12/11/2019
2013 Focus ST Lower Rear Engine Mount Replacement
The new rear mount works great. This mount replaces an existing mount that was installed in the Fall of 2012. I don't feel any excessive or harsh vibration either at idle or freeway speeds. Gear changes and engagement are very smooth during shifting. The quality of FSWERKS products are excellent.
Laurence I.

United States